Suffolk's Got Talent rocks Modern Theater's stage
Suffolk University's Performing Arts Office hosted Suffolk's Got Talent on Oct. 14 at the Modern Theater, giving some of Suffolk's gifted students a chance to perform and win a prize. 
The talent show consisted of 10 performances each critiqued by the three judges, Suffolk alum July Grant, Suffolk alum and former Suffolk Journal News Editor Katelyn Norwood and Suffolk's Dean of Students Dave DeAngelis. 
Senior Akhila John and junior Turner Mitchell hosted the show, introducing each contestant and getting them warmed up before their performances. 
Starting the show off on a high note, Elizabeth Leone was welcomed onto the stage to sing her own rendition of a Taylor Swift classic, "Love Story." 
Leone was accompanied by her own "bodyguard hype man," as judge Grant described, in the background to keep the crowd engaged. The student, whose name was never revealed to the audience, encouraged the crowd to sway their arms or clap on beat as Leone sang. 
Judge Norwood said she appreciated the way Leone channeled Taylor Swift's early singing styles. 
The next contestant to own the stage was Alexandra, performing a pointe ballet routine. Alexandra has been doing ballet for eight years, which was obvious while watching her performance.
The dancer had amazing control and was completely in tune with her body as she moved across the stage with true grace. She had such a deep focus throughout the entirety of her routine, it was as if she was the only person in the room.
The relaxing experience was short lived as the next contestants were a fiery duo ready to shock the crowd. When juniors Nico Miele and Tim Barry were asked what their talent would be, Miele simply replied with, "electrifying the crowd."
The pair started their routine off with Eminem's "Without Me," before exiting the stage for an outfit change. They then returned to perform a theatrical cover of "Shallow" by Lady Gaga and Bradley Cooper. 
Miele and Barry had the crowd laughing for the entirety of their performance. Their confidence and excitement to be performing was apparent and they did nothing short of their said talent. 
"I was looking for someone to come on stage and have fun and I feel like you did that," said Norwood. 
The energy shifted once again for freshman Josh Tolentino's guitar skills. Tolentino has been playing bass guitar for eight years. He performed an original piece that had rooted from one of his warm up routines. Tolentino never seemed nervous and immediately found his groove in the rhythm. 
"It seemed like up until one person [in the audience] distracted everyone, everyone was in a trance," said Grant. 
Following Tolentino's performance were the hosts of the night, Mitchell and John. The pair performed a cover of "Feeling Good" by Michael Bublé. Mitchell played the alto saxophone while John covered the vocals. 
The following contestant was freshman Layah Turner singing a cover of Roberta Flack's classic, "Killing Me Softly." Turner's excitement to perform was visible to the audience. She seemed comfortable but timid, holding back her voice a bit. Despite that, her voice was amazing. 
"I felt like I was in a jazz cafe, I was loving that vibe," said Norwood. 
The next duet was a couple, Anthony Coviello and Grace Caccaviello. They performed an elevated cover of "City of Stars" from the movie La La Land. 
The pair complimented each other perfectly and it was impossible to not notice the genuine connection they shared. Their voices blended together perfectly and it was no secret that they've sung together many times before. 
"Grace, you sound angelic, like I'm on a cloud," said Grant. 
Coviello's voice was incredible as well, with an impressive range. The couple hypnotized the crowd with their talent. The duet was gentle, calming and overall breathtaking.
Freshman Marie Audry stepped onto the stage next to perform a step routine. The way she took control of the stage when she began was extraordinary. Step routines are normally done with a large group of people but Audry braved the stage alone. Her confidence and focus was unmatched. 
The ninth contestant of the night was freshman Rima Zahreddine. She sang Demi Lovato's "Stone Cold."
Zahreddine's singing filled the theater; her vocal range was insanely remarkable and caught everyone's attention right away. Her passion was enough to convince the crowd she was attached to the song. 
Last but certainly not least was freshman E.C. Repp who performed a cover of "Anastasia" by Slash.
"When he said Slash – straight back to the old rock and roll days," said DeAngelis. 
Repp hyped the crowd up immediately with his song choice, and he kept their energy high with his performance. Repp's intensity during his performance was enthralling; he had the audience's focus the entire time. The way Repp connected to the crowd was unlike any other contestant. 
However, when the music cut out in the middle of his performance, Repp calmly went to fix the problem and when he finally did, the crowd roared.
After the judges shared their thoughts on his performance, which was nothing but praise, Repp asked, "I have one more request, can I replay the part that got cut out?" 
When the response was yes, the audience got the loudest it had been all night. 
After the momentary voting session for the crowd, all of the contestants were brought back on stage for the announcement of first and second place. 
Second place was Zahreddine and first place, to no one's surprise, was Repp. 
The event as a whole was fascinating, giving performing arts students a chance to showcase their expertise and giving everyone else time to appreciate their classmates' passions. 
Follow Sarah on Twitter @saraherobs. 
Leave a Comment
About the Contributor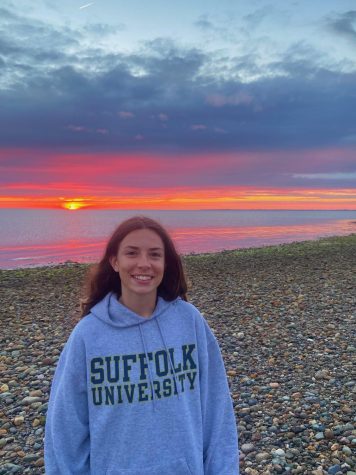 Sarah Roberts, Asst. News Editor | she/her
Sarah is a junior from Taunton, Mass. majoring in print and web journalism. She's on the cross country and indoor/outdoor track and field teams. When she's not running along the Charles or doing laps on the track in Eastie, you will probably find her in a coffee shop. Sarah is a coffee connoisseur and enjoys trying new coffee places frequently. In her free time if she isn't reading, she's watching some true crime shows or rewatching Gilmore Girls for the hundredth time. After college, she hopes to work in investigative journalism.