From Beantown to Blue Devil: Csiki-Fejer to finish eligibility at Duke
Nestled in the heart of Downtown Boston, Suffolk University is in the heart of all the action. Our buildings are passed by millions of tourists each year, and our law school has national name recognition across the board. 
Our athletics program, while beloved by our community, sometimes floats under the national radar. Some of our athletes, as we Rams know, tend to break that trend. 
Take, for example, Matyas-Csiki-Fejer, the record-holding men's track and field captain. His four years of undergraduate athletic achievement have earned him a spot on Duke University's track and field team for his last two years of athletic eligibility. Csiki-Fejer will be the first Suffolk athlete in history to continue their career at a Power 5 conference school.
"My hope is that I do this and that my school records get broken," said Csiki-Fejer. "I hope that Suffolk Athletics just continues to grow. Somebody's got to be the first, but I don't think I'm all that special for it."
Csiki-Fejer will be receiving a partial athletic scholarship to attend Duke, where he will be pursuing his master's in political science. He has two years of indoor and outdoor track eligibility left, along with one season of cross country. The NCAA has granted years of extra eligibility to athletes who lost seasons due to the COVID-19 pandemic. 
"I'm very proud of his accomplishments and everything he has done," said teammate Turner Mitchell. "He's proven himself on and off the track to compete at the highest level possible, and the results are being shown here."
Csiki-Fejer said that academics was one of the main factors in his decision to attend Duke. He hopes to work in the legal or consulting field after graduation, with the possibility of law school. He was also considering offers from the University of California Santa Barbara and the University of California Riverside.
 "I started looking from an academic perspective, and they were one of the first ones that came up," said Csiki-Fejer of Duke. "I knew that with the times I was running I could be on those teams at this point. "
The graduate school process started back in the fall of 2021 for Csiki-Fejer. Once he entered the transfer portal, his mailbox filled up quickly. 
"Over the next three days, you have every school coming out of the woodworks, like the most random schools you've never heard of in your life," said Csiki-Fejer. He says some schools offered him full scholarships on first contact. 
A native of Missouri, this isn't the first time that Csiki-Fejer has moved a significant distance. 
"I'm ready to not be freezing all the time," said Csiki-Fejer jokingly. "I think it'll be a great fit."
Csiki-Fejer's times are already at the Division I level, which he proved on April 8 when he took third in the 5k at the Duke Invitational. That performance earned him the top 5k time in Division III. 
"Instead of being a big fish in a small pond I'll be a smaller fish in a bigger pond," said Csiki-Fejer of Division I competition. 
Follow JD on Twitter @jdconte617 
Leave a Comment
About the Contributor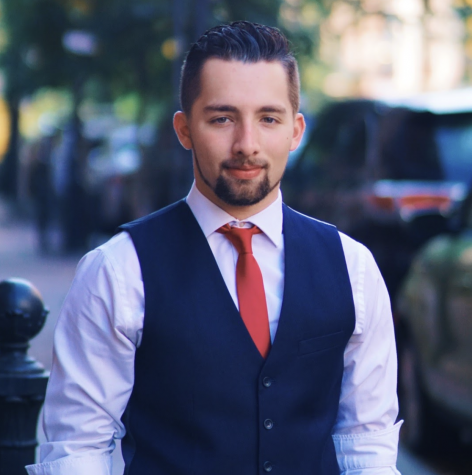 JD Conte, Sports Editor | he/him
JD is a senior from Wallingford, Conn. double majoring in political science and broadcast journalism. Aside from writing for the journal, JD can often be found in Studio 73 working on his broadcast skills. Off-campus JD can be found watching all the Boston and UCONN sports teams. He enjoys spending time with his family and friends in various spots around the city, especially in East Boston and the North End. After graduation JD hopes to work in a newsroom full-time or pursue a career in the sports industry.
Follow JD on Twitter
@jdconte617
Email him at
[email protected]