Rampage show choir's annual cabaret is full of love
It may have been April Fool's Day, but Suffolk University's Rampage Show Choir was no joke.
Rampage and Fusion Dhamaka, Suffolk's Bollywood fusion dance team, hosted Love Always, Rampage, a cabaret show, in Sargent Hall on Friday. The audience was invited to enter raffles and snack on cupcakes during the performance.
Once the house lights went down, members of Rampage performed solos, duets and trios ranging in genre from 1970s disco to modern Broadway ballads. The hosts, Fusion Dhamaka co-president Akhila John, co-president Amy Ramsepaul and secretary Riya Kamani told jokes and kept the audience entertained in between each act.
John emphasized the talent of Rampage's members and the hard work the group put into their performance.
"My favorite part [of the show] was the group performance, I could tell they worked very hard this year. Their performance was amazing," John said.
Isa Blanco and Lily Grazioso, both freshmen, opened the show with "No More Tears (Enough is Enough)," originally sung by Barbara Streisand and Donna Summer.
Although the song began slowly, Blanco and Grazioso's clear tone and on-stage chemistry captivated the audience from the first second. As the song progressed and the music became more upbeat, their voices shined together and on their own.
Blanco later returned to the stage for a solo, where they sang "Kindergarten Boyfriend" from the musical "Heathers". The ballad showcased Blanco's upper register and incredible vocal control. Their performance made singing a difficult song look as simple as breathing air.
Molly Ellis, a senior and vice president of Rampage, sang "The Way I Am" by Ingrid Michaelson for her solo. Ellis' bright tone was perfect for the folksy tune and seemed to put a blanket of calm over the audience.
Charlotte Cartelli, a freshman, then performed a stunning rendition of "When He Sees Me" from the musical "Waitress."
The song, sung by Dawn in the musical, recounts the woes and apprehension she has about dating. Cartelli's voice and acting embodied the character of Dawn and allowed her to deliver an incredible performance.
Cartelli and Grazioso joined Rampage President Morgan Mitcheson, a junior, for a trio of "Flying Away" from the musical "Fun Home." Cartelli, Grazioso and Mitcheson all portrayed the main character, Allison Bechdel, at different ages, recounting her relationship with her father through song.
The trio's voices blended together wonderfully, coming together with beautiful harmony and tone.
Grazioso spoke highly of Rampage's ability to balance a strong work ethic with enjoying themselves.
"We all worked super hard to produce the best cabaret we could but we were able to have fun while doing it, even if we messed up," Grazioso said.
The first act ended with a medley from the musical "Hadestown," a retelling of the Greek myths of Hades and Persephone and Orpheus and Eurydice. The medley starred Cartelli as Orpheus, Grazioso as Eurydice, Ellis as Persephone, Gilad Gerber as Hades, sophomore Cameron Martin as Hermes, and Rhea Katoch, Sarah Smith and Sarah Pollock as The Fates.
The group did a fantastic job leading the audience through Orpheus and Eurydice's journey out of Hadestown, as well as the heartbreaking ending to their myth. Gerber captured the king of Hell's larger-than-life persona and dark vocals with incredible skill. Martin's performance as Hermes, the narrator of the show, was charismatic and confident.
Cartelli said performing music from "Hadestown" was her favorite part of the cabaret, citing Mitcheson's excellent directing and how she worked with members to develop the characters.
"I loved having the opportunity to perform such a great musical," Cartelli said. "It was so fun working with my friends in Rampage and being able to share our passion for acting together."
After a brief intermission, the second act began with Mitcheson singing "Before the Lights Went Out" by Emilee Petersmark, the lead singer of the band The Crane Wives, accompanied on guitar by her boyfriend Kyle Crozier, a Suffolk alumnus and former news editor of The Suffolk Journal.
Mitcheson said this was the first time that she and Crozier performed publicly together, despite the fact that they frequently learn and practice songs together privately.
"Being able to put that practice time on stage for the first time ever was empowering," Mitcheson said. "I was really proud of him for taking the risk with me and performing for the first time ever on stage, and I was proud of the whole group for the amount of effort and skill they put into the show."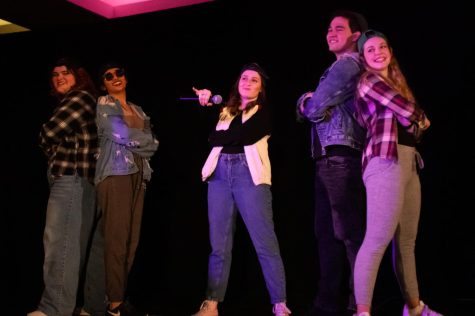 Smith, a sophomore, performed "I'm Breaking Down" from the musical "Falsettos" for her solo. Sung in the musical by Trina after her husband, Marvin, left her for his boyfriend, Whizzer, the song is a summary of Trina's feelings about her role in her family. With Smith's powerful voice and spot-on comedic timing, it was impossible to look away from her.
Pollock, a sophomore, sang "Almost Real" from the musical "Bridges of Madison County" for her solo. Her incredible soprano voice carried throughout the room and captivated the audience through the ballad.
Following these slower songs, Rampage's E-Board brought the energy back up with their rendition of "I Want It That Way" by the Backstreet Boys, complete with backward hats, flannels and oversized jeans.
Renata Gaifullina, a senior, sang "Rubia" by HOYO-MiX and Zhou Shen for her first-ever solo performance as a member of Rampage.
Ellis and Smith concluded the small group performances with a duet of "Dear Theodosia" from the hit musical "Hamilton." Sung by Alexander Hamilton and Aaron Burr after the births of their children, the song was a sweet send-off before the finale.
Fusion Dhamaka also did a routine to a mashup of songs by Bollywood artists Sundhi Chauhan, Vishal Dadlani and Jasmine Sandlas as well as "Woman" by Doja Cat before the entirety of Rampage returned to the stage to perform a choreographed medley of "Edge of Glory" by Lady Gaga, "Accidentally In Love" by Counting Crows, "Hold Back the River" by James Bay and "Chandelier" from "Moulin Rouge! The Musical."
Confident and coordinated, Rampage brought the house down with their final number, bowing to much-deserved applause. Even if they weren't the only collegiate show choir in New England, they would still undoubtedly be the best.
For future performances and updates, follow Rampage on Instagram, @suffolkrampage.
Follow Leo on Twitter @leowoods108.
Leave a Comment
About the Contributor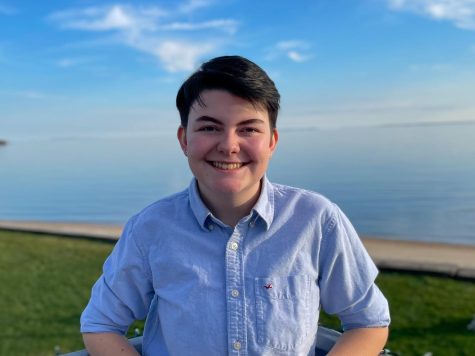 Leo Woods, Photo Editor | he/him
Leo is a junior political science major with a minor in philosophy from Clinton, Conn. When he isn't writing for The Journal, you can find him walking around Boston with his camera taking pictures of the city. He is passionate about politics, Mexican food, and Dungeons and Dragons. In the future, he plans on attending law school and permanently moving to Boston.
Follow Leo on Twitter @leowoods108