Oscars 2022: 'CODA' wins Best Picture, but Will Smith steals the show
The Massachusetts-based "CODA" won Best Picture at the 94th Academy Awards in an adrenaline-filled ceremony that was full of shocking moments and monumental wins, drawing a bigger TV audience than 2021's COVID-restricted ceremony. 
The award show, held Sunday, began on a rocky and awkward start before things took an even more unhinged turn for the worst when two hours in, Will Smith slapped presenter Chris Rock in an outburst defending his wife. 
This year's Oscars might as well go down as having one of the most infamous moments in the show's history – competing with the Best Picture mix-up of 2017 – already providing some of the best memes and reaction pictures. In short: pop culture was begging for a moment like this. 
Here are some of the best and worst moments of this year's disgraceful Oscars, beginning with "CODA's" big win, unfortunately already overshadowed by Smith's spontaneous confrontation.
"CODA" wins Best Picture
The heartwarming indie flick "CODA," directed by Cambridge-native Sian Heder, took home the coveted award of the night, Best Picture. It is well deserved for the hard work the entire cast and crew poured into it, as well as a display of positive representation for the deaf community. 
"CODA," filmed on Massachusetts' North Shore community of Gloucester, is about Ruby, the only hearing member of a deaf family who must choose between aiding her family's fishing business or chasing her dream to become a singer. 
Apple TV+ also became the first streaming service to win Best Picture thanks to the film, beating competitors like Netflix, which usually is a frontrunner with awards. 
However, "CODA's" uplifting story feels like a safe choice for Best Picture. Sure, "CODA" is an outstanding movie and one with a lot of heart that will leave you sobbing at the end, but it's simply a crowd-pleaser that will be forgotten about come next year's Oscars. 
With past wins of "Parasite" and "Nomadland," it seemed like the academy was beginning to embrace more artsy movies that had less box office success. But from a critical perspective, "CODA" was not groundbreaking and didn't possess high cinematic quality. The other nominees such as "Dune," "The Power of the Dog" and "Drive My Car" had the same passion as "CODA" but had greater cinematography and more depth. "CODA" does deserve to be recognized with its mostly deaf cast and crew, but it lacks the emotional and intellectual longevity that the Oscars often strive for. 
Troy Kotsur's monumental win
Troy Kotsur became the first deaf male to win an acting Oscar for Best Actor in a Supporting Role for his powerful performance in "CODA." As Kotsur got up to accept his award,  the audience applauded in sign language and presenter Youn Yuh-jung learned to sign so that she could announce his win. 
Kotsur's win came as no surprise as he also won at the recent Critics Choice Award and SAG Awards. Kotsur is the second deaf actor to win an Oscar – his "CODA" co-star and on-screen wife Marlee Matlin was the first when she won Best Actress for the 1986 film "Children of a Lesser God." 
Kotsur gave a touching speech, dedicating his win to the deaf community and he paid tribute to his father who became paralyzed in a car accident and was unable to sign. The interpreter even broke into tears while translating the star. Kotsur of course gave a shout out to Gloucester, Mass., and further put the small fishing town, which is known for movies filmed and based there, such as "The Perfect Storm," on the map.
Will Smith throws a hit
It would not be the Oscars without a thrilling moment, regardless of if it was staged or not. "King Richard" actor Will Smith slapped Best Documentary presenter Chris Rock for joking about his wife Jada Pinkett Smith. 
Rock made a disrespectful "G.I. Jane" joke about Pinkett Smith's shaved head – caused by her alopecia – spurring the outburst from her husband. The telecast cut out in the U.S. broadcast, but the Australian broadcast aired the unedited sequence and captured Smith shouting "keep my wife's name out of your f***ing mouth."
Later in the night, Smith won his first-ever Oscar for Best Actor in "King Richard." This win was largely overshadowed by the earlier incident, which became a running joke the remainder of the ceremony – even host Amy Schumer noted that the vibe seems off. 
Smith gave a lengthy speech apologizing for his behavior and pleading the academy to invite him back, but it feels weird to celebrate Smith's performance when he was capable of slapping someone on live TV regardless of if he was defending his wife. This begs for a more nuanced conversation, but it is difficult to sympathize with Smith's public outlash. 
Ceremony lacks structure
Back in February, it was announced that the academy would cut eight of the 23 categories – original score, makeup and hairstyling, documentary short, film editing, production design, animated short, live-action short and sound – from the live telecast, sparking great controversy. These awards were announced an hour prior to the March 27 ceremony and edited for time so that it could still be broadcasted throughout the evening. 
This poor decision was evident and clearly altered the clarity and structure of the event. The pacing of the broadcast was awkward and rushed as these categories were spliced into the live ceremony with little introduction and it felt like no winner was getting their time to shine. It's unclear why the academy cut out these key technical categories because viewer engagement still seemed lacking and the ceremony was still over three hours. 
Instead of presenting these awards live, there was a tacky 60-years of James Bond tribute, a fan-favorite poll and a cringe-worthy round-up of cheer-worthy moments in movies that bore no relevance to the current nominees. Some of these top moments included Zack Snyder's "Justice League" and "Spider-Man: No Way Home," making the supposedly prestigious Oscars feel like the Teen Choice Awards or VMAs. Even Nicole Kidman's AMC Theatre's advertisement deserves more fanfare than these moments. 
A trio of female comic actors host
After three years of no host, this was made up with a strong trio of actors Wanda Sykes, Regina Hall and Amy Schumer. These three took the reins this year, with Schumer in the opening monologue joking that the Oscars hired three female hosts because it was cheaper than hiring one man. Credit goes to Schumer for actually making viewers laugh at some of her jokes. Schumer roasted her fellow actors with her sometimes unfunny jokes; she took a jab at Leonardo DiCaprio, made an awkward incest joke about Jake and Maggie Gyllenhaal and moved Kirsten Dunst out of her seat when making a joke about seat fillers. 
Ariana DeBose makes history
Newly-awarded Ariana DeBose took home the gold for Best Actress in a Supporting Role for Steven Spielberg's "West Side Story." DeBose is the first Afro-Latina and openly queer person to win in this category. No one can complain about this win as the talented actress gave a stellar performance as Maria in the hit movie.
Nostalgia plays a part, as Rita Moreno, who played Maria in the 1961 movie, won the same award in 1962, completing a full-circle moment in Oscar history. 
Chastain slays
Jessica Chastain also got her first win as Best Actress for her role as the larger-than-life televangelist Tammy Faye in "The Eyes of Tammy Faye." Chastain, in a whimsical purple dress, used her speech to call out anti-LGBTQ+ legislation and to support the community. With thanks to the makeup and hairstyle teams, who also won their respective awards last night, Chastain was able to be unrecognizable in her biopic role and prove to audiences that she has the emotional acting chops and stellar range. Although it would've been amazing to see Kirsten Dunst ("The Power of the Dog"), Aunjanue Ellis ("King Richard") and Kristen Stewart ("Spencer") win for their roles. However, these ladies have so many more roles for us to see, and we will be in the front row to watch them shine next time. 
"Dune" dominates in technical categories
The academy seemed to love "Dune," but with the wrong intentions. The science-fiction film "Dune" won six awards, but the Oscars failed to even nominate the director Denis Villeneuve for Best Director. It seems a bit strange and hurtful to honor "Dune" in multiple technical categories such as Best Original Score, Best Sound and Best Cinematography, but snub the man behind it all. "Dune," like any movie, is not possible without its director, and this is the wrong message that the Academy is giving out. 
Celebrities stand with Ukraine 
Oscar attendees expressed their solidarity with Ukraine on and off the red carpet. Jamie Lee Curtis, Diane Warren and "Minari's" Youn Yuh-jung were some of the celebrities who wore blue ribbons printed with "#WithRefugees" in support of Ukraine. Jason Momoa gave a subtle nod to Ukraine with a blue-and-gold pocket square and Benedict Cumberbatch was seen with a button pinned to his jacket sporting the Ukrainian flag colors.
Midway through the ceremony, the Oscars aired a screen that urges the audience "to show our support for the people of Ukraine currently facing invasion, conflict and prejudice within their own borders." 
It seems a bit out of touch and a bit like performative activism to do a 30-second moment of silence when the Oscars could easily urge their own members and fellow millionaire actors to donate instead of asking the average viewer.
Follow Sarah on Twitter @thesarahdipity and Val @val_leyn.
Leave a Comment
About the Contributors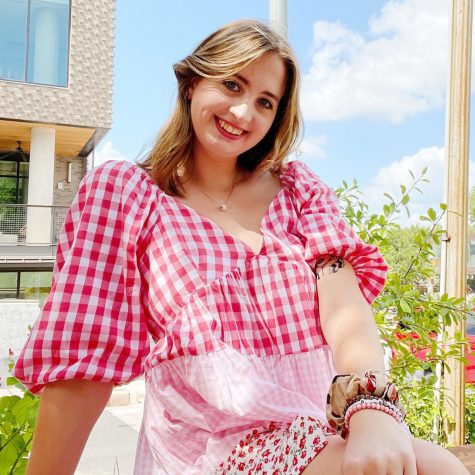 Sarah Lukowski, Arts & Culture Editor | she/her
Sarah Lukowski is a senior journalism and public relations major from Middlebury, Connecticut. Sarah joined The Suffolk Journal in fall 2018 as a Staff Writer and is now the Arts & Culture Editor. When she's not typing away at her computer, you can find her proclaiming her love for Taylor Swift, reading the latest young adult novel, or watching classic horror movies.
Follow Sarah on Twitter
@thesarahdipity
Email her at
[email protected]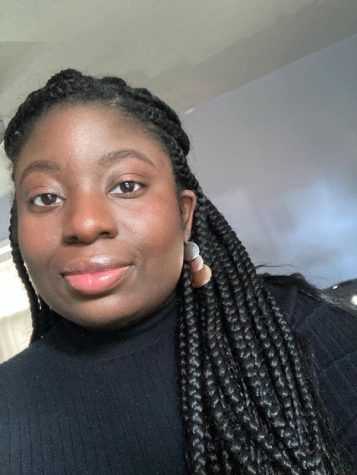 Val Watson, Asst. Social Media Manager | she/her
Val is a transfer student studying English with a concentration in literature at Suffolk University. Born in Florida, Val loved to write from a young age. Friends will most likely see her behind her laptop screen, either reading world news, admiring art, researching fashion and editorial archives, scoping out social media trends, writing short stories, reading good books or listening to her favorite artists. After graduation, she's interested in working for publishing, communications and legal companies.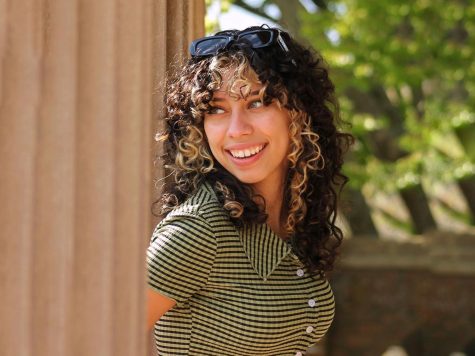 Julia Fusco, Graphics Editor | she/her
Julia is a senior from South Hamilton, Mass. majoring in media & film at Suffolk University. Julia is part of four student organizations and counting and is on the E-Board for three of them. When she isn't working at the Suffolk gym or in class, you can often find her taking time to engage in her hobbies, which includes photoshoots with her friends, graphic designing, dancing and grabbing some boba to go!