Spring showcase hits the Suffolk stage
Suffolk University's spring showcase returned this year with three student-run and written plays. The themes of the plays mirrored one another but held space for different interpretations of grief. 
The first play, "No Day But Today," was written by Casey Williamson and directed by Allison Hanna. The play, based off of the movie and novel "Perks of Being a Wallflower," featured the largest cast of all three productions.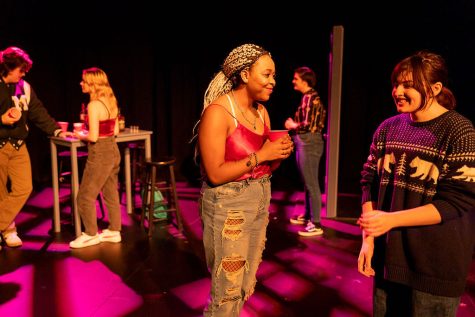 The show opened with the main character, Christopher (Katie O'Neill), sitting on a grave. The mysterious opening really grabbed the audience's attention, as it left viewers curious as to who Christopher was talking to in the graveyard. 
The subsequent scene of a party that introduced new characters, was somewhat confusing based on the trajectory set by the prior scene. As Christopher meets new friends, they bond over shared trauma. This scene came across as awkward, as the characters had met five minutes prior.
The play then sets a scene where Evelyn (Kayla Sessoms), drives Christopher home, after Evelyn had taken shots and hit a joint. The play glosses over this dangerous situation by trying to make the drive fun, having the characters sing a song together. 
As the friends, joined by Fred (Mateus Cezario), tackle issues like death, finding oneself, love and getting out of their comfort zone, the message of the play remains blurry. After a scene depicting Christopher joining their friends at "The Rocky Horror Picture Show," Christopher tries to kiss Fred, which ends in rejection and a suicide attempt. 
The rest of the play is a misguided notion of how mental health should be handled and how the characters rely on friendship instead of self-healing after grief. The concept of putting one's emotional stability on others is a common notion, but certainly not a healthy one. 
The musical selection, however, was well-curated and played off the scenes well, making the play more well-rounded.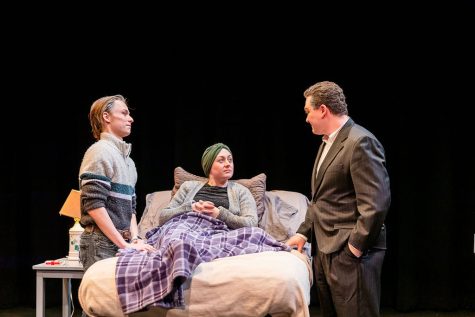 The theme of the first play set the tone for the next two plays, which also handle topics like regret, death and grief. 
"Remission," written by Mason Sawyer Lafferty and directed by Rose Beardmore, kept the audience absolutely captivated throughout its entire run time. The short play has only three characters, but those three took the script and made it intriguing. 
As Ginger (Emma Hudd) is in the hospital dying of cancer, she reconciles old regrets with her friend Michael (Robert Fennessey-Stevenson, Jr.). The two play off of one another incredibly well; the audience could feel what was unsaid. The tension and playfulness paired with their personal regrets and wishes that life could have turned out differently made for a beautiful story. 
Hudd and Fennessey-Stevenson brought the characters to life beautifully. At one point in the show, after a fight about prior declarations of love and rejection, the audience was completely still, on the edge of their seats waiting to see what would happen next.
The last play, "Where It Starts, It Ends," took a more upbeat look at grief and moving on. Written and directed by Vincent Douglass, the play also begins in a graveyard, but this time with a eulogy.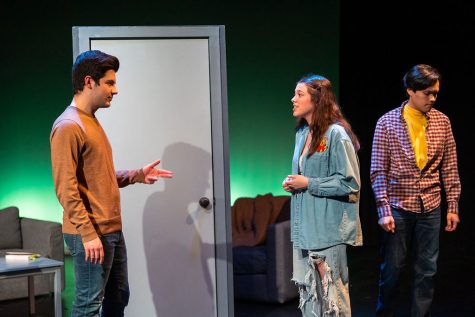 Collin (Mitch Strack) sees his dead girlfriend Paige (Constance Cifelli) and has conversations with her, which hinders both of them from moving on. As Collin struggles with moving forward and going to therapy and Paige shows her frustration with not being let go, Amy (Joanna Starr-Poulos) steps into his life. 
Starr-Poulos shines on the stage as Amy, a girl who can also see her dead boyfriend, Ben (Alex Gorski). Amy, a quirky and sweet girl, breathes life back into Collin's life and onto the stage. 
The relationship that flourishes between Paige and Ben felt natural and heartwarming, as they gave each other comfort in their own deaths. Alternatively, Collin and Amy show how to move on from their own grief in a platonic but beautiful way. 
"Where It Starts, It Ends'" was the perfect finale to the showcase, leaving the audience in a positive and optimistic mood after seeing three deep and multi-faceted performances that tackled death and healing.
Follow Ashley on Twitter @Ashleyfairchi14.
Leave a Comment
About the Contributor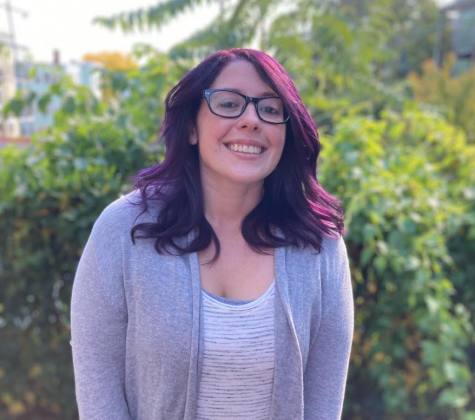 Ashley Fairchild, Asst. Copy Editor | she/her
Ashley
is a senior majoring in print/web Journalism. Outside of Suffolk, she can typically still be found with her nose in a book and her hand wrapped around a coffee mug. She enjoys lifting weights, finding new cafes and most importantly, playing with her dog, Pepper.
Follow Ashley on Twitter @AshleyFairchi14