Punxsutawney Phil may have predicted six more weeks of winter, but the Suffolk University Theatre Department's annual spring showcase must still go on.
The showcase will feature three original student-written and directed plays on Feb. 10-13, with a total runtime of 75 minutes.
Rosalind Beauchemin, the department's communication manager, said the showcase is a rich tradition at Suffolk and has been providing students a variety of educational opportunities for decades.
"The showcase has a history of being completely student-driven, student-written and student-directed. And the production team is made up of majority students," Beauchemin said.
Theater students submit drafts of their written work to the department for inclusion in either the fall or spring showcase. 
"We try to accommodate everybody. There's always an amazing amount of original material that's generated," Beauchemin said.
This is the first in-person spring showcase held since 2020.
"I can't emphasize enough how much being able to do that [live theater] means to the students," Beauchemin said.
The plays being performed at this season's showcase are "Where It Starts, It Ends," "Remission" and "No Day But Today."
"Where It Starts, It Ends" is junior Vincent Douglass's directorial debut, and tackles love, loss and the process of moving forward.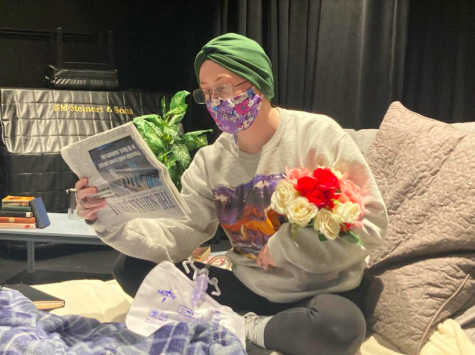 The play, titled after a lyric from the song "Love Like a Sunset, Pt.2" by Phoenix, is written about a man named Collin whose girlfriend dies and he learns to start living for himself. 
"There are ghosts in this production, but it is not a piece about death. It's about finding the joy in life," Douglass said.
The opening monolog for this play was originally an assignment from Douglass's acting class last year. He let the rest of the play flow from there and submitted it for the showcase.
"I'm really proud of the work that's been put in," he said.
"No Day But Today," written by Casey Williamson and directed by Allison Hanna, incorporates the themes and ideas from the popular book and 2012 movie, "The Perks of Being a Wallflower."
The main character in "No Day But Today" is Christopher, an anxious young adult who must navigate friendship and love while carrying the burden of his mother's death.
"Fans of 'The Perks of Being a Wallflower' will hear the references and find joy in seeing their favorite book and movie be played out in front of them," said Williamson, a senior. "I faced the challenge of not pulling too much from the original book and making sure this play was its own separate entity with the same spirit as its predecessor."
This is Williamson's first time playwriting for a production, all with the help of Hanna's direction. 
"The biggest success I felt when writing this play was the pure joy of bringing one of my favorite things in the world and incorporating my own life into it," Williamson said. "All the emotions of both things colliding to make one hell of an emotional roller coaster."
The final play is "Remission," which was written by Mason Lafferty and directed by Rose Beardmore. 
This play is about two friends who overcome their complicated past to reconnect after a terminal diagnosis. "Remission" may sound like a tragic story, but its focus is on love and perseverance. 
"The characters combat their unfortunate circumstances with incredible wit and the kind of honesty you can only find between people who care very deeply for each other," said Beardmore. 
Beardmore, a sophomore at Suffolk, was asked to join the production halfway through the casting process when Lafferty was unable to direct. 
The other showcase directors had about a year of preparation whereas Beardmore had to dive right into an unfamiliar script.
"There was no break in momentum for me. I was thrown into the process literally hours after agreeing to the position, assembled our cast within a week and then spent all of winter break re-reading and blocking the show," she said.
The subject matter of "Remission" may be difficult, but the cast and crew still found ways to be positive.
"We've had a hell of a time discovering the humor in this text, answering questions like 'how do you climb off a bed with a urinary catheter' and running the same 15 seconds of dialogue five times over," Beardmore said.
The show will take place from Feb. 10-13 at the Sullivan Studio Theatre on the 11th floor of Sawyer. 
Make reservations at tinyurl.com/SUTDSPShowcase22.
Follow Sarah on Twitter @thesarahdipity.