20 months later…Broadway in Boston returns with 'Hadestown'
On Nov. 2, the Citizens Bank Opera House invited guests to "see the way the world could be" with the premiere of the Tony award-winning musical "Hadestown." 
This is Broadway in Boston's first in-person performance since March 2020 and the third stop on the "Hadestown" national tour.
"Hadestown," written by singer-songwriter Anaïs Mitchell, primarily tells the intertwined love stories of Greek mythological figures Hades and Persephone, and Orpheus and Eurydice set to a New Orleans style jazz score. 
It originally premiered on Broadway in April 2019, and received eight Tony awards, including Best Musical and Best Original Score. "Hadestown" also received the Grammy Award for Best Musical Theater Album in 2020.
The show is narrated by Hermes (Levi Kreis), the messenger of the Gods and escort to Hades in Greek myth. With Southern charm and quick wit, Hermes introduces the show's small cast and acts as a mentor for Orpheus. 
Kreis' performance was energetic and captivating, playing a wide range of emotion so beautifully the audience went completely silent, save for a few sniffles.
Persephone (Kimberly Marable) is the self-described "outdoor girl" queen of Hadestown as well as the goddess of spring. Her intoxicating eccentricity and incredible charisma seize control over the audience, especially as her tumultuous relationship with her husband, Hades (Kevyn Morrow), is explored throughout the show. 
Marable's powerful alto voice perfectly matches the free-spirited goddess, along with her excellent comedic timing.
Hades, the King of the Underworld and foreman of the workers in Hadestown, could not be more different from his wife. Cold, dark and power-hungry, Hades is understood as a figure not to be messed with. 
Morrow's performance was bone-chilling at times, whether it be denouncing the notion of freedom or luring Eurydice to Hadestown. Conjuring images of corrupt politicians and CEOs, Morrow's bass voice commanded attention and emphasized his status over other characters. Morrow as Hades was incredible, and his emotional reaction to Orpheus playing the song he used to sing to Persephone was gut-wrenching.
The heroes of this tale, Orpheus (Chibueze Ihuoma) and Eurydice (Morgan Siobhan Green), were truly the stars of the show. Orpheus' eager naivety endears both Eurydice and the audience and, accompanied by Ihuoma's stunning countertenor voice, creates a character with contagious optimism. As the son of a muse, Orpheus' music has the power to "bring the world back into tune" and heal the rift between Hades and Persephone, as well as bring the audience to tears as he promises to retrieve Eurydice from the underworld. 
Ihuoma's perfect performance is underlined by the fact that he is one of the understudies for Orpheus, not the lead.
Spunky and independent, Eurydice falls for Orpheus "in spite of herself" and makes a deal with Hades to sell her soul. Green's performance was breathtaking as the heroine was haunted by The Fates (Belén Moyano, Bex Odorisio, Shea Renne) and driven to choose between remaining with Orpheus or giving in to her hunger. 
Hadestown is so much more than a retelling of the tragic Greek myth. It stuns the audience with topical commentary on the destructive nature of capitalism like in "Why We Build the Wall," sung by Hades and his workers. 
The lyrics describe how Hades promises freedom for those who have died by giving them the ability to work, which turns them into husks of their former selves. Later on, when Orpheus attempts to rescue Eurydice from Hadestown, he inspires the workers to leave their hammers and stand up against Hades in "If It's True."
What makes the show so impactful is the optimism inherent in the premise. The idea of retelling a story even if it has been told hundreds of times, just in case it will end differently, may seem like insanity to some. But the story of "Hadestown" is one of perseverance in the face of adversity, with seemingly impossible odds. Even though it may not turn out this time, there is always the option to try again. 
"Hadestown" will play at the Citizens Bank Opera House until Nov. 14.
Follow Leo on Twitter @leowoods108.
Leave a Comment
About the Writer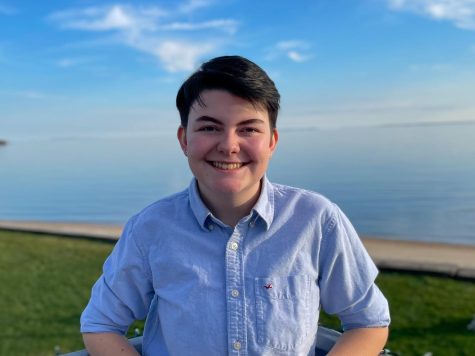 Leo Woods, Photo Editor | he/him
Leo is a senior political science major with a minor in journalism from Clinton, Conn. He has photographed political events, protests, performing arts groups and documented Boston Pride for the People for the History Project. Outside of Suffolk, Leo is an avid Dungeons and Dragons player and podcast listener. After graduation, he plans on attending law school and working in politics.
Follow Leo on Twitter @leowoods108