OPINION: Mask up on the MBTA
Even though the major spikes in COVID-19 cases feel like they are behind us, the importance of wearing a mask on the MBTA subway system has not been lost –– and some Bostonians need a reminder. I want this pandemic to be over as much as the next person. But in order for that to happen, passengers must continue to follow mask mandates in train stations. 
New COVID-19 cases are still being reported everyday. According to Mass.gov, as of Oct. 14, 1,512 new cases, 140 patients in the Intensive Care Unit and 12 new confirmed deaths were reported in the state. With more citizens back in the city after the return from last year's remote schedules, all lines within the MTBA are filling up, and people clearly need to be prepared.
On July 30, The Department of Public Health put out a revised advisory that stated masks are required for both unvaccinated and vaccinated people on private and public transportation systems. Mass.gov reiterated the message, making it clear that the MBTA is a mask zone. 
While I have seen most Bostonians and tourists abiding by these rules, there is always the stray train rider who refuses to put on a face mask, making anyone nearby uncomfortable. When individuals are tightly packed into each car, it can make for a stressful situation.
The current pandemic still raging across the world aside, being inches away from a stranger in this environment is not enjoyable and the transition from social distancing is a hesitant one. The best decision for everyone would just be to follow protocol and wear masks while inside stations and train cars, and take them off once outdoors if they so choose. This is a way Boston residents can do their part to help keep their community healthy.
Government officials can do more to keep the community's safety a priority. For example, it is critical officials take steps in enforcing the rule the MBTA made in April, in which individuals who refuse to put on a face covering could potentially be denied access or endure removal from cars. It may sound a little extreme to be going to these lengths for protection from COVID-19, but it's clearly a necessary measure for those who are refusing to abide by the rules.
To help passengers feel more comfortable and administer the guidelines, there should be stronger law enforcement presence at stations. With both law enforcement and MBTA employees encouraging mask wearing, and warning passengers of the potential consequences, citizens will likely follow the protocols and not question the authority of the conduct.
I understand why many vaccinated people might feel that wearing a mask is unnecessary since they are shielded by the shot. However, it's important to consider MBTA passengers with underlying health issues and suppressed immune systems who were not able to receive the protection of the vaccine, as well as those who live with individuals who cannot afford to contract COVID-19. 
At the mayoral level, Boston's Acting-Mayor Kim Janey has made it clear the mask mandate will be maintained until there is a promising downtrend in Boston's cases and transmission. Until then, Bostonians are required to keep a mask with them, and hopefully, the mandate can be removed in a timely manner. 
I agree with Janey that masks should still be mandated and hope that everyone follows these laws of the state so that Boston can once again be the city we all knew it to be before the Era of the Coronavirus.
It is not difficult to throw a mask on when entering an MBTA station, wearing it for the duration of the ride and then taking it off once back outdoors with a strong circulation of air. If wearing a mask means we are closer to the end of this costly pandemic, then that should be the only incentive people need to put it on. 
Leave a Comment
About the Contributor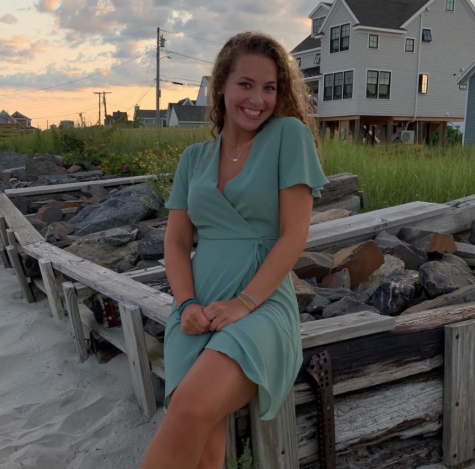 Roxanne Snowden, Staff Writer | she/her
Roxanne is a senior from Litchfield, Connecticut and is a broadcast journalism major. She enjoys spending time with family and friends, going to concerts, trying new restaurants and singing. Different from her small hometown, Roxanne loves being in the city, and one day hopes to work for ESPN and report on the sidelines of an NFL Super Bowl.

Follow Roxanne on Twitter @roxsnowden