New dining service's quality concerns students
October marks one month of Suffolk University's return to campus, and students say Chartwells, the new dining provider on campus, is off to a rocky start.
Chartwells' dining services began over the summer after Suffolk's contract with its former provider, Sodexo, came to an end. With many students criticizing Sodexo in the past, there were high hopes for Chartwells going into the fall semester.
However, it seems that Chartwells may not be living up to students' standards, with many concerns about a lack of organization causing long wait times for food. Some students also say they have been served undercooked chicken on multiple occasions and claim that they have gotten sick as a result.
Freshman Grace Kane told The Suffolk Journal she got food poisoning after eating at a dining hall on campus.
"It was hard to bring myself to eat at the dining halls again," she said. "The chicken items that are a large staple in all of the different dining halls is now something I individually choose not to eat after my experience, pictures of undercooked chicken circulating through the student body and other food poisoning stories."
Freshman Keely Menyhart is a vegetarian, and said that the vegan and vegetarian options have been extremely inconsistent in their availability. Most days, the only choices are pizza, pasta or salad.
"There could definitely be more options when it comes to hot meals that aren't just full of carbs," Menyhart said. "There have been times where there are only two options for vegetarians and only salads for those that do have a vegan diet. I think that accommodating these different dietary restrictions needs to be an everyday occurrence rather than a couple times a week."
Some students have also raised concerns about the cleanliness of where their food is being prepared. Freshman Angelina Hemphill was eating lunch with a friend at Sargent Cafe when they discovered a spider inside her veggie wrap. They immediately took pictures and a video of it and showed them to the staff.
"They told us we could get an $8 refund, which is ridiculous," said Hemphill.
However, not all of the feedback regarding Chartwells has been negative. Sophomore Jacob Dubin, who runs cross country and track for the Rams, has been pleased with the food Chartwells is serving so far.
"Chartwells seems to be serving food that's higher in nutrition and overall appeals to everyone for their main courses," Dubin said. "Every main course seems to have some sort of cohesion between what the protein and sides are, so that's been extremely positive. On top of that, it seems like they put in more time actually preparing the meals."
Suffolk Chartwells General Manager Michael Edwards addressed some student concerns in an email to The Journal.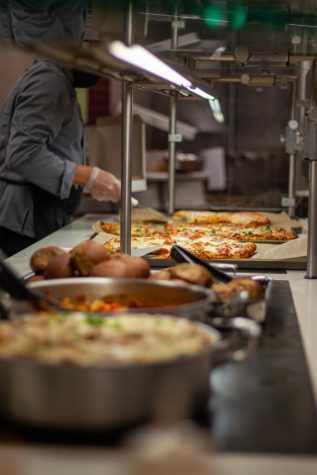 Edwards commented specifically about the issue of dietary restrictions and allergies.
"We understand that students who have dietary restrictions have found it difficult in the past to navigate the dining facilities," Edwards said. "We are working with our regional culinary team to revamp the menus to include additional vegan, vegetarian and halal meats." 
Edwards said that additional information about dietary restrictions can be found on Suffolk Dining's website.
Recently, the Student Government Association brought up the issue of dining sustainability across campus. 
When asked about how Chartwells plans to address concerns about sustainability, Edwards brought up the company's history of sustainable policies.
"Chartwells has a long history of innovations and leading our industry on sustainability issues, starting with our commitment to Eat Local in 1999 and Sustainable Seafood in 2002," Edwards said. "We were also the first to commit to serve poultry produced with reduced antibiotics; milk and yogurt free of rGBH; and cage-free eggs. Our agreement in support of the Coalition of Immokalee Workers was an exceptional industry position that others in the industry felt compelled to follow."
Students can submit feedback on Chartwells Dining via a form on their website.
On Sept. 20, Dean of Students Ann Coyne sent an email giving students a $150 dining credit due to some of the issues. In the email, Coyne asked students to send dining concerns to the Manager of Campus Services John Kineavy. 
In a second email sent out on Sept. 28, Coyne announced that the university would be working with SGA to create a Dining Services Committee that will discuss and address student concerns. Students interested in the committee were directed to email Assistant Dean of Students Dave DeAngelis.
Follow William on Twitter @woodringwill
Follow Grace on Twitter @GraceM123456.
Leave a Comment
About the Contributors
William Woodring, Asst. News Editor | he/him
Will is a sophomore majoring in public relations. He is originally from Medway, Ma. In his free time, he enjoys listening to music, writing, reading, and running. He is interested in political journalism and hopes to go into politics after graduating.

Follow Will on Twitter @woodringwill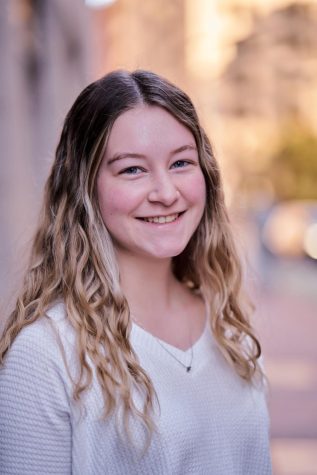 Grace MacDonald, Copy Editor, Asst. Social Media Manager | she/her
Grace is a sophomore from Seekonk, Massachusetts, majoring in public relations. Besides having a passion for writing, she also enjoys listening to Taylor Swift, watching movies, and exploring the city. She also loves to travel. After graduating, she wants to work for a PR firm or in social media management.
Follow Grace on Twitter
@GraceM123456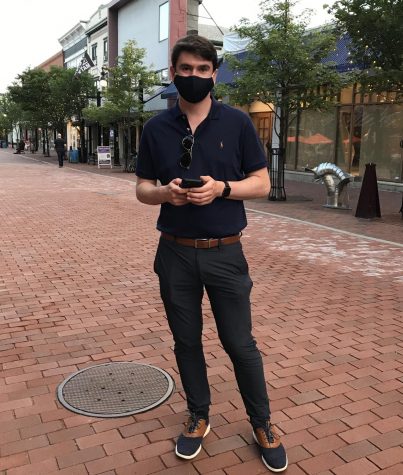 James Bartlett, Multimedia Editor, SJ Podcast Host | he/him
James Bartlett is a junior studying print and web journalism. Originally from Lowell, Massachusetts, James enjoys Boston sports, as well as the arts scene Boston has to offer. James has a strong interest in photojournalism as well as new journalism tools such as podcasting and user generated content. James is currently an intern at Boston.com
.
Follow James on Twitter
@James_bartlett8
Email him at
[email protected]