'The Eyes of Tammy Faye:' An ungodly mess of a televangelist biopic
Tammy Faye's life story is the stuff of legends. Her outreach and support for the LGBTQ+ community later in her life is something remarkable, and the new film "The Eyes of Tammy Faye" allowed her story to be told to a newer generation. 
Director Michael Showalter, best known for his work in the "Wet Hot American Summer" series, took realm for the movie, with Jessica Chastain and Andrew Garfield playing the famous televangelist couple Tammy Faye and Jim Bakker. 
This biopic tells the story of the Bakker's marriage, their crumbling televangelist empire and their wholesome reputation that was shaken by a scandal. It was a slow burn almost like a snail on a treadmill. 
Because of Tammy's popularity, it seems like the movie would have been full of excitement, but that was wrong. The director didn't seem to know if he should have made it a comedy or drama. It looked like an NYU film student trying to make a biography film, but forgot the directions their teacher gave them.  
There were some parts in the film that were supposed to be serious, but it came off as comedic and cringe. It was more like watching a spoof of a Lifetime film. 
The unrecognizable Chastain in her hair and makeup nailed her performance as Tammy. Viewers might have been a bit skeptical to find her playing an eccentric character like Tammy, but it worked like a charm. Chastain gave it her all as Tammy, first the humble beginnings to her life and then the downfall during the 1980s scandal that was spoofed, ridiculed and questioned throughout that era. 
Cherry Jones' played Rachel, Tammy's no-nonsense and stern mother and seemed to be the only character that could connect with the viewers. However, the performances by Jones and Chastain are the only good things to say about this film, because it went straight to hell after. 
First, there's Garfield's portrayal of Jim Bakker, which was almost like watching an SNL skit. Second, the other actors in this film looked like they didn't want to be there, but had no choice. This includes Vincent D'Onofrio's poor portrayal as Southern Baptist pastor, televangelist and conservative activist Jerry Falwell, the man who tried to run for president in the late '80s. 
This film was bad and tedious and too campy. The real-life characters seem to be a spoofed version of themselves in this film, instead of being somewhat human. This was one of the most uninteresting, confusing and strangely funny biopics. It's difficult to know what Showalter was going for and if he was trying to make it a dramedy, or just didn't know what to do with the source material. 
Maybe he should have stuck to writing more for the "Wet Hot American Summer" series and stayed away from directing for a while. Because this is not the right field.
The only thing to take away from this movie is that greed for power and acceptance could corrupt anyone's values and ideas, similar to "Goodfellas." It showed the full transformation of Tammy and Jim, while also showing the behind the scenes, of rich decadence not working well with the holy teaching. 
Overall, this movie was a huge letdown. If you want to know the true story about Tammy Faye, just watch her 2000 documentary "The Eyes of Tammy Faye." At least you get to hear and see her life before she passed away in 2007 at the age of 65. That documentary managed to do a better job getting to know her life and her bubbly and high-energy personality. This better showed her outreach to help the homeless and her full support for LGBTQ+ organizations and foundations. 
This film might be a future cult classic. But that's a strong "might," because this film didn't do Tammy much justice.
Follow Imani on Twitter @MsImaniEHill1.
View Comments (1)
About the Contributor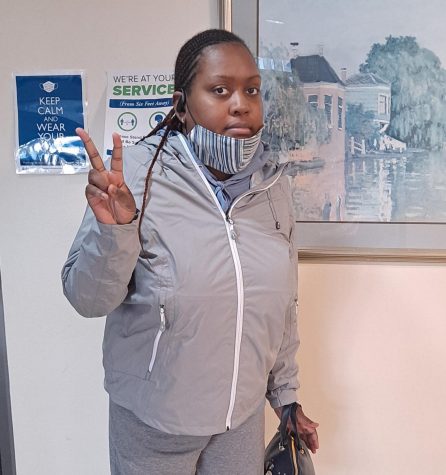 Imani Hill, Graduate Contributor | she/her
Imani Hill is a blogger, YouTuber, Instagramer and a wannabe comedian. She is very passionate about theater, films and TV shows. Imani is in Suffolk's master program with a major in global public policy (dual degree). She loves to travel and try new things, and she is living her life one day at a time.
Follow her on Twitter
@Joyqueen
.