Opinion: The life I dream of as a vaccinated student
Nassau, BAHAMAS — There has been no greater crime committed against college students than the ruthless robbery of the summer of 2020. 
Now with the COVID-19 vaccine, there is a sense of excitement as this summer approaches full steam ahead. It is an opportunity for redemption, to immerse myself into summer break as I've never before. 
The way I see it, people who are partially or fully vaccinated are members of this elite club, with a newfound exclusivity to life — and I am eager to join.
Here in The Bahamas, the vaccination process has been very smooth. Similar to the U.S., we have many different ways to access the vaccine. People can register online or they can come to a walk-in center once they present a valid government ID.
This process began in mid-March, and as of April 24, there have been 15,000 Bahamians vaccinated, which is 1.9% of the population, according to Reuters COVID-19 tracker.
My parents received the vaccine this week without hesitation. After witnessing how seamless the process was for them, I am eager to get mine.
After getting vaccinated, new possibilities will be endless. I am excited about the new life I will be able to live. 
I want to spend time with my friends collectively, outdoors of course. I miss the comfort of being surrounded by my friend group versus only seeing a limited amount of people at a time due to COVID-19 safety restrictions.
I also want to get a summer job. If you were to look at my resume, you would see I have work experience since 2018. But everything ceased in 2020. Last summer would have been the time where I gained more experience and strengthened my networks. Unfortunately, that was not the case. 
The Century Foundation, a nonpartisan, progressive policy organization reports, "About 11 million college students work, and about three-quarters of them work 20 hours or more each week and about 4.4 million students work thirty-five hours per week or more."
Millions of university students can agree on how the pandemic affected their finances negatively. Many of them can also relate to my disappointment in not finding a job last summer due to the pandemic.
"As college students deal with the effects of COVID-19, students who work to help pay their way through schools will be particularly hard hit," according to The Century Foundation.
As an incoming senior for the upcoming school year, this is my last summer as a college student. I hope to gain more experience without the limitations of an unvaccinated life and strengthen my skills, which might open more post-graduation employment opportunities.
I believe other university students can relate to this struggle as well. Many were denied their dream internships or jobs because companies could no longer hire due to pandemic struggles. This year, those who are still in university want to resume where they left off.
Getting the vaccine will provide me peace of mind once I return to Boston in the fall. Since the beginning of the pandemic, I have been living at home in The Bahamas, which has a much smaller population. 
Since the late fall,  there were some days I remember when no new COVID-19 cases were reported in the entire country. From experiencing life in a safety bubble to then returning to Boston is a bit daunting. However, knowing I am protected against the virus will allow me to make the most of my final year at Suffolk University in the city I love.
Once I return to Boston, I will have to readjust to city life consisting of cold weather, taking the T and not attending classes in pajamas or turning off my Zoom camera. Many students are nervous about the upcoming academic semester after a year and a half of  "Zoom University."  Hopefully, being the adaptive beings we are, we can all make the adjustment.
As the weather gets warmer and flowers begin to bloom, I commend every student for making it thus far. Surviving the pandemic while studying at school is not a small feat, so be proud of yourself.
Once vaccinated, students should go out and safely celebrate this accomplishment.
I see myself sipping unleaded sky juice (A Bahamian drink made of fresh coconut water and condensed milk. Gin is optional.) on a beach and riding jet skis. I see myself surrounded by laughter and friends, and reuniting with family members who I've been separated from due to the pandemic. 
I hope to be working in a job related to my journalism major or public relations minor while gaining experience and saving money.
Getting the vaccine is an added layer of protection that I cannot wait to have. With that in mind, this summer I will be reclaiming the lost moments and joys of the summer of 2020.
Leave a Comment
About the Contributor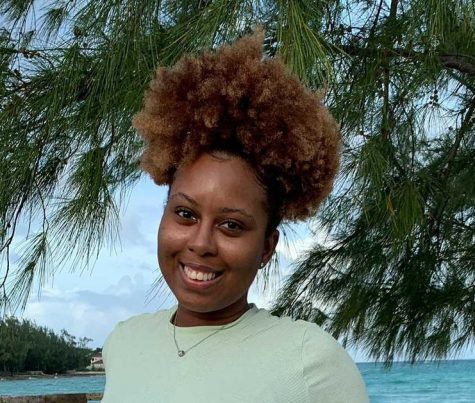 Lauryn Clarke, Staff Writer | she/her
Lauryn Clarke is an senior majoring in journalism with a minor in public relations. She is from the islands of The Bahamas and is a recipient of Suffolk's Transfer Excellence Award. Although she transferred to Suffolk in her sophomore year Lauryn has felt at home writing articles for The Suffolk Journal. Lauryn enjoys reading, morning walks with her dog, indulging in ice cream and of course enjoying the beautiful beaches of The Bahamas.