Despite historic wins and memorable moments at Sunday's 93rd Academy Awards, the show ultimately proved to be an endurance test of who wouldn't fall asleep before best picture was announced. And early Nielsen ratings certainly proved that the Academy never stood a chance against this pandemic-era show, as less than 10 million people tuned in.
The three-hour ceremony started out promising with Regina King stylishly walking in as colorful credits rolled behind her, but the live show suddenly turned into a trainwreck with shaky camerawork, long speeches and awkward music that not even the stellar wins and Glenn Close's butt-shaking could make up for.
Here are some of the best and worst moments of this year's weird and wild Oscars, beginning with the sweeping "Nomadland."
Nomadland wins Best Picture
Chloe Zhao's "Nomadland," an intimate film about van-dwellers living out West, took home the top prize of the night. Zhao also won best director and Frances McDormand was awarded best actress for her heart-wrenching performance as the unemployed Fern. 
McDormand broke up the monotony of the night by giving a howl on stage and imploring the audience to see her movie on the big screen when the time comes. This was the third best actress win for McDormand, and only Katharine Hepburn has won best actress more times than her. 
Also joining Zhao and McDormand on stage was the cast of actors who played themselves in the movie. It was great to see the non-professional cast of nomads honored as they poured their hearts out on the big screen.
"Nomandland" was a fantastic movie about solitude and grief with a budget of less than $5 million. The unlikely Oscar contender was a well-deserved win of the night.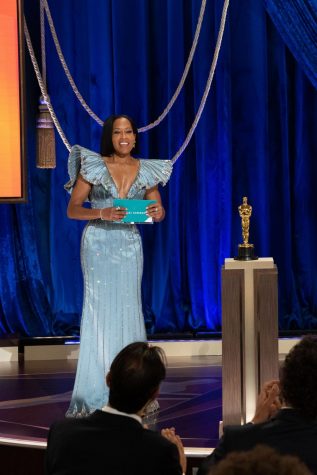 Many diversity firsts
The Beijing-born Zhao is also the first woman of color to take home best director and, shockingly, only the second woman in Oscar history to win this coveted award. Best director was announced unusually early in the night, but Zhao surely broke the glass ceiling with this win.
Despite this, China imposed virtual blackouts and censored all news celebrating her win. The New York Times reports that this may be rooted back to a comment she made criticizing her home country back in 2013.
Other diversity firsts include Mia Neal and Jamika Wilson as the first Black winners in the hair and makeup category for their work in "Ma Rainey's Black Bottom." And "Two Distant Strangers" won best live-action short making Travon Free the first Black winner in that category. 
Actors of color also prevailed in the supporting categories. The endearing 73-year-old Yuh-jung youn took home best supporting actress for her role in "Minari," stealing the show with her speech. Youn is the first Korean woman to win the award. And "Judah and the Black Messiah's" Daniel Kaluuya thanked his parents for conceiving him in an interesting speech, which left his mom stunned as the camera panned to her. Kaluuya is the first non-white Brit to win an Oscar for acting.
According to The Hollywood Reporter, of everyone who took home at least one Oscar this year, 25 are white men, eight are white women, four are Black men, four are Black women, two are Latino men, one is a Latina woman and three are Asian women. Multiple milestones took place, but there is still room for improvement in the often white-washed ceremony.
A gorgeous and intimate set design
The award show went away from its traditional spot at the Dolby Theatre and to the beautiful Los Angeles Union Station instead. The train station was transformed into an Art Deco banquet hall with a mostly maskless crowd of nominees. This is the first time the Oscars were hosted in the iconic hall, which has been featured in movies such as "Blade Runner" and "The Dark Knight Rises." 
A royal blue curtain served as the stage backdrop with statue-adorning lampshades. The set definitely reflected classic Hollywood vibes as the Oscars tried their best to adapt a large ceremony to something small.
Glenn Close has some bootylicious dance moves
"Hillbilly Elegy" star Glenn Close stole the show as she danced to "Da Butt" during Questlove's game of name-that-song. This unexpected break gave way to Close jokingly shaking her butt and it was a much-needed laugh in an otherwise unbearable ceremony. 
Fun fact: "Da Butt" was on the soundtrack to Spike Lee's "School Daze," which was snubbed at the 1988 Oscars. Even Lee himself was pleased with Close's performance, as shared in an Instagram post.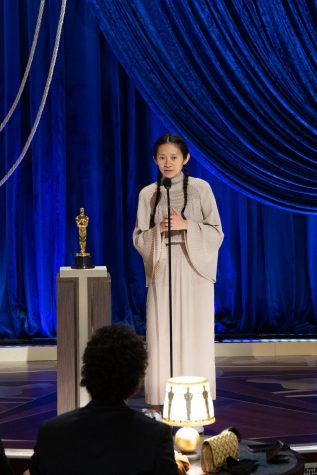 Streaming services once again dominate
In a pandemic-era award show, it is not surprising that streaming services dominated most of the wins. Although some could argue that the pandemic made it easier for streaming to do so well this year, it's inevitable that streaming will continue to gain prestige. 
Netflix once again beat out the other platforms, snagging seven awards including best animated short for "If Anything Happens I Love You" and best documentary feature for "My Octopus Teacher."  Netflix's "Mank" led the pack for nominations this year, but ultimately won two of the 10 for best cinematography and best production design. Netflix has snagged 15 Oscar wins in its history.
Even though Netflix has more wins, the company lost in top categories to "Nomadland," which is streaming Hulu. 
However, other streaming services still scored. "Sound of Metal" from Amazon Studios won for best editing and best sound design, and Pixar's  "Soul," which premiered on Disney+, won best score and best animated feature.
In the age of streaming, taking home such big wins draws in new subscribers and proves that top-quality content can come from these companies. But the message was at times conflicting, as some presenters and winners gushed about movie theaters when really most of the nominated films came from streaming services.
An intimate award show falls apart
The overall poor production of the Oscars made it look like it could have been a graduation ceremony. Sure, there were historic wins and fun moments, but the show was quite possibly the worst one yet. The famed Steven Soderberg, Jesse Collins and Stacey Sher all produced this year's ceremony with the goal of making the telecast appear as a movie with a cinematic aspect ratio, but their creative decisions only went so far. Hopefully, they can bounce back from this mess.
The producers' must have had a clear vision, but it didn't reflect that way into the homes of viewers. In a ceremony that is supposed to celebrate movies, there were very few clips shown of the nominated films. Instead, presenters took preference to awkward off-scripted moments and trivia about the nominees. This lack of film clips felt like one of the largest pieces missing. 
Audiences also couldn't help but notice how long the speeches were as a musical score never signaled the awardee to wrap up, making the show longer than it should have been. And even the music throughout the ceremony was questionable as the speech for best animated feature ended with an air horn and the intro to Dolly Parton's "9 To 5."
Most notably, the "In Memoriam" segment was unusually fast and poorly edited, making the deaths of beloved actors like Chadwick Boseman and Cicely Tyson feel disrespected and like an afterthought during the show.
No win is ever guaranteed
One of the biggest upsets of the night was the poor structure for the final three awards. Best picture historically closes the show, but this year's best picture was announced before best actress and actor. Surely, the Academy wanted to end with Boseman posthumously winning best actor for his performance in "Ma Rainey's Black Bottom." But that wasn't the case as Boseman lost to Anthony Hopkins, who won for his emotional performance in "The Father." It seems that the producers planned to wrap the show in Boseman's honor, but when that didn't happen the audience was shocked as the show ended on an awkward note, especially since Hopkins was not in attendance to give a speech. The 83-year-old Hopkins delivered his acceptance hours later in a video from his home in Wales while also paying tribute to Boseman.
Hopkins gave an extraordinary performance and deserved his award, but the pacing of the final three awards was abrupt as the Academy was so certain the show would close with a celebration of Boseman's life. It left the audience in disappointment. Rightfully so. They had to end the show short once the boos started to mix with the lackluster clapping. 
Keep it short and to the point
If there was ever a time for someone to just play the music and cut the mic after a speech, this was one of them. From McDormand howling during her speech, to Andrew Jackson mumbling after winning best visual effects for "Tenent," the speeches were just unbearable. The only redeeming speech of the night was Youn's acceptance for best supporting actress as she was simply charming and was honest in how people often mispronounce her name, including the presenter Brad Pitt.
"West Side Story:" is a no for me
During the commercials, the audience was introduced to Steven Spielberg's remake of the "West Side Story" in a 90-second trailer. It's nice that Rita Moreno, who played the original Anita, makes a brief appearance in the teaser, but it's a shame she is wasted in this already foreseeable junk. 
With the current "Me Too" movement and sexual assault allegations against Ansel Elgort, who plays Tony, it's surprising that he has not been recast or edited out especially with the large budget that Spielberg has. Even the trailer attempted to remove him as much as possible. Unfortunately, that spells out D-O-O-M for this film.
With a release date of December 2021, this is one film that might just drown in a sea of obscurity in the growing pool of Marvel, video game and horror films that will also be released this year. 
Overall, this year's Oscars was bonkers and even though the Academy tried their best given the pandemic, it ultimately was a snooze fest. In a wild past year, the Oscars certainly reflected this and ended award season on a poor note.