MFA's 'Monet and Boston: Lasting Impression' brings warmth to the city
In the midst of a mundane pandemic-ruled winter Bostonians have had to endure, the "Monet and Boston: Lasting Impression" exhibit brings life, color and vibrancy to the city.
The Museum of Fine Arts, Boston (MFA) showcased its entire Monet collection for the first time in 25 years in honor of the museum's 150th anniversary. 
Monet and Boston have had a long history together, despite Monet never having visited the city. On display in the exhibit are all 35 Monet works the MFA has collected over the years. 
"Perhaps no other artist has captured Boston's imagination as enduringly as Monet (1840-1926)," read the wall caption upon entering the first room of the exhibit.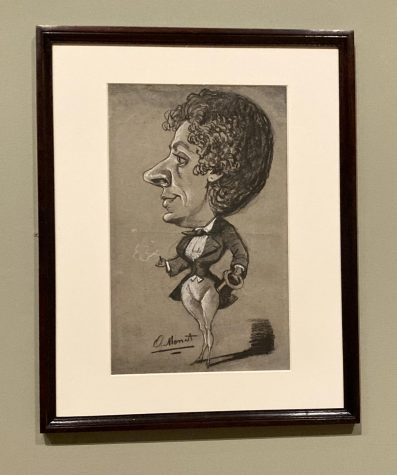 Visitors are welcomed into the exhibit with a video showing a life-sized Monet donned in white linen with a cigarette drooping from his mouth while he paints in his garden. The video is displayed in black and white on a large flat screen that can be seen on either side of the wall. 
Continuing into the next room, the exhibit displays Monet's works in chronological order. To many visitors' surprise, the first Monet piece on display is not a classic Monet impressionist painting, but rather a caricature drawing of an unidentified man smoking a cigar. 
With a subdued laugh, visitors move on to discover some of Monet's first works inspired by his mentors. Street scenes, along with early depictions of nature that give an inkling into what many of Monet's future paintings revolve around, come into view. As do scenes of the sea that have hints of Monet's love of impressionism. 
Suddenly, paintings of meadows and gardens come onto the scene, and the room is full of color. Petals of flowers take on the main roles in the scenes Monet now focuses on. One of these pieces is a scene of Monet's wife with a child in her lap in "Camille Monet and a Child in the Artist's Garden in Argenteuil," 1875. 
Although lesser-known, some of Monet's most breathtaking works on display were still-lifes of faraway cityscapes. 
In the "Late Afternoon, Vetheuil," 1880, viewers get a glimpse into Monet's world, as he depicts one of the cities he called home. 
Katie Hanson, the exhibit's curator, chose not only to display the works in chronological order but to divide the works into four unique sections. After the first section, "Becoming Monet," visitors enter another room to discover Monet's fondness for Japanese art that came about during the time of Japonisme in France. As a result, his section is appropriately titled, "Monet and Japonisme."
"[Monet's] use of vibrant color and experimentation with compositional and perspectival techniques are thought to be informed by Japanese aesthetics," read the wall description accompanying the title of the room.
Although many of Monet's most famous works are located in the final room of the exhibit, many of his brightest and most vibrant works can be found in the third room, "Monet's Normandy." The works in this room depict many seaside scenes full of flowers and picturesque landscapes, allowing viewers to momentarily escape the dull grey Boston winter.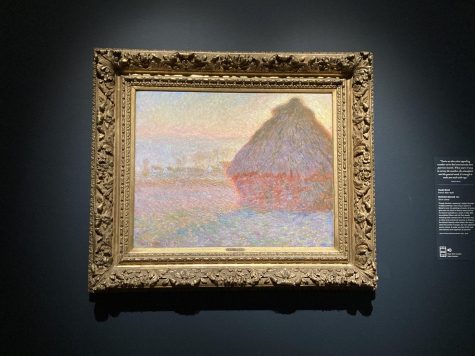 Upon entering the final room, visitors are met with a sight to be seen: "The Water Lily Pond," 1900. Displayed on a deep blue wall centered in the middle of the entrance, this painting is one of Monet's most beloved pieces of work and stands before the viewer with a bright light shining down on it, audible gasps are heard as visitors see it for the first time.
This final room, "Monet's Magic," includes some of Monet's most famous paintings. From "The Water Lily Pond," 1900 to his "Water Lilies" paintings and "Grainstack" depictions, the final room in the exhibit is a fantastic display of Monet's extraordinary technique and talent. 
A-once-in-a-generation exhibit, "Monet and Boston: Lasting Impression" is a breath of fresh air and a much-needed escape, sure to warm the spirits of many as spring peeks around the corner.  
"Monet and Boston: Lasting Impression" is on display through March 28. The exhibit is currently sold out, however, same-day tickets may become available.     
Follow Kaylie on Twitter @kscalze.
Leave a Comment