The Suffolk University Theatre Department successfully launched its second series of "Sputnik," a virtual festival of one-act plays written and directed by Suffolk students. 
The virtual performances of "Sputnik 2" took place on March 11-13 over the video-streaming service Vimeo in an hour-long production that was full of humor, surprises and heartbreak.
The three adventurous plays that made up the show were "Sargasso Sea," "Rhododendrons" and "The House that Dripped Blood."
"Sargasso Sea," directed by senior Liv Joan, beautifully opened the night with a touching story of the Roebuck ship's mariner and a deaf woman named Cricket, as they traveled the treacherous, seaweed-ravaged sea. 
The mariner, played by Ally Peters, and Cricket, played by Emma Hudd, developed a close relationship and found comfort in each other's stories while passing a notebook back and forth to communicate. 
In one touching scene, Cricket taught the mariner how to sign "ocean."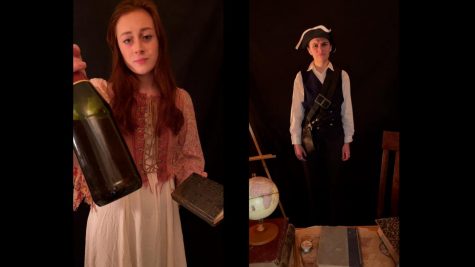 This was Hudd's first time playing a non-verbal character and she used the skills she learned in her ASL class to be able to communicate on screen. 
"It truly taught me so much about listening to the other actors on stage," Hudd said in a post-show talkback. 
In order to comply with social distancing, each actor of "Sargasso Sea" had to act to a camera while listening to the other actors through headphones. 
For a virtual show, "Sargasso Sea" created a phenomenal ambiance that felt as if the viewer was also aboard the Roebuck, with engaging pirate accents from the cast, antique-looking props and sounds of the ship creaking and bells ringing. 
The show ends in a plot twist, as one of the crew members realizes that the mariner is a woman. This is an especially big twist because, during that time period, women on pirate ships were seen as bad luck. 
The next play featured was "Rhododendrons," written and directed by Suffolk senior Katie Johnson. The show immersed the audience in the Pacific Northwest and follows the Walker siblings and their friend as they live illegally on forest grounds.
"Rhododendrons" tackles internal struggles and relationship issues as the group attempts to evade the authorities. However, it emotionally ends with Everett Walker being arrested for robbing and murdering his own parents. 
The show was pre-recorded in person in Suffolk's Sullivan Studio Theatre and featured an elaborate sound and stage design of the campsite, which featured animal sounds, wildflowers, a tent, a line of clothing and a fire. 
A slowed-down version of Taylor Swift's "Safe and Sound" played throughout the performance and symbolized the emotional aspect of the story.
The final piece of the night, "The House that Dripped Blood," was full of dramatic moments as a dysfunctional couple navigated the ups and downs of their relationship after their move to Tallahassee. 
This multimedia show was written and directed by Suffolk junior Collin Smith and used intricate drawings, created by assistant stage manager Eve Flederman, to stand in for the blocking. This allowed the actors to focus on their virtual acting instead of worrying how to fight or kiss across a screen.
"I wanted to utilize our unique opportunity to do something that couldn't easily be done in a theater," Smith said.
The drawings were a valuable addition to the production, as they helped advance the toxic relationship of John and Danielle, played by Robert Fennessy-Stevenson and Camilla Lajoie. 
This play had the most shocking moments of the night and left the audience gasping. It was revealed that Robert actually works at the local Walgreens and not at a professional business like Danielle thought, and in a climactic moment, Danielle cheated on Robert with his friend. 
In another noteworthy scene, Robert was arrested for drunk driving after downing a bottle of strawberry lemonade Svedka, and Danielle proclaimed that the situation would have been better if he happened to drink a better brand like Tito's. 
Their story ends with the house going up in flames just like their relationship. 
Overall, given the obstacles of an online show, the directors, cast and crew members of "Sputnik 2" created an engaging performance that explored humanity and presented a wide range of topics, from relationships being unraveled to the start of new beginnings. 
The people who made up "Sputnik 2" are so full of creativity, authenticity and resiliency, and it's exciting to see what they come up with next as virtual theater continues.
Follow Sarah on Twitter @thesarahdipity.