Join the space race by seeing SUTD's "Sputnik 2"
March 2, 2021
Get ready for take off with the Suffolk University Theater Department (SUTD) virtual showcase of "Sputnik 2," which is premiering next week. 
This semester's festival of "Sputnik 2," which is a follow up to the fall semester's performance of "Sputnik," a show that featured four student plays, is made up of three one-act plays written and directed by Suffolk students. 
Titled "Sargasso Sea," "The House that Dripped Blood" and "Rhododendrons," all three pieces were each written before the pandemic and had to be adapted from an in-person show to online. The virtual format of the festival allows for the directors, cast and crew to be safe in the process, since viewers are watching safely from their own homes. 
Liv Joan's piece, titled "Sargasso Sea" is a period piece inspired by the sea of the same name, which is located in the middle of the Atlantic Ocean. It follows Mariner, a pirate who watches his troubling secret unravel as he crosses the Sargasso Sea.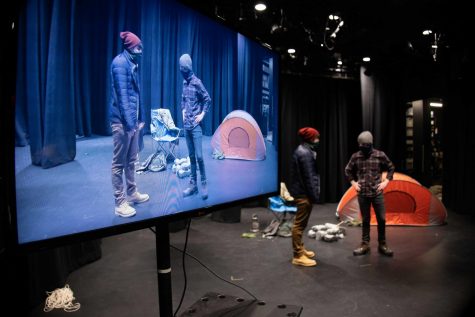 "'Sargasso Sea' started when I was scrolling through Instagram a couple years ago and I  came across this post about a place called Sargasso Sea. I thought, 'that's an interesting name and it kind of sounds like it would be a cool name for a play, I'll save this post,'" Joan said.
The Suffolk senior said her play was originally written with sword fighting scenes, and that extensive research was done in order to make the piece geographically and historically correct.
"Directing it with my actors was a ton of fun. We were able to create the stories for these made-up people and do a lot of research on pirates, what they did, how they acted and have a ton of fun with accents and all the like," Joan said. 
"Rhododendrons" is another show featured in "Sputnik 2," and was written and directed by senior Katie Johnson. This show takes place in the Pacific Northwest and is about a group of people living illegally in the forest. 
Johnson's play was submitted last spring with the hopes of performing it live in-person.
"It's been a long journey, but luckily the whole theater department was just as determined as me and the other playwrights to make it happen," Johnson said.
"Rhododendrons" was also pre-recorded in person in Suffolk's Sullivan Studio Theatre. 
"It appears as a filmed stage production, and it is supposed to be that way," Johnson said. "I didn't want to play with too many film elements and editing that I'm not familiar with because I wanted to keep my show as raw and truthful as the characters and their story." 
"The House that Dripped Blood" is a multimedia show written and directed by Suffolk junior Collin Smith. This ominously titled play is based on the album "Tallahassee" by the Mountain Goats. 
This pre-recorded play follows a dysfunctional couple as they move to Tallahassee to give their relationship one last chance.
For Smith's show, he wanted to stop pretending that virtual theater can be done the same way as in-person theater and instead incorporate drawings.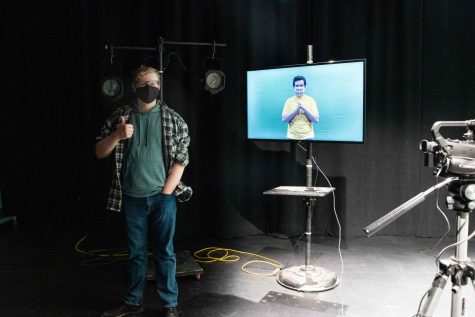 "My piece incorporates visual arts to stand in for the blocking…that hopefully allows the actors to purely focus on acting and connecting as best they can instead of worrying how they can kiss or fight across a screen," Smith said. 
Casting for each play was done virtually before the spring semester began, with actors auditioning over Microsoft Forms and callbacks being held on Zoom. 
Each one-act play features a small cast of Suffolk students. Some of the performers in the showcase are new to the SUTD and had the chance to push themselves during rehearsing and performing.
"I'm very excited for people to see some fresh talent I'm lucky enough to have in my show," Johnson said.
While the shows are still able to go on despite the pandemic keeping audiences out of theaters, the directors say the online shows still aren't quite the same as an in-person performance. 
"A virtual show will never beat the real thing," Joan said. "I know for a fact that my show in-person would have been so cool and so interesting to see, and it still is and I love it for what it is, but I do wish it was in-person."
The show will run from March 11-13 at 7:30 p.m. and is free to the public. A talk balk with the cast will also follow the performance. Tickets can be reserved here, via the SUTD website.
Follow Sarah on Twitter @thesarahdipity.