The Hub Theatre Company of Boston adapts "Solitaire Suite" to Zoom
The Hub Theatre Company in Boston took on the play "Solitaire Suite," written by local playwright Trent England, which opened on Feb. 20. 
The play is a story about a small family and a night where everything falls apart, and though performed online, worked exceedingly well within the parameters of a livestream. 
"Solitaire Suite" was initially a short story in a literature journal written by England. The decision to change it into a play came when director Daniel Bourque, a friend of England's, wanted to collaborate on a piece together.  
"If you write it, I'll direct it," said Bourque. 
England was then tasked with changing the narrative of the short story not only into a play, but into first person perspective. The play was originally slated to premiere at the Providence Fringe Fest. However, when COVID-19 struck, they made the decision to pitch it to Lauren Elias, the producing artistic director at The Hub Theatre Company. 
"I wanted to create a monologue with occasions for dialogue," said England.  
The play spoke to Elias, who recognized its impact during the COVID-19 pandemic. 
"There's a moment where you can point and say 'that.' That was the last time I saw a movie or went out to a restaurant," said Elias.
Elias approved the play, and England and Bourque had to overcome another rewrite, this time tailoring it to Zoom.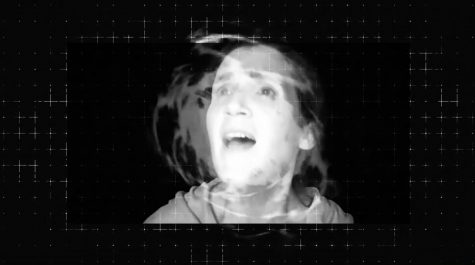 The Hub Theatre's team decided to work with the livestream features of the play, instead of putting on a performance that was clearly not in person. 
Justin Lahue, a current Suffolk theatre major, worked on the digital design of the show. 
"There was a melding of media. We wanted to use film as well as theatre, and used scoring instead of sound cues. Everything was to sustain the movements," said Lahue. 
The sci-fi social commentary has three characters: Marty Mason as Celeste, Cristhian Mancinas-Garcia — who also contributed to the play's art — as Pete and Michael Lin as their son, Tiger. 
As the sole actress on screen, Mason sees a parallel to her character's struggles. 
"I'm the only woman in the play. The solitary female voice and the only voice that's not being listened to," said Mason. 
Macinas-Garcia, who played Celeste's husband Pete, noted that the play had a "Twilight Zone feel" and was menacing below the surface. 
Lin, as Tiger, has a background in radio theater, which may explain why he is never seen on screen. 
"I'm a disembodied voice that is used to motivate, to move the plot forward," said Lin. 
The play, though livestreamed, draws the audience in from the moment they are in the waiting room. 
Eerie music plays, setting the viewer on edge. When Mason appears on screen, Blair Witch style with only her face illuminated, the tone is set. 
Mason's performance is captivating. With her carrying over 80% of the show's lines, her passion, concern and fear all shine through. 
From picking their son up early from a sleepover, the trio find themselves following an unknown light at the urging of their son. All the while, the play is only seen from Celeste's perspective. 
Macinas-Garcia is convincing as Pete, a father who is concerned for his son, and speaks to Celeste through her memories. 
As the play progresses, Celeste becomes more frantic, forgotten and unheard. Her concerns and needs are ignored by those she loves and thinks of constantly.
As the play goes on, Lahue's graphics and music keep the viewer engaged, and add to the feel of the play. 
When the play closes, the viewer is left with questions and  worry for what happened to Celeste, the woman who wasn't heard. 
"Solitaire Suite" has two more shows on Feb. 26 and Feb. 27 at 7:30 pm. The Hub Theatre Company is a pay-what-you-can theater company, and the minimum donation is one dollar. 
Tickets can be bought here.
Follow Ashley on Twitter @AshleyFairchi14.
Leave a Comment
About the Contributor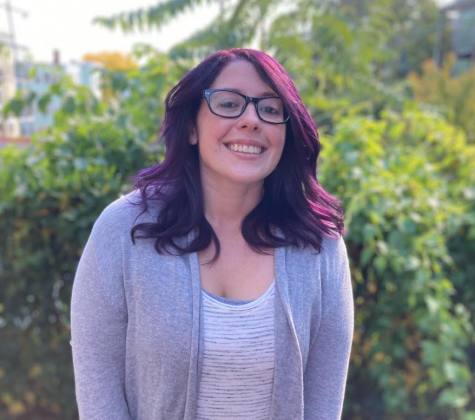 Ashley Fairchild, Asst. Copy Editor | she/her
Ashley
is a senior majoring in print/web Journalism. Outside of Suffolk, she can typically still be found with her nose in a book and her hand wrapped around a coffee mug. She enjoys lifting weights, finding new cafes and most importantly, playing with her dog, Pepper.
Follow Ashley on Twitter @AshleyFairchi14