Opinion: I do not feel safe in Suffolk's cafeterias
Suffolk University opened its campus last September after closing in the spring to protect its staff and students from COVID-19. Since its opening, the university has put safety protocols in place to ensure the safety of those on campus. After leaving campus in March, I was looking forward to returning to a safe, healthy environment. However, as a student worker at David J. Sargent Hall, I have seen some protocols wrongfully ignored even though students should have a right to feel safe on campus and rules should be strictly enforced at all times. 
At the beginning of the fall semester, I noticed how seriously students and staff were attempting to keep their distance from one another and maintain clean shared areas. I frequently witnessed staff cleaning common areas, several signs marking one-way staircases and masks on every face. However, as the fall rolled into the spring, it appeared to me that protocols were being taken more lightly and I have become more fearful of contracting the disease. 
Specifically, I feel uncomfortable at eating locations because I have seen students and staff slacking at maintaining safety precautions. According to Sodexo's Guide to Campus Dining Safety, COVID-19 policies for these locations include: "When dining rooms are open, they will have limited seating capacity, updated configurations and floor markers to encourage social distancing." In my personal experience, the dining rooms are not following these policies as strongly as they should, causing an inconsistent dining experience.
I have not seen a single table or booth wiped down during my lunch breaks in recent months at the Sargent Cafe or the Samia cafe.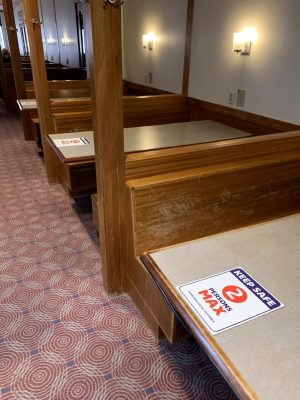 The signs reading "2 persons max" have disappeared from some tables in the Sargent Cafe and there are no designated single points of entry and exit at the Samia Cafe or Sargent Cafe. There are no visible indicators spacing out booths and tables, which, according to the CDC Guiding Principles to Keep in Mind, is still a "highest risk" situation. I have seen students ignore signs placed on all tables indicating whether or not they are open for seating and tables, from what I have seen, are not consistently cleaned after use. 
Instead, I have witnessed people push tables together and fill every booth during peak dining hours. These same people converse without masks during peak hours, despite the policy that people should "only remove your face covering in order to eat, then put it back on," when in common areas of the buildings. Max capacity signs are either not posted or not directly visible as they are stated to be on Suffolk's website.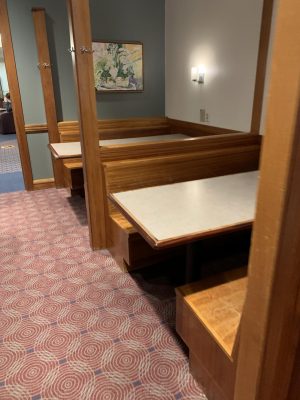 According to UMass Amherst's COVID-19 testing data, there has been a recent rise in positive cases. Following this increase, one might think that other Massachusetts universities would want to strengthen their safety rules to avoid a similar uptick in positive cases.
In order to make a safer and more consistent dining experience for all students, I would encourage Suffolk to ensure that all of its staff are keeping up with the COVID safety regulations. Updating signs and spacing booths and tables, especially in Sargent's Cafe, would increase safety among students and staff dining. Additionally, there could be a designated COVID officer in the dining areas who can ensure tables are wiped down after guests leave. 
In my opinion, enforcing and strengthening precautions are beneficial to Suffolk's entire community during the pandemic.
Leave a Comment