Senior thesis showcases quick costume changes and handmade outfits
Last Thursday, Suffolk senior Julianna Fielding finished and performed her senior thesis, titled "Stitched in Time," which saw 18 costume changes take place in only five minutes.
The performance featured Fielding and three additional models singing "My Strongest Suit" from the Broadway musical "Aida," whilst dancing and changing into a variety of outfits in time with the music.
Fielding's 18 costumes were designed and constructed herself over the last four years, beginning when she was a freshman living in the Smith residence hall. While the process began in her first months of being a student at the university, Fielding said that she finished the final stitch just before the show started.
"I was sitting in my box of a room, listening to "My Strongest Suit" which I knew from childhood camp, and I started choreographing these quick changes," said Fielding in an interview with The Suffolk Journal.
Fielding explained that she felt her perfect vision for the song had not been completed yet by anyone, and that most performances did not incorporate multiple costumes in the way that she felt they should.
"When I started looking at Broadway recordings of [My Strongest Suit], they were so disappointing," said Fielding. "I thought it would be so fun to do myself."
The performance, which took place in Suffolk's Sullivan Studio Theatre, located on the 11th floor of the Sawyer building, was so well attended that Fielding needed to host a second performance directly afterward to accommodate everyone.
"It was very exciting when they said, 'Yep, you have to do it twice,'" she said.
With fabric acquired from a variety of sources on and off-campus, Fielding spent as much time as possible preparing for the performance.
"Mondays I would be there all day long, but every scrap moment I had, I was working on it too. I finished the last stitch of the project two hours before I performed," she said.
Sophomore communications media and film major Carina Fresa, was surprised and impressed by the complexity of the performance.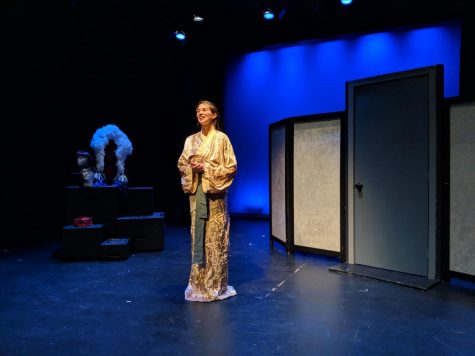 "I was only expecting her to have a few costumes, but there were a lot. I was constantly thinking that 'this is cool, there is so much changing happening,'" said Fresa in an interview with The Journal. "I was not expecting it to be what it was, but it was really cool."
Fresa often was able to see the behind the scenes of the costume creation, as she observed Fielding in her classes several times creating new pieces at any free point in her day.
"I did not realize how one outfit can change into the next," said Fresa. "There's a lot of really cool ways to get creative. "
Fielding believes that her experiences in this project have given her hands-on experience in costume design and creation.
"In terms of my seamstress skills and being able to make costumes, I learned basically everything," said Fielding. "I taught myself how to draft patterns, to do stitches, a lot of things about machines, how to fit things, and more. Basically, I got a lot of seamstress skills but I learned how to juggle people's expectations."
Fielding's experience was an exploration of the relationship between the costume and the performer. As she worked as the designer, creator and performer for the piece, she had an in-depth understanding of each role.
"I have always been interested in sewing. I am really intrigued by costumes because I feel like they are not just an article of clothing," said Fielding. "In performance and theatre, they add such an element to the character. I have personally felt when I put on a costume it allows me to step away from myself."
After several years with this project in mind, Fielding hoped that her work will prepare her for a future in costume design, and that she will be able to add a 19th dress to this performance one day.
"I think I could work on this piece for years," she said. "I hope one day I get to work on a production of Aida and I will be able to bring back the old college thesis."
Leave a Comment
About the Contributor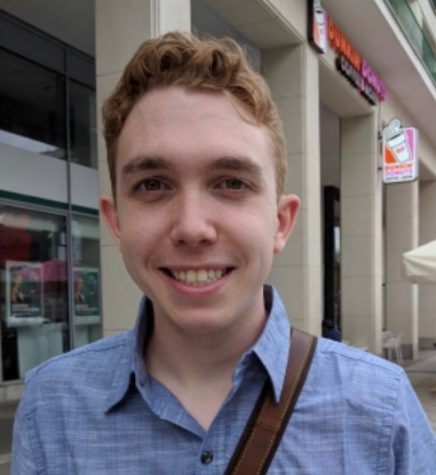 Kyle Crozier, Former News Editor
Kyle is a senior environmental studies major from Rhode Island, and has written for the Journal since 2017. When he is not covering science events in and around Boston, Kyle is working to pursue a career in urban sustainability and possibly attend Grad school. He loves animal facts, Poland, and animal facts.