Photography Club hosts first showcase with musical guest
Suffolk University's Photography Club (PC) held their first ever photo gallery event Thursday evening on the fourth floor of the Sawyer Building to indulge students in just a fraction of the talent they had to exhibit. Most students dressed elegantly for the afternoon, and those who didn't rushed out of their classrooms to make it in time.
For their first standalone event, the club had a solid start and is looking to expand with each coming year. The work of 15 artists was on display, with 105 photos in total. Some of the work included shots of skylines of cities such as New York and London, animals like dogs and birds and friends who modeled for the camera.
The president and founder of the organization, Casey Grosjean, was in attendance and also had her own work displayed at the exhibit. Grosjean began the club to help students share photos of the places they explore in Boston.
"Part of the reason I came to Boston was for the opportunity to capture aspects of the beautiful city. I was so surprised when I got here and learned that there was no photography club, so I decided to start one," Grosjean said in an interview with The Suffolk Journal.
Grosjean took three years of photography classes in high school, and is no stranger to running events. In addition to being a photojournalism major, she also ran Healthy Minds Alliance (HMA) and the Tip Tap Toe club this year.
Another aspect of the PC is that they pair up with other student organizations on campus to take photos for them, such as with Suffolk's HMA to do the "Share Your Story" event, which was nominated for best event at the 2019 Student Government Association awards.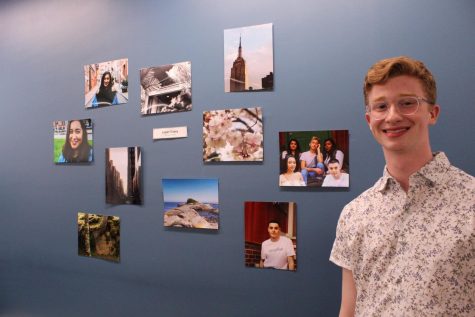 Grosjean said that she loves it all because the group allows her to meet new people and make connections. When asked if she had any favorite photos on display, she said that they're all amazing.
"Everyone put in so much work and you can see the passion, but they're all different. The beautiful thing about photography is that two people can shoot the exact same thing but have it look completely different," said Grosjean.
One of the viewers, Sarah Bishop, a psychology and English student, came to support the work of her friends Logan Casey and René Maldonado. Bishop said she enjoyed everything there, and was pleasantly surprised to learn that anyone could submit their own photos.
She said she "loves all of the pictures, but of Logan's [collection], I love his photo of the cherry blossoms he captured in D.C. And for René, her picture of the Zakim bridge."
The event also included a performance from Suffolk University's Jazz Band, who lent their talents to create an elegant atmosphere as the audience admired the samples of artwork. Christina Hickey, a global business and marketing student, is the violinist for the band, and despite nearly a decade of classical experience, this is her first year using her skills on the violin for jazz.
"I always enjoy playing in these types of gigs. We're all pretty close and we get to play in a fun environment," said Hickey.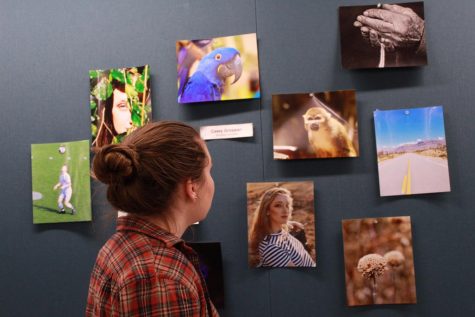 Casey, an interior design student, is another member of the PC who had some of his work hung up. When asked if he had any favorites, he responded "that's like picking a favorite child, you can't do it."
Casey also spoke about his experience as a photographer, a craft which he has been practicing since his junior year of high school, but has gotten more active with it while attending Suffolk.
"It's all about interacting with people, the environment, and exploring. I like trying new ideas because I'll never master the art, but with each photo comes improvement," said Casey.
The Photography Club welcomes all levels of photography and meets every Tuesday during activities period in Samia room 217. See more of their work on Instagram, @suffolkphotographyclub.
Leave a Comment