Boston Ballet demonstrates brilliant acting and seamless routines in 'Coppelia'
Toys and dolls burst to life at The Citizens Bank Opera House on Thursday evening during the Boston Ballet's opening night of Coppelia. The humorous ballet choreographed by George Balanchine enchanted audiences to the instrumental music of Léo Delibes.
The classic story is set in a village in Galicia, a land between Central and Eastern Europe. Act I begins with Swanilda, a young girl played by Misa Kuranaga, growing upset at her lover, Frantz, played by Derek Dunn, after she discovers he is utterly fixated on a beautiful life-size doll, named Coppelia, that sits perched on the balcony of Dr. Coppelius' toymaking shop. As a festival takes place in the village square, Swanilda remains heartbroken because she cannot hear an ear of wheat rattle when she shakes it, which she believes is a sign that Frantz does not love her.
Later in Act I, Dr. Coppelius, played by Isaac Akiba, accidentally drops the key to his workshop on the ground when a group of boys taunt him. The act ends with Swanilda and her friends using the misplaced key to unlock the door and slowly sneak inside to get a peek at the toys. Meanwhile, Frantz, who is eager to get closer to the dancing doll, uses a ladder to climb to the second floor of the building and enters through the window.
The first act immediately exhibited the ballet company's talent as dancers performed seamless routines one after another. Comedic touches added a nice layer of humor, such as Swanilda ignoring Frantz every time he tries to go near her and the last girl to enter the toymaker's home worriedly tugging on another girl's arm because she is scared to venture inside. Right from the beginning, the audience was guided through the amusing story by beautifully synchronized dancing and whimsical music that brilliantly matched each number.
As the curtain raises for Act II, the set changes from the quaint medieval town to a dark and dusty attic filled with hand- made toys. Swanilda and her companions curiously creep inside the room with wide-eyed facial expressions and shaking hands, jumping at every sudden noise until they finally feel comfortable around the mysterious dolls.
Soon after entering, Dr. Coppelius finds the girls and Frantz trespassing in his workspace. The toymaker gets Frantz drunk so he cannot get near Coppelia, so much so that he falls asleep in a chair, because he wants to use the young man's spirit in a spell that could bring the doll to life. Dr. Coppelius angrily chases away all the girls, except Swanilda, who cleverly hides behind Coppelia. Without the toymaker noticing, Swanilda slips on the doll's baby pink dress and sits in her armchair. Dr. Coppelius wholeheartedly believes that the doll comes alive because his magical spell has worked, but in reality, Swanilda is simply fooling him.
While pretending to be Coppelia, Swanilda imitates the doll's robotic movements and slowly begins to dance smoothly and gracefully, giving the illusion that the doll has become human. She playfully darts around the workshop, poking the other toys and trying to wake up Frantz by slap- ping his face.
During this scene, Kuranaga flawlessly developed her character by showing the audience her bubbly personality through a combination of dancing and acting. Her lively solo earned endless smiles and chuckles from the audience, easily making it one of the highlights of the performance.
In Act III, Dr. Coppelius is unhappy because his beloved doll is damaged, but the ballet concludes on a positive note when Frantz and Swanilda are wed. The villagers celebrate their marriage by dancing, allowing exquisite performers to take the stage for a mix of delightful solos.
No matter how challenging the choreography became, Kuranaga never missed a step. Every movement she made was simultaneously delicate and strong. She looked statuesque whenever she was en pointe and her face was always expressive, which helped the story progress because she clearly demonstrated how her character was feeling in each scene.
Dunn, who was recently promoted to a principal dancer, also deserves praise for his role of Frantz. Whether he was dancing alongside Kuranaga or effortlessly leaping through the air on centerstage, his performance was nothing short of stunning.
The Boston Ballet's rendition of Coppelia featured a number by students from the Boston Ballet School, who despite their young age, gave an exceptional performance with great poise during "Waltz of the Golden Hours" towards the end of the show. Soloists Maria Baranova, Rachele Buriassi and Maria Alvarez also shined as they delivered superb routines in "Dawn," "Prayer" and "Spinner."
Coppelia will play at The Citizens Bank Opera House until March 31.
Leave a Comment
About the Contributor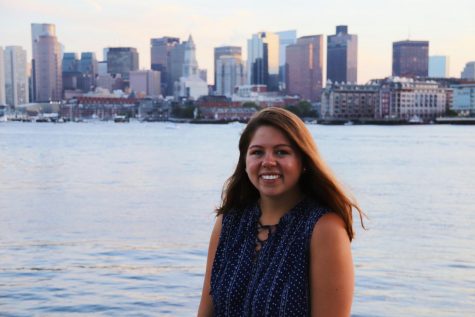 Morgan Hume, Arts Editor | she/her
Morgan is a native of Troy, New York and the Arts and Culture Editor for The Suffolk Journal. She is a rising majoring in print/web journalism and minoring in history. When she isn't scribbling into a notebook, she can be found drowning herself in cups of coffee, singing too loudly in the shower and exploring Boston, the historic city that has quickly become her home.
Follow Morgan on Twitter
@morganmhume