'Once' the musical tells Irish love story through powerful acoustic songs
Boston's SpeakEasy Stage Company took its New England audience to Dublin on Sunday afternoon through their production of "Once" the musical at the Calderwood Pavilion at the Boston Center for the Arts.
"Once" is based on the 2007 film of the same title. The show follows an Irish busker, known as Guy and played by Nile Scott Hawver, who meets a straightforward Czech woman, known as Girl and played by Mackenzie Lesser-Roy, who encourages him to keep singing his songs after she sees him leave his guitar on the ground and listens to him woefully explain that his days of playing music are over.
Girl sympathized with Guy's songs about his broken heart towards his old girlfriend that ended their relationship so she could move to New York and pursue better career opportunities. Over the next few days, Guy and Girl bond over their shared love of music and exchange personal, sometimes romantic, moments with each other. Girl helps Guy rent a recording studio to tape his first demo CD, and in the process Guy and Girl are introduced to each other's family and they learn more about the other person's private life.
Guy and Girl only knew each other for a handful of days, but they built a strong connection. However, by the end of the show, they realize it is better for them put their romantic feelings for each other aside. Guy decides to join his old girlfriend in New York and Girl stays in Dublin to work out her faulty marriage and raise her young daughter.
Although the show concludes on a positive note, it is not like the typical happily-ever-after most love stories end with, where the man and woman remain giddily in love. Their paths crossed just long enough for them to realize that they are not ready to start a new relationship.
Compared to other Broadway musicals, "Once" is a soft, quiet show. Instead of large dance routines and flashy costumes, this production featured sweet-sounding string instruments and casual flannel shirts.
The sound track, which is comprised of Irish folk music, glues the show together. The dulcet strums from the guitars, the feather-like violins and cellos, and gentle piano keys mixed together to form a captivating, powerful sound.
Oftentimes in musicals, the ensemble fades into the background and is not seen as a key element of the show, but in "Once" the ensemble is a vital part of the performance. Members of the ensemble also served as the orchestra pit, so in addition to singing and acting, each performer played their own instrument. The cast delicately played guitars, violins, cellos and bodhráns.
The ensemble also effortlessly blended their voices to create breathtaking harmonies throughout the show. For example, Act I ends with Guy singing at an open mic after Girl encouraged him to practice performing in front of an audience. At first, Guy is singing the song "Gold" by himself, but slowly and softly members of the ensemble join in with backup vocals and other instruments. The romantic song steadily gets louder as more voices are added, but the tune never loses its intimate feeling. The same unique sound was recreated later in Act II during the reprise of "Gold."
Lesser-Roy sailed smoothly through every note while Hawver was unafraid to belt out the climax of each song in his raw voice. When Lesser-Roy and Hawver sang duets like "Falling Slowly," their voices gorgeously entwined, helping to showcase each performer's vocals.
Pulling off a foreign accent can be challenging, but each member of the cast convincingly played the part of an Irish or Czech person. The performers' strong acting skills also succeeded in making the audience chuckle at small humorous bits, such as when they joked about Girl being too blunt because she is from Czechoslovakia, as well as tug at viewers' heartstrings with deep, meaningful monologues.
Multiple components of "Once" helped set the scene of an easygoing Irish pub, including the costume design and set. For example, the cast looked relaxed dressed in laid-back clothing like jeans and knitted beanies. Also, the set consisted of plain red brick walls and poles that were scattered throughout the stage with instruments hanging off of them.
"Once" the musical will play at the Calderwood Pavilion until March 30.
About the Contributors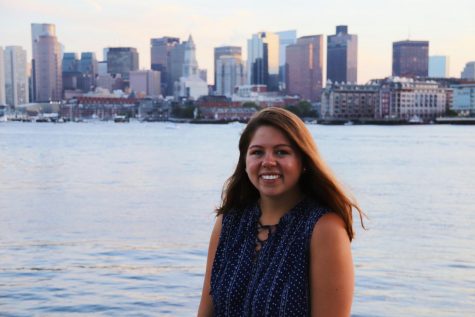 Morgan Hume, Arts Editor | she/her
Morgan is a native of Troy, New York and the Arts and Culture Editor for The Suffolk Journal. She is a rising majoring in print/web journalism and minoring in history. When she isn't scribbling into a notebook, she can be found drowning herself in cups of coffee, singing too loudly in the shower and exploring Boston, the historic city that has quickly become her home.