Suffolk students celebrate Festival of Lights
Vibrant colors and twinkling lights illuminated the first floor of Sargent Hall this past Tuesday as Suffolk University's South Asian Student Association (SASA) celebrated the Indian holiday of Diwali. Known as the famous Indian Festival of Lights, dozens of students gathered to participate in the celebration and learn more about South Asian culture through music, food, dance and spirituality.
"Diwali is known as the Festival of Lights and is one of the biggest celebrations in India," said SASA vice president Arushi Chauhan in an interview with The Suffolk Journal. "It symbolizes a new beginning for us each year for forgetting everything bad that happened and forgetting evil."
SASA executive board members explained that Indian culture recognizes the Diwali festival based on traditional stories that uphold symbols of accomplishment and triumph over evil.
Although different Indian regions have varying interpretations of the origination of Diwali, the celebration itself represents an auspicious time to pray for wealth and prosperity in the upcoming year.
"In India we celebrate with music, food, firecrackers and light," said SASA treasurer Navya Rajoria in an interview with The Journal.
In a traditional Diwali celebration, light represents purity and the expulsion of evil. People fill their houses with small clay oil lamps called diyas to mark a new beginning.
"It's like a new awakening. It's like when you're in a dark room and you see light – that's my hope," said Rajoria.
To mark the start of the festival, SASA members began with the Laxmi Puja prayer around a table decorated with small candles to symbolize the diyas. Once the prayer was completed, all were invited to participate in and fully embrace the Indian festival of Diwali.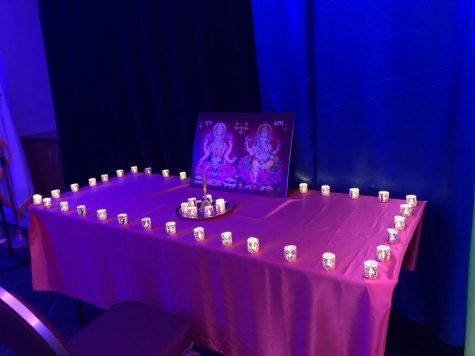 "Having this event at Suffolk is a great way to connect people and cultures together from around the globe," said Chauhan.
Bringing Diwali directly to Suffolk gave SASA members the opportunity to share their culture with other students from numerous cultural backgrounds.
"I heard about the event and wanted to learn more," said freshman economics major Hoaka Hashimoto. "I'd like to learn more about it and the culture."
SASA was highly pleased with the tremendous turnout of students and faculty at the event. Other cultural clubs and organizations on campus stopped by to participate, support the event and learn more about the traditions of Indian culture.
One of the main highlights of the event was a Bhangra dance performance by the New England Bhangra Club (NEBC) of Boston. Five dancers decorated in brightly colored traditional Bhangra attire enchanted everyone in the room as they began their routine, engulfing the audience in a fully authentic Diwali experience.
SASA also incorporated various other entertaining elements of Indian culture within the event such as henna designing and Bollywood music. One of the main draws was the vast array of Indian food. Some of the dishes included samosa, a fried dish with a savory potato filling, and daal, a spicy lentil based curry.
"Indian food is all about spices," said Rajoria as event-goers lined up to help themselves to the flavorful Indian buffet lining one entire side of the room.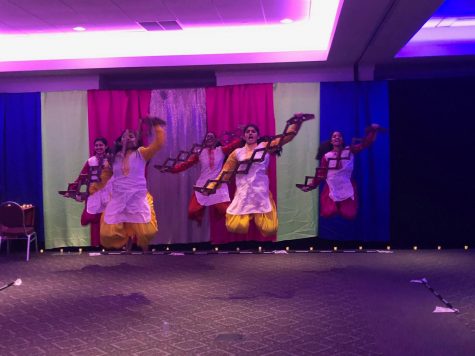 For Suffolk students that participated in Diwali for the first time, the event was a completely new experience of culture and tradition. However, for the students that typically celebrate
Diwali with their families in India, the festival allowed students to find a new community of Indian culture with other students from similar backgrounds.
"Diwali is a very big festival for us, it's like Christmas [in the United States]," said graduate student Namrata Agrawal in an interview wi
th The Journal. "It's great to celebrate here because I can't be with my family at home. I'm glad they did this."
Many SASA members feel they have been able to grow their community and connection through their involvement in the club together.
"It's great to celebrate something you're missing back home that connects everyone here," said SASA secretary Dhwani Chheda.
Creating a home away from home is a major goal of SASA. The club's president, junior biology major Tohfa Phonsia, expressed her purpose for bringing Diwali to Suffolk.
"I knew what it was like to be away from home and I wanted to give this experience to other students that felt the same," said Phonsia in an interview with The Journal.
In collaboration with the Center for Student Diversity and Inclusion (CSDI) and the Center for International Programs, many that attended the festival felt impassioned by the spirited effort of SASA and the event's ability to unite so many people from different cultures in one night.
"Events like these highlight our unique differences and give all of our students a chance to experience other cultures with food and music and fun," said CSDI Director Beatriz Patino in an interview with The Journal. "This makes me smile and be hopeful."
About the Contributor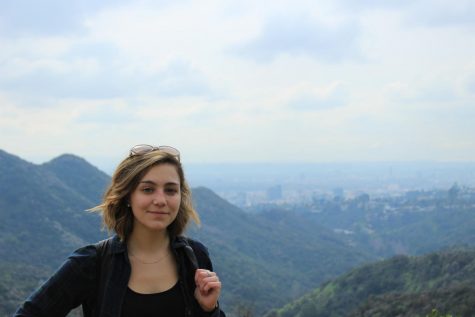 Amy Koczera, World News Editor | she/her
Amy has been writing for The Suffolk Journal since fall 2016. In addition to being the World News Editor, she is also the treasurer of the Suffolk Jazz Band, a Teaching Assistant, Resident Assistant, a member of The Journey program, and a Project Leader for the Center for Community Engagement. Amy is originally from Dartmouth, MA and studies Broadcast Journalism with a minor in Philosophy. When she's not in the Journal office, you can find her at the gym, the Esplanade or walking around campus wearing a backpack that's twice her size.
Follow Amy on Twitter
@AmyKoczera