Suffolk UNICEF hosts DEI and cultural competency discussion
Suffolk University UNICEF hosted a Q&A panel discussion about diversity, equity and inclusion and cultural competency on Oct. 27.
The event featured speakers Dr. Maritsa Barros, a lecturer at Tufts University's Diversity, Inclusion and Justice Program; Ellen Bailey, vice president of Diversity and Inclusion at Harvard Business School; and Reverend Amy Fisher, director of Suffolk University's Interfaith Center. 
For the members of UNICEF, the event aimed to help students spark conversations about DEI, both during their time as Suffolk students and after graduation in new communities and workplaces. 
"We talked about this over the break, thinking about what we could do at Suffolk that ultimately targets what we are trying to do, which is social activism and advocacy on campus, and how to apply that outside of campus when we all eventually graduate," said Chaimaa Hossaini, Suffolk UNICEF president and co-founder. 
Fisher highlighted religion as a dimension of diversity, one that, according to Fisher, is oftentimes invisible, making it crucial that communities and organizations make a conscious effort to support religious inclusion and awareness. 
"Sometimes, we just need to stop and think that the more open and welcoming we are, the more that we can be in the lines of having true diversity. That goes into being there for people that have been left out, whose religion has been appropriated," said Fisher. 
Barros stressed that DEI is not something that belongs in an independent space, but rather is applicable in every area of life. 
"First thing I would say is to stop thinking of DEI as a separate or additional thing — it is something that you should have with you at your center that you bring with you wherever you go, whatever field you're working in," Barros said. 
In addition to the discussion with the three panelists, all students in attendance had an open seminar-style discussion regarding their experiences with diversity and inclusion, both at Suffolk and beyond, as well as their goals for helping the university improve in the realm of DEI. 
According to Barros, student advocacy begins with recognizing the influence each individual has within an institution and accepting responsibility for your own academic experience, something that can best be done by banding together as one voice. 
"You have to go into college and explore to find out 'what am I doing here, why am I here?' When you start to define those things and identify them, then you can start identifying the meaningful experiences you need, and start paying attention to what stories and experiences that you keep hearing and whose voices are missing. Those are the places that you empower yourself to make the ask, make the demand, and if you're not being heard, rally your people," Barros said.
In the realm of DEI, Fisher emphasized the importance of speaking up and being an advocate for your own needs and identities. 
"If you don't see something, ask for it. We all have different aspects of our identities. In my field of religion as diversity, if you don't see your faith represented, you need to speak up and say 'where is it?'" Fisher said. 
Bailey echoed Fisher's sentiment, describing how she advocated for herself in this way as a Harvard employee, something that launched her career as the vice president of Diversity and Inclusion at the business school. 
"Back in 2018-19, I recognized that as an individual contributor, not a manager, doing my job, head down every day, there were not many people that look like me. I identify as black, she/her. As far as leadership goes, there was nobody that looked like me. I decided to take on this challenge and challenge Harvard to be better," said Bailey. 
According to Bailey, creating a positive and inclusive environment begins with valuing diversity, something that goes far beyond just the statistics. 
"A sense of belonging is actually the outcome: if an organization is diverse, if an organization is inclusive, meaning everybody has a voice and we value everybody's different opinion, we actually welcome it then the outcome will be a sense of belonging," Bailey said.
View Comments (1)
About the Contributor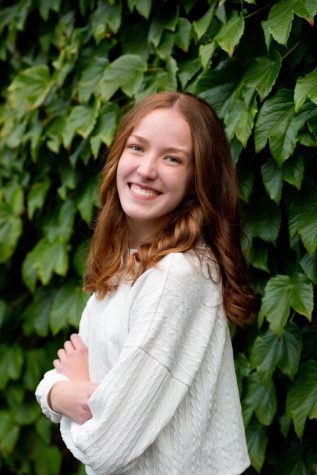 Maren Halpin, Asst. News Editor | she/her
Maren is a sophomore print/web journalism major from Milford, Massachusetts. In addition to writing for The Journal, Maren is a member of Suffolk's track and field team. In her free time, she loves to go to her favorite coffee shops, listen to Noah Kahan and Taylor Swift on repeat, explore the city and spend time with family and friends.