Halloween karaoke is eerie-sistable
Suffolk University's Asian American Association and Rampage Show Choir collaborated to put on their second annual Halloween Karaoke night on Oct. 26, filling the SLI lounge with Halloween decor and lively music.
The event was held from 6:30 p.m. to 8:30 p.m. on the third floor of the Sawyer building. The common room was decked out for both karaoke and Halloween with banisters wrapped in string lights, streamers hanging from the ceiling and the stage set up with a screen to project song lyrics. 
Many of the attendees were dressed in Halloween costumes for the costume contest, including a strawberry, werewolf and Coraline. The event featured numerous students singing some of their favorite songs, including Matilyn Paul singing "Hopelessly Devoted" from "Grease," Cate Healey singing "Maybe This Time" from "Cabaret," and Emily Zeigerson singing "Valerie" by Amy Winehouse. 
On campus, Rampage puts on a variety of shows throughout the year, including Suffolk's Performing Arts Office's Winter Show, as well as their own cabaret. AAA works to promote Asian culture and community on campus through a variety of events open to everyone on campus. AAA's annual events include boba runs, movie showings and their hit cultural show. 
While the two clubs may seem to have little in common, Rampage President Morgan Mitcheson and AAA President Cassandra Kuechler took the event as a chance to combine their two clubs. 
"We just wanted to bring different groups of people together that wouldn't usually cross paths," said Kuechler. "It's a nice way to get people to meet new people." 
The presidents said the event took hard work and collaboration between the two clubs, as the two delegated who was going to get food, contact media services and decorate. However, as their second Karaoke event, the framework was already there. 
"The most challenging part is trying to find a balance between making sure everyone got a chance to sing and letting people sing multiple times within our time limit," said Kuechler. 
The event drew a large crowd and  multiple singers went up for karaoke again and again, with the audience cheering every performer on. 
"I'm really enjoying the community, everybody here is super nice and supportive of everyone on stage," said Mila Mabhongo, who attended the event 
Mitcheson and Kuechler are both graduating in 2023, but they hope the tradition they have started will continue past their time at Suffolk. Kuechler said it was an event that everybody liked and that the two groups would probably continue. 
"I think a lot of times people think that the PAO groups perform together, we can get the Ramifications and Rampage on a show together, but they don't think about collaborating between SLI and PAO and I think that that is really valuable," said Mitcheson. 
AAA meets bi-weekly every Tuesday during activities period in Samia 214, and everyone is welcome to stop by and join. Rampage Show Choir rehearses every Sunday and Wednesday, and holds  auditions in the fall and spring. 
Leave a Comment
About the Writer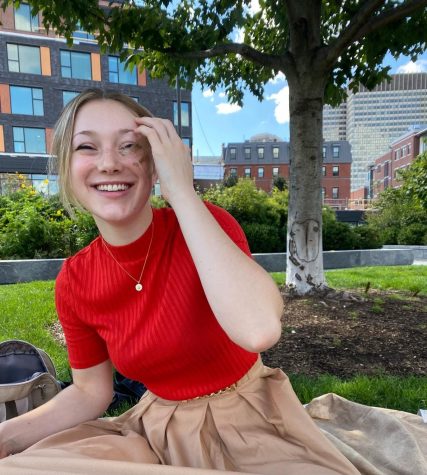 Emily Collins, Staff Writer | she/her
Emily is a senior majoring in print/web journalism and minoring in biology at Suffolk University. If she is not reading or writing, she can be found listening to music or spending time outside. Emily is also a member of Alpha Sigma Alpha and the Ramifications on campus. After college, Emily hopes to work as a wildlife journalist.
Follow Emily on Twitter at
@emilycSUCJN363
.