Suffolk welcomes Palestinian author to speak on campus
Suffolk University welcomed Sayed Kashua, a Palestinian author, journalist and academic, to speak to students, staff and Boston community members in Sargent Hall March 29.
"Middle-East to Mid-West: A Palestinian Writer's Journey" was sponsored by the Ford Hall Forum and the Political Science & Legal Studies and Communication, Journalism & Media departments in collaboration with the Lowell Institute. Professor Michal Ben-Josef Hirsch, who instructs the course "Conflict in Israel/Palestine" at Suffolk, moderated the event and emphasized the importance of bringing global perspectives to Suffolk.
"To have this amazing opportunity to bring artists, scholars, fascinating people to Suffolk is really a privilege," Hirsch said.
After an introduction by Hirsh, Kashua gave a presentation about his work, which ranged from screenwriting multiple critically acclaimed television shows and novels in Israel to his extensive career in journalism. Kashua wrote four novels and is credited as a screenwriter on three television shows.
Kashua wrote a satirical weekly column for Haaretz, a daily Israeli newspaper. He documented his experience as an Arab-Palestinian living in a predominantly Jewish neighborhood of Jerusalem with tongue-in-cheek political commentary and anecdotes about his life until he ended the column in 2017.
In his time at Haaretz, Kashua was also a news reporter covering the West Bank and Gaza. He said he was one of few Arab journalists working for the paper, which led him to report on the conflict.
"Usually, if you're an Arab journalist, if you're lucky to be hired by an Israeli newspaper, you are expected to report about Arab issues," Kashua said.
Kashua said he used humor as a tool in his personal column to hook the Israeli reader, and later in his TV shows, the viewer, to listen to his perspective as a Palestinian. When he began writing the sitcom "Arab Labor," Kashua knew that to bring a Palestinian family to mainstream Israeli living rooms for the first time, he would need the same humor from his column to discuss more profound issues.
Much of Kashua's work involves Arab-Palestinian characters' struggles with their identity. Depending on a character's national views and how they identify, they flip between speaking Arabic and Hebrew. This code-switching references the assimilation that many Arab-Palestinians feel pressured to go through or are forced to, according to Kashua.
Following his presentation, Kashua answered questions from the audience about his decision to move to the United States in 2014 and his difficulties navigating a new country. He said the first few years were defined by a "feeling of instability," in part due to the political climate in the U.S.
After living in the U.S. for almost nine years, Kashua says he still has yet to feel settled.
"I'm looking from the outside, I think. I'm not emotionally involved yet. I learned a lesson, so I keep some distance," Kashua said.
Kashua spoke about Israeli Prime Minister Benjamin Netanyahu and the mass protests that occurred in Israel regarding his proposed judicial overhaul, which has since been delayed. Netanyahu's plan would give him and his political allies ultimate power in appointing federal judges as well as give parliament the ability to overturn Supreme Court decisions, according to the Associated Press.
"I have to say that some of the groups I see, sometimes there are flags and some signs, saying, 'no democracy with occupation,' and if you look at the photos, it's always with the Israeli flag, and the Israeli flag is a Jewish flag," Kashua said. "I read in an article that some Arab activists and politicians wanted to participate in demonstrations but they were asked to deliver their speeches in advance, and they actually were asked to delete some sentences of their speeches, so that makes you think, 'what is going on here?'" 
He said discussing occupation and democracy without relating it to the Israeli presence in the West Bank and Gaza and the status of democracy there was hypocritical. Kashua added that the demonstrations inevitably affect Arabs and Palestinians and it is necessary to include them when looking toward the future.
It is also necessary to remain hopeful, Kashua said, even when it may seem easier to give up. 
"I truly believe that even if it is very irrational, I cannot give up hope," Kashua said.
Leave a Comment
About the Contributor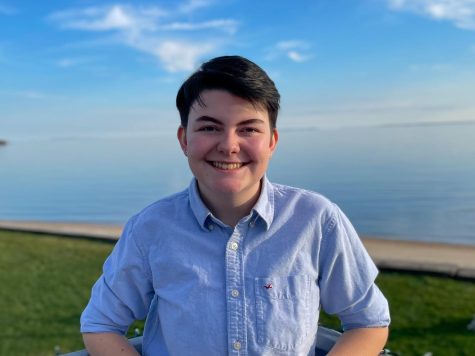 Leo Woods, Photo Editor | he/him
Leo is a senior political science major with a minor in journalism from Clinton, Conn. He has photographed political events, protests, performing arts groups and documented Boston Pride for the People for the History Project. Outside of Suffolk, Leo is an avid Dungeons and Dragons player and podcast listener. After graduation, he plans on attending law school and working in politics.
Follow Leo on Twitter @leowoods108