Make way! A new ram on campus!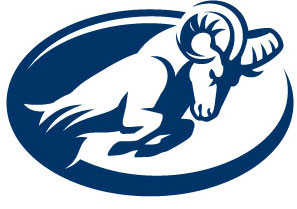 Derek Anderson
Journal Staff
After 50 years, Rammy, Suffolk's beloved mascot, has finally retired to make way for a new ram logo, which was introduced to the University with a celebration last Tuesday. Students and faculty crowded into the Temple Street Park across from the Donahue Building for a first glimpse of what now represents the Suffolk Athletics Department.
"I think quite simply it was time to give Rammy a new look. I think it represents a stronger ram, a little more updated, something a little more usable in multiple formats," said John Silveria, Assistant Dean of Students. " It's something that hopefully builds some excitement around our athletic program."
President David Sargent, Vice President of Student Affairs Nancy Stoll, and Athletics Director Jim Nelson presented the unveiling of the new ram icon to the crowd.
"For more than five decades, under the ram logo, Suffolk has enjoyed tremendous success in intercollegiate sports. We are so proud of our student athletes, both past and present," remarked Sargent before the presentation. "And perhaps best of all, our student athletes have a cumulative grade point average above 3.0. These men and women epitomize the words 'student athletes'. Today, after 50 years, a tired, old ram who has proudly served us is going to be retired and a new and dynamic ram replaces him."
Following the unveiling, music played, cake was served and t-shirts with the new ram printed on them were handed out to attendees. Temporary tattoos, new ram hats and a chance to win Red Sox, Bruins and Celtics tickets were also perks to the celebration.
"It's really cool. I like it a lot. I love the t-shirts, I just ran down from the fourth floor trying to get one," said senior Teryn Chin amidst the celebration. "The logo seems cooler and more professional."
Not only did students approve, but faculty as well.
"I think this represents a more modern look to our athletic program. It's a strong, spirited and determined look. The kind of logo we'll be proud to have on our apparel and uniforms," said Stoll. "It really represents a modern change for us that I think is exciting and invigorating for our athletic program."
The new ram did not happen overnight, however. The rejuvenated icon took approximately 10 months to create according to Kaajal Asher, Art Director of the Office of University Communications.
"The first trick was finding a new illustrator who could do what I wanted to be done," said Asher. "I knew I wanted something really bold, really graphic, something that worked really well with black and white so I looked at a lot of portfolios. After about a couple thousand of them, I found Chris Mitchell from England. I got in touch with him and described what we were looking for. At the time, we weren't actually sure. We weren't sure if wanted just a face or a full body or something in-between. I worked with him and we came up with what we have here. Student athletes and the athletics department and lots of others chimed in and helped with the process along the way. Everyone really participated in coming up with the final look."
In the end, a new ram is on campus and here to stay. With old Rammy in retirement, the athletics department has a new mascot and logo as support for years to come.
"New energy, new spirit, new enthusiasm, and we're respectful of our old ram, but it's time to retire him off to green pastors to enjoy life," said Sargent. "The new ram will succeed him beautifully.
Leave a Comment