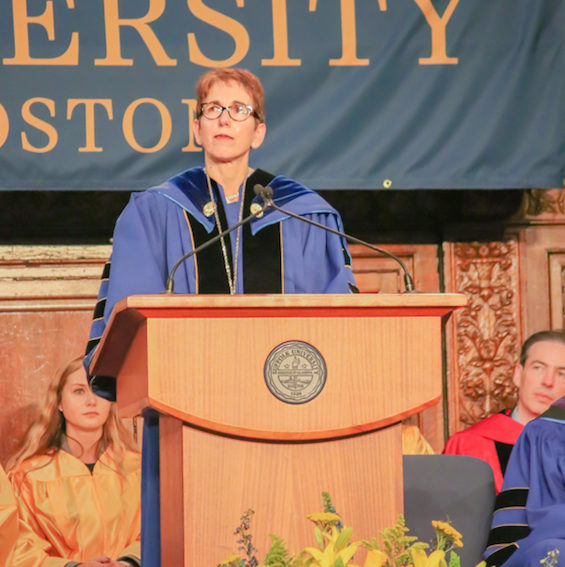 Suffolk University welcomed its 11th president on Friday in the Tremont Temple as Marisa Kelly was inaugurated in front of family, faculty and staff, students, alumni, as well as elected officials and other dignitaries.
All speakers from Kelly to alumni to current students described the qualities that made the Suffolk experience meaningful.
"Suffolk was founded in the spirit of giving and selflessness. That is something we hold dear, that there is great value in being generous to each other and to our community, and also, being recipients of our community's generosity," said Kelly about Suffolk's history. "We are about transforming lives. We are about building bridges of opportunity."
The ceremony began with a procession of student groups, with one member of each group holding a flag with the title of the group and their logo. Students filled the second floor and half of the third floor of the Tremont Temple.
The students were then succeeded by the faculty and staff, each wearing a robe with colors representing their most advanced academic degree. Finally, speakers, as well as notable faculty and staff, joined President Kelly on stage.
The inauguration program began with Robert C. Lamb Jr. chair of the Board of Trustees, introducing notable attendees.
Lamb was followed by Rebecca Zama, class of 2019, who sang the national anthem.
Noted guests from Boston and Massachusetts spoke, including U.S. Sen. Edward J. Markey, who praised Suffolk for its commitment to the city of Boston as well as student success after graduation.
"We have to help students to make it possible for them to all realize their dreams," Markey said. "Each generation has its own unique challenges. For this generation, it is to put an end to shameful disparities, to protect the planet and its people from climate change, and to use education, the arts, business, law, science and technology, and innovation, to heal the world."
Boston Mayor Martin J. Walsh spoke about how leaders like Kelly are shaping the next generation of Bostonians and, in turn, the country.
"Already, President Kelly has built on this proud legacy. She's taken the helm at a historic time, and at an important time. She's joining a growing chorus of women voices leading Boston's institutions, and I'm proud to have her in this role, as we grow as a leader in education, a champion for equal rights, and a city of opportunity" said Walsh.
Massachusetts House Speaker Robert DeLeo, a Suffolk Law alumnus, spoke about how Suffolk helped shape his career.
"Suffolk graduates help to drive our economy by staying and working right here in Massachusetts long after they graduate," DeLeo said. "I know that Marisa will lead Suffolk into the future with passion, with excellence and in keeping with the university's tradition of cultivating public service."
Elspeth B. Cypher, associate justice of the state Supreme Judicial Court, recalled how Suffolk was able to help her as a new mother with her law degree.
"I am, indeed, very grateful to Suffolk University for making my education and career possible," said Cypher.
Suffolk's own Soulfully Versed, a student-run a cappella group, performed their song "New Suffolk," hallmarking President Kelly and her success as acting president and as Suffolk's new president.
Representatives from each of Suffolk's core departments followed Soulfully Versed, including the board of trustees, faculty, alumni, staff and finally, students.
The Board of Trustees was represented by Suffolk alum Ernst Guerrier, who was then accompanied by faculty representative Dr. Jonathan Haughton.
"The resilience of universities like Suffolk is the human touch," said Dr. Haughton of the economics department at Suffolk. "There is simply no substitute for being in a class face to face with a real teacher, who can guide, explain, counsel and encourage."
Suffolk's diverse alumni, all coming from different perspectives and life experiences gathered in Tremont Temple to support the new presidency. Among them was Dellren Lindsey, class of 2016.
"The university redefined what it meant to be a traditional student," Lindsey said as she described how Suffolk helped her be successful in all aspects of her life. "My education helped me to appreciate and love and admire myself and what I have to bring for the world."
As a 28-year member of Suffolk University's staff and Suffolk alumnus, Joyce Miller noted how Suffolk has been able to provide a life for her and her five children.
"Suffolk helped to make me and my children who we are today and it is a second home that I will always cherish," she said.
Joe Piemonte, a senior history major, was chosen to speak on behalf of the students at Suffolk. Piemonte highlighted how much President Kelly means to the student body and to student's Suffolk experiences.
"She always makes an effort to support student events and even talks to students and gives them advice," Piemonte said. "President Kelly is the person to make sure tolerance and acceptance flourish, while hate and discord won't touch the campus."
Lamb was joined onstage by students and faculty as well as board officers to present the symbols of office for President Kelly, including the university charter and the presidential medallion. SGA President Morgan Shattuck Robb and board officers Mark E. Sullivan and Nancy J. Stack presented Kelly with the presidential medallion, confirming her as President of Suffolk University.
Kelly then gave her inaugural address, focusing on the impact that the students provide to Suffolk and her life as president.
"The value of higher education is indisputable, and for many Suffolk students it is literally life-changing," said President Kelly on Suffolk's impact on higher education for students. "We are lifting people up."
Kelly emphasized the need for Suffolk to grow along with its students to stay relevant and continue to thrive.
"This is our moment to take our historic strength in empowering students and expand on it, to look at where we can make the greatest difference and invest in it," said Kelly. "As the world around us changes, we know our alumni will need to expand their skills to keep pace with the shifts in their professions, or to pursue whole new opportunities, either in mid-career or upon retirement, their so-called encore careers."
The Ramifications, a student a cappella group, performed the Suffolk alma mater to conclude Kelly's speech.
President Kelly, in final remarks before leading the recession ending the ceremony installing her as Suffolk University's 11th president, said:
"We are Suffolk University, and we are a powerful force for good."