As she prepares to be inaugurated on Friday as Suffolk's 11th president, Dr. Marisa Kelly said she is looking forward to developing a long-term vision of the university with significant input from the entire university community.
"One of the things that makes us such a fabulous community is our commitment to our mission … to be sure that Suffolk is a place that is creating transformational opportunity for students, not just now or five years from now but in 10, 20 years from  now," Kelly told The Suffolk Journal.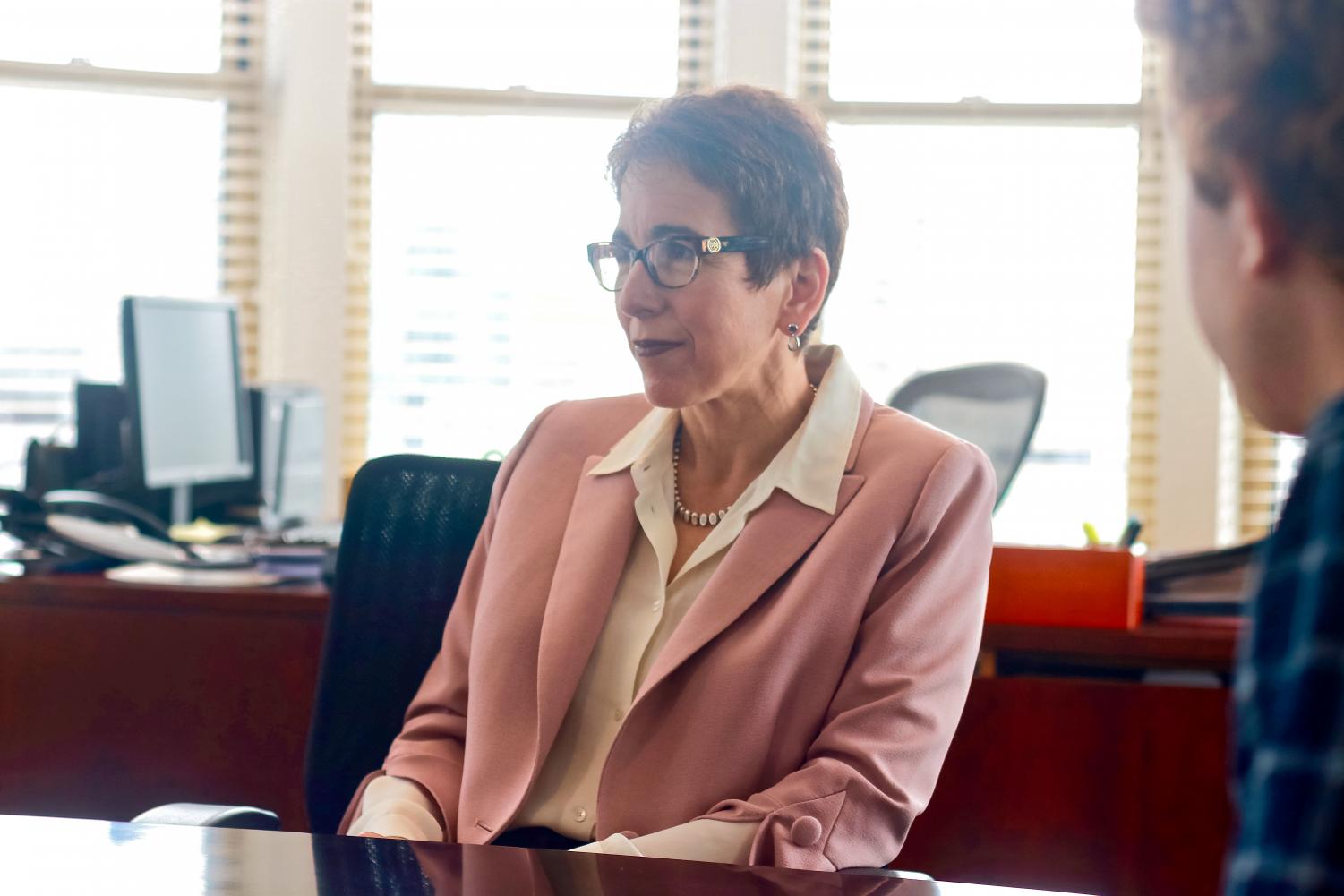 "The world is a changing place, so we are going to be working this year as a campus community collaboratively on the development on the next seven year strategic plan."
Kelly served as the acting president for more than two years before the presidential search committee selected her for the position permanently.
"I am surprised that as much as I felt the weight of the responsibility as acting president, the sense of that responsibility is even greater as president," Kelly said. "It is a very different thing to know that you have a level of responsibility for what this institution will look like in five or 10 years, or for laying the foundation for the really long-term success of the institution long after I am gone."
Acting Provost Sebastian Royo said when Kelly served as acting president, she treated the position no differently than she does now.
"I cannot think of in the last two years a single thing that she did or didn't do based on how it could have influenced the decision [to hire her permanently]," Royo said. "So in all honesty, I think it is going to be pretty much the same."
Kelly, who served as provost before being named acting president and now president, drew attention to Suffolk's most recent expansion of program offerings including the Registration and Financial Aid Center, Division of Student Success and the Ram Center.
"I think there's a sense of momentum of everybody knowing that we want to work together and all row in the same direction to ensure the success of our students, our alumni and the institution as a whole," said Kelly.
"
"The world is a changing place, so we are going to be working this year as a campus community collaboratively on the development on the next seven year strategic plan
— Marisa Kelly
With the inauguration of a new but experienced president, Suffolk hopes to solidify a central system of administration that unites all three colleges — the College of Arts and Sciences, Sawyer Business School and Suffolk Law School under one leadership system.
Royo has been at Suffolk for 27 years and in that time has seen major changes involving the upper administration at Suffolk.
"It used to be one of the most decentralized administrations I've seen in my career. The schools tended to have a lot of the responsibility that other [institutions] with a central administration wouldn't," said Royo. "And that has been changing a little bit over the last few years as we have built infrastructure in the central administration."
Royo believes there is still work to be done.
"One of the issues that has been raised is the need for [Suffolk] to work as one university," said Royo. "I think we have made a lot of progress over the last fews years, but I feel there is much to be gained from further collaboration among the three schools."
Kelly also said it is vital that Suffolk build on its tradition of welcoming a diverse student body and faculty.
"The commitment to diversity and inclusion, to people from different ethnic, racial, religious, geographic origins, gender identity, political persuasion, the whole gamut, is in our DNA. Because we really were founded on that mission," said Kelly. "I want to be clear here though: We have work to do.
"We have a vision of ourselves, I have a vision of us in terms of the kind of inclusive community we aspire to be. But there's a core commitment here that is shared by the members of this community, and that allows us to make good on those promises."
Morgan Robb, president of the Student Government Association, believes the answer for more diversity in faculty and staff  is the key for President Kelly's hopes for expanding diversity.
"I think that compared to other universities the numbers of marginalized identities that we have in our student body is extremely high, which is wonderful to see. [However] those numbers are not matched by faculty and staff which is concerning because then our students don't have people to go to," said Robb. "So I think that if we continue to work on that, overall we will better as a community."
As well as working on adding diversity to the school, there is a push to expand on the opportunities for students in order to make them as successful as possible.
Royo, emphasizing the need for students to leave Suffolk well-informed and able to be compatible with jobs in their field.
"It's crucial that we help students with their experiences and opportunities when they are here but also to get jobs when they graduate. So I think continuing to build the infrastructure for career services is going to be absolutely essential," said Royo.
Robb hopes to continue the growth students have made for themselves and their community as Suffolk provides the support they need for their ideas to thrive.
"I continue to see students creating more businesses or getting more recognition for themselves and for the university," said Robb. "I also think Suffolk has started to invest in its own people and I think that is going to be huge for incoming students, alumni and faculty and staff, that we are going to continue to grow and get better."
Above all, President Kelly hopes to improve the Suffolk experience for each student as they try to find their way through college and into their future.
"We are an institution that really cares about your success in life. That's professional and personal success because both are equally important and I think the college experience at every level, needs to be defined by what we can do to help you be successful," said Kelly. "And if there is a time someone doesn't feel that way, I want to know because I want to see what we can do to improve it. We care."
President Kelly's inauguration ceremony will be held Friday, in the Tremont Temple Baptist Church at 3 pm with the reception immediately following at 5 pm.