Comedy to address conflict
Author, screenwriter Sayed Kashua talks Isreali sitcoms
The Israeli-Palestinian conflict rages on in the Middle East – and according to journalist, author and screenwriter Sayed Kashua, hope to find the situation will improve, one has to be naive.
Last Wednesday night, students and faculty lined the seats of Modern Theatre to welcome the Arab-Israeli author to give a presentation and screen an episode from "Arab Labor," a popular, bilingual TV show in the Israeli-Palestinian region, created and written by Kashua. Kashua is also the author of the novels "Let It Be Morning," "Second Person Singular," "Native" and "Dancing Arabs," which speak to the situation and tension between the Palestinians and Israelis residing in the region, which continues to go unresolved given sectarian tensions in the region.
"Arab Labor" follows a man named Amjad and his family. Amjad is an Arab journalist working for a Hebrew newspaper trying to assimilate into a different culture. The episode screened was from the second season of "Arab Labor" titled "Remembrance." It depicts the struggles Amjad's family faces when his daughter wrestles with her cultural identity as an Arab attending a Jewish school in Jerusalem. Although she is an Arab, she wants to sing in her school choir as part of a Jewish Memorial Day celebration – which commemorates the death of Israelis who serve and have served in Israel's armed forces in Israel's military conflicts – to avoid feeling excluded from her Jewish classmates.
"It honestly reminded me of an American sitcom in a sense… Just because it was so funny and it kind of showed how humor is still in other cultures in times of conflict," said senior journalism major Sadie Haddad in an interview with The Suffolk Journal. "They were talking about the war and Independence Day and how it is a super controversial subject, but [the episode] still was funny."
Kashua, during the presentation, claimed that "Remembrance" was unlike any of his other episodes due to the fact that it included very specific details about the traditions the two sides follow, making it a more political episode than most others. The episode was set in the days leading up to the Israeli Memorial Day and its counterpart known as Nakba Day. Nakba Day, which typically falls on May 15 of the Gregorian calendar, is a day of importance for Palestinians as it represents the day after Israel was officially created.
"It's very specific; usually most of [the episodes] are not that specific for Israeli ceremonies and traditions, but this one is," said Kashua in his presentation. "This episode would never be accepted if it was first episode of the second season or the first season."
Kashua went on to speak about the importance humor plays when writing a show with undertones of a very serious issue. "It was clear that in order to bring an Arab family to the primetime, to the living room of the mainstream Israelis, we need to use a lot of humor," said Kashua. "We need to familiarize the Israelis, and you have to show them that it's not threatening them."
Following Kashua's own take on the screened episode, Communications and Journalism Associate Professor Shoshana Madmoni-Gerber moderated a open discussion with Kashua and the audience. Madmoni-Gerber also hails from Israel, like Kashua, and her parents are of Yemeni descent. She stated that her parents moved to Israel in 1949 from Yemen during the discussion.
Kashua lived in West Jerusalem before moving to Champaign, Ill. with his three children, which he jokingly described as being "very tragic." He writes about why he left in his article "Why Sayed Kashua Is Leaving Jerusalem and Never Coming Back" published in July of 2014 on Harretz.com in one of his weekly columns.
"I was silent, knowing that my attempt at living together with others in this country was over. That the lie I'd told my children about a future in which Arabs and Jews share the country equally was over," writes Kashua.
Although Kashua once called West Jerusalem his home, he explained that he currently has no reason to be optimistic about the ongoing Israeli-Palestinian conflict.
"It's frustrating when you lose hope, I gave up. Back in the summer of 2014, that's when I realized it was very traumatic [leaving Israel]" said Kashua. He also said that in order to believe there soon be a shared state, "you need to be very naive in order to think that way."
As tragic events continued in the Middle East, Kashua referenced the Gaza War of 2014 and said that he stopped writing the series after the fourth season because he felt too despaired over the events that were unfolding between the two sides.
"It's not the time for comedy. It's not the time to create such characters and episodes," said Kashua. "Maybe one day they [Palestinians and Israelis] will share the land equally. [But] it's not rational talking about it."
In addition to writing the television series, Kashua is a columnist for Haaretz, an Israeli newspaper, and has recently released another novel titled "Track Changes." "Arab Labor" can be streamed online in the United States from PBS and TV Guide.
Leave a Comment
About the Contributors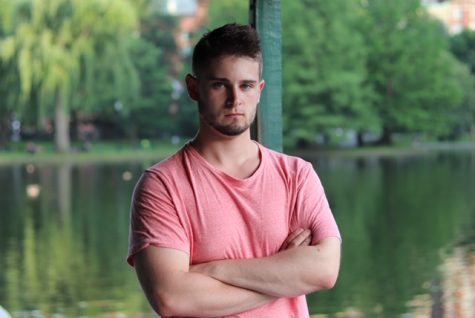 Ryan Arel, Former Senior Staff
Vermont native Ryan Arel is a former Arts Editor and former Opinion Editor for The Suffolk Journal. A print journalism major and economics minor, Ryan aspires to become a versatile writer who can cover any story of any topic that is worth telling.

Passionate about sports, photography, and history, Ryan also hopes to write and research in a way that makes complex issues easier for readers, and himself, to understand.

After leaving Suffolk, he hopes to work in the media field and stay in Boston, but he does not duck away at the idea of maybe traveling someday for work. When he isn't in the office, he can be found scream-typing homework assignments and stories, at the gym, watching "The Office" reruns or The Red Sox, his favorite sports team.

Follow Ryan on Twitter @ryanarel.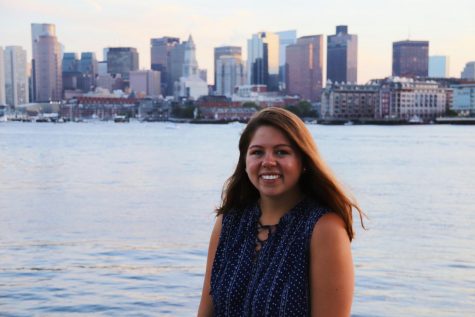 Morgan Hume, Arts Editor | she/her
Morgan is a native of Troy, New York and the Arts and Culture Editor for The Suffolk Journal. She is a rising majoring in print/web journalism and minoring in history. When she isn't scribbling into a notebook, she can be found drowning herself in cups of coffee, singing too loudly in the shower and exploring Boston, the historic city that has quickly become her home.
Follow Morgan on Twitter
@morganmhume