Spring Showcase 2018: an existential crisis, celebrating women
Within the theater community lies an undeniable thirst to create and suspend reality, if only for the briefest of moments. A hunger to create passionate, personable and personal content is always on the rise. At Suffolk University, this trend remains amongst its gifted theater student writers, directors and producers. Perhaps one of Suffolk's greatest accolades is its ability to showcase the talents of its patrons in a way that encapsulates each one's personality and character on a platform that begs for attention. This year's Spring Showcase does just that.
Comprised of just two shows this year, Showcase offers up a pair of sinfully creative and innovative performances that displays the raw talents hidden deep within the floors of the Theatre department. However, without the student directors and their ability to see beyond the barren onyx walls of the Sullivan Studio black box theater, these creations may never have seen the light of day, and their creators the chance to shine.
Though perhaps the most inspirational part of this particular event, is the level of support that circulates throughout the department. Faculty supporting students, students supporting one another – the current system in place is so self-sufficient, it draws attention into itself and tends to glow from within.
Senior Theater major Elektra T. Newman described her gratitude toward the department and this year's Showcase for the continuation of support and assistance.
"It's a collaborative process," she said in an interview with The Suffolk Journal on Tuesday night. "It's inspiring, it makes me feel happy that I'm doing this. Happy and proud."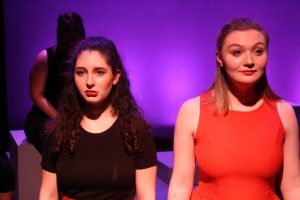 No stranger to the stage, Newman has had her fair share of involvement with the department and the variety of productions within it, all of which she said, have helped her reach this pivotal moment in her career.
"It's exciting and it's different obviously, it's kind of nice too because I've gone through four years of college and this is kind of like piecing all of that together and doing design work and writing a show, and directing. It's a lot, but I've had a lot of help along the way," she said.
Newman's production, "Acting 101//Ames' Room," originally started when she was in high school. Taking inspiration from the concepts of teachings within various religions, Newman described her show as an individualistic journey. Newman said she noticed performance studies aspect of theater in life and religion and what it takes to become more refined self and reach a higher state of being.
"You can take life and make it a performance," she said.
Similar to Newman is senior Theater major Victoria Isotti. Also a frequenter of the theater department and its colorful array of productions, Isotti is all too familiar with the concepts of theater production and all that goes into launching a successful show. Spending the past four years participating in other student-run performances, Isotti told The Journal how excited she was to finally call a performance her own.
"This is different because it's more personal," she said. "It's my baby, it's my show, I created it, I cast it, I've been working on it for about a year now so it's not more meaningful it's just more of my own. Which as before it was always someone else's vision, now it's completely mine."
Isotti is particularly proud of how she was able to combine two passions of hers – women and gender studies and musical theater – into a performance that would be groundbreaking for the showcase series.
"No one had done a musical showcase before so I was determined to be the first. I really wanted to do a show that I could create, because I'm not a playwright. This felt like something that I could fully be proud of," she said.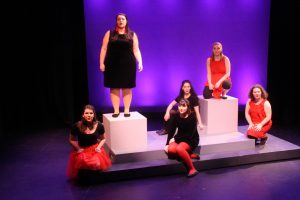 Isotti's performance, "I Enjoy Being a Girl," is entirely comprised of women with a heavy focus on songs and feelings that evoke femininity and what it means to be a female.
"I just really wanted to portray how women have been portrayed throughout the century and i want people to see that even though the songs have gotten bigger and brighter, that nothing has really changed so far, even though the portrayal is still the same basically," she said.
While the two directors prepped for their performances, news came just a week and a half before curtain call that their third counterpart, junior theater major Sam Deans, would have his show cut from this years Showcase installment. Both Deans and Theatre Department Managing Director James Kaufman, in separate interviews with The Journal corroborated that Deans' show has only been postponed until late April to coincide with additional Theatre department programming.
Spring Showcase will run Feb. 8 – 11 at the Sullivan Studio Theater at 8p.m. Tickets are free but reservations are encouraged, sign up online at web.ovationtix.com/trs/pe.c/10232702.
Leave a Comment
About the Contributor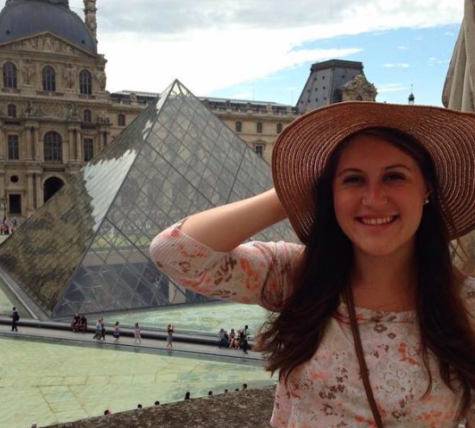 Felicity Otterbein, Past Arts Editor
As a member of the Best Friends of Friendly's Ice Cream Club, Felicity enjoys not taking life too seriously. She appreciates all walks of life and accepts all those who are willing to share a smile. 
As the Arts Editor, she enjoys uncovering new music and discovering the hidden gems of the Boston and Suffolk arts communities.  She enjoys supporting both her friends and university by attending and reviewing Suffolk-based art by featuring the array of talent that can be found on campus.
She prides herself on her uncanny ability to document every waking moment of her dog, Shadow, and can most always be found with an iced coffee in her hand. If you're looking for her, she's usually at her desk inside of The Journal office watching SNL reruns or galavanting through the Isabella Stewart Gardner Museum.