#GlamSlam at Boston Fashion Week
Profiling current and aspiring designers, Boston Fashion Week 2017 displays stories slam style
Local fashion designers and artists came together Thursday night to share personal stories from their careers as a part of this year's Boston Fashion Week. #GlamSlam featured 10 different speakers from all areas of the fashion world, from makeup artists to footwear designers to models and an author. Some had been in the industry for years while others are just beginning their careers. #GlamSlam was put on by Platform Downtown and Downtown Business Improvement District (BID), and was hosted by former fashion model and comedian Bethany Van Delft.
Audience members also had the opportunity to anonymously participate in the event. On each seat was a white slip of paper that asked to tell of the "last time you committed a fashion faux pas."
One person claimed that faux pas do not exist.
"Never! I don't believe there is a mistake in fashion," one wrote anonymously.
The event proceeded in slam style, with speakers' names drawn out of a designer bag.
Footwear Designer Chris Donovan was the first name pulled from the purse and took a seat at the front of the room and faced the crowd.
"No matter what I'm looking at throughout my day, if it intrigues me, my mind always goes to shoes," said Donovan. "I'm obsessed."
Donovan developed a love for shoes early in life, but decided to work for a phone company after high school as an operator for nearly 25 years.
"I knew there was something more in me, and I knew there was something more out there that was more worthwhile than what I was doing," said Donovan.
After sketching designs for more than 40 years, Donovan finally decided to have a designer take a look at his ideas. After the first night of classes, the designer pulled him aside in class to tell him that he was born to do this. Donovan left his job and he and his husband moved to Italy for him to attend Polimoda, a fashion design school in Florence. With no design background, he graduated at the top of his class, and will be releasing a shoe line within the next year.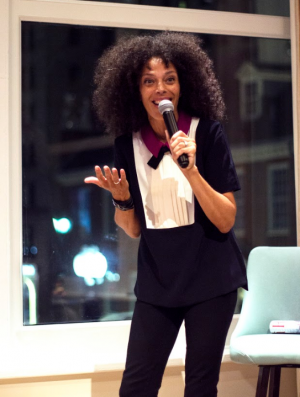 Recent Suffolk University graduate Maxine Buretta was one of the speakers at #GlamSlam, where she shared the story of her senior thesis project. As a senior, she had the opportunity to design the costuming for Orlando, by Virginia Woolf where she put together more than 40 pieces for the show.
"It was a fantastic and transformative experience for me," Buretta told The Suffolk Journal in an interview. Suffolk allowed her to graduate with a concentration in costume design, despite not having a major catered to her passion.
As of late, Buretta is a freelance costume designer and works on odd jobs that intrigue her. One current project is a costume she is putting together for an eight foot tall bear.
"I love freelancing, although it's not a career goal I have long term, but I love it and I love what I do," she said in an interview with The Suffolk Journal on Thursday evening.
Not all of the speakers at #GlamSlam were designers. Liz Hostetter, the CEO and founder of Ellie Kai took to the stage to speak about her company. Her inspiration for the business came from the time she spent living in Hong Kong where she had difficulty finding clothes that fit her due to her height. She worked with a local tailor to make clothes and designs that were personalized just for her. With no background in design, Hostetter took this concept and ran with it, and from it Ellie Kai was born.
Her company, which began in 2011, primarily manufactures clothes that are made-to-order. She focuses on the idea of personalization, customization and optionality in order to ensure her clients are all fully satisfied with the articles they purchase. Since all of her pieces are made-for-you, Hostetter's company is also proud of its ethical manufacturing which leaves behind fewer wasted materials.
Ellie Kai has reached global markets with offices in Boston, Hong Kong, Cape Cod and China.
Penny Vinik Curator of Fashion Arts, Michelle Finamore from Boston's Museum of Fine Arts, Makeup artist Mariolga Pantazopoulos, Creative Director at Find Your Cool Collette Royer, Communications Officer at Harvard University Jill Radsken, Model and Restaurateur Sonia Garufi, Neiman Marcus' public relations associate Emanuelle Acaad and author William Kuhn were among other speakers on the panel.
The range of stories told throughout Thursday evening's event came from across the fashion industry and rich with passion, covering moments of inspiration and frustration, and how rewarding the industry can be.
View Comments (1)
About the Contributor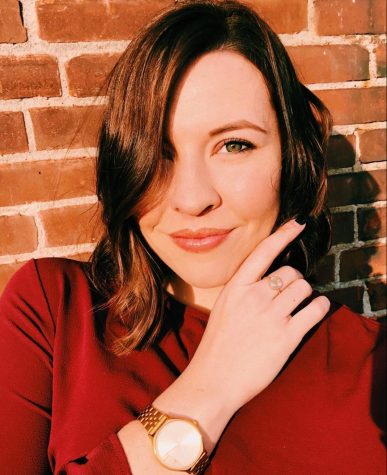 Haley Clegg, Editor-In-Chief | she/her
Haley is a senior majoring in broadcast journalism. Aside from writing, her main passions are photography and traveling. When she isn't in the Journal office, she is most likely to be found exploring Boston with her camera in one hand and a coffee in the other. After college, Haley hopes to be an investigative reporter or an international correspondent.
Follow Haley on Twitter
@HaleyClegg98