American Repertory Theater transcends image of trans-community
Imagine the surprise when arriving to a stage filled with nothing but seven empty chairs. No backdrop, no color, just plain, black chairs on a brightly lit stage, creating a sense of raw intimacy.
Paul Lucas fills these seats with humor and intellect, bringing to life his first full-length play, Trans Scripts, produced by the American Repertory Theater(A.R.T.). Through vibrant monologues, the audience is taken on a journey of courage, alienation, confusion, and self-discovery of the deepest kind.
"Trans Scripts is part of an ongoing initiative at A.R.T. to feature the work of transgender and gender non-conforming artists," writes Diane Paulus on the program, the Terrie and Bradley Bloom Artistic Director in A.R.T's 2016-2017 season introduction.
When the lights come up, we are introduced to seven characters, whose stories have been assembled from over 75 interviews with transgender women from across the globe, as a demonstration of strength and diversity.
These compelling narratives begin at infancy, as each character recalls the first time they heard the word "transgender," and suddenly, realized who they were. From these individual moments of awakening, each continues on their unique journey of self-discovery, as they realize they are different.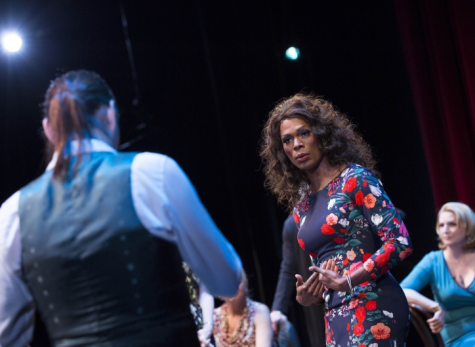 Rejected for who they are, some of these transgender women find themselves pushed out of their own family, while others struggle to live without families at all.
Some find themselves questioning who they could love, and if they could even really love themselves.
Shelley Bridgman, a friend of Paul Lucas who was the first women to be interviewed for this project, speaks boldly as she recalls her own journey to self-acceptance. As a successful businesswoman who owned the second largest travel company in the United Kingdom, it was hard to come out as what society often deems as unnatural. When Bridgman chose to go public, she began to receive calls from her clients, saying they could no longer continue to do business with her. Soon afterward, her company went under.
"Trans Scripts" reminds some viewers of the challenges many individuals face when defining their identity, especially in countries across the globe that claim to appreciate individuality and self-expression. From infancy, we are socialized to fall into behavioral patterns that align with a dual structure, and there is often intolerance and fear when individuals do not identify within these expected gender boundaries of male or female.
Sometimes gender identity is not easily calculated. Lucas speaks to these complications by addressing the serious misunderstanding of what it means to be transgender in a predominately cis-gender culture, while showing his audiences how challenging the journey to liberation can truly be.
"Life," wrote Paul Lucas, "is a compromise." There's no definitive narrative or predictable outcome for the life we are given, for who we are born to love, and for what we are born to look like. But Trans Scripts is a beautiful attempt to make sense of all these non-conforming complications, and shed light, and hopefully understanding, on what it means to be a transgender individual in a predominantly binary world.
To find out more about Paul Lucas, Trans Scripts, and A.R.T. visit americanrepertorytheater.org, or follow them on Facebook, Twitter, Instagram or YouTube under the name "American Repertory Theater."
Leave a Comment
About the Contributor
Kendra Huber, Staff Writer
Though unsure of what to do with her life, Kendra, enjoys the aspect of spontaneity that has become a frequent theme in her life here at Boston. She loves exploring new things, and meeting new people, especially if they have pets. As an English major at Suffolk, Kendra has learned so much that both the University and Boston has to offer. Frequently writing for the arts column, Kendra loves music, theater, art, dance, poetry, and especially food.

In the future, she hopes to travel the world and write, and is currently considering teaching English as a second language in foreign countries.