Get to know Jack Romanov and its Suffolk alum
From rehearsing inside Suffolk University's 150 Tremont residence hall's basement to now rehearsing and recording in a funeral home parlor, the band Jack Romanov has dedicated the last few years to music. Three of the boys met at Suffolk during their freshman year and maintained the same energy despite their singer, Nick Aikens, transferring to Berklee College of Music. Since graduating from Suffolk in 2015, each member has headed in a separate direction for work but have all returned to each other to continue their music.
"It's been weird, graduating has been a weird experience," said bass and synth player Esteban Cajigas in a recent phone interview with The Suffolk Journal. "It's actually served as a big inspiration for a lot of the new stuff that we've been doing. It's kind of a lonely place."
The struggle to maintain a regular rehearsal schedule while balancing work and "real life" stresses has been difficult, but it has not put any kind of damper on the band's energy and motivation.
"Since September [2016] we've been rehearsing twice a week, and finding another day during the week to record. We've been recording for a year and a half," said Cajigas.
The name Jack Romanov actually originated with Cajigas. It was his pen name in high school and he would also use it during poetry readings.
The biggest wave the band is currently riding on is the latest YouTube confusion with pop sensation Lady Gaga in June.
"Our singer Nick [Aikens] really likes Lady Gaga and pop music, and there was this person that was claiming to be a hacker. He was claiming to have leaks to like, Katy Perry songs and Lady Gaga songs," said Cajigas.
According to Cajigas, Aikens had been in contact with an internet hacker and in the midst of that ongoing communication shared, via Periscope, a video app, part of a new song that Jack Romanov had yet to release. A hacker apparently stripped the audio from that video that Aikens shared and claimed that it was the audio from a new Lady Gaga song.
"No one really paid attention until about Halloween when we went online and saw that our YouTube video had over 80,000 listens. People were recording their own covers of it, and when we realized that the song was everywhere we decided to get it mastered right away and we released it a week later," said Cajigas.
Cajigas said that a lot of the band's unique sound stems from the four members having different tastes in music. Their sound is influenced by pop, metal, electronic and punk. At one point, VanyaLand online magazine said the band "reflects the modern schizophrenia of pop." According to Cajigas, the band took that label well and has fully embraced it, enjoying that their sound comes from many different places. Cajigas told The Journal that every song that they have released so far has been approached differently based on the member's tastes.
"Before it was breakups and things in everyday life, this time what we decided to do was recognize that we all like different kinds of music. We wanted to help each other capture what we have for each song," said Cajigas.
This new EP will have themes relating to growing up and dealing with life after graduation.
Coming off of a tour of the East Coast earlier this year, Cajigas said the band is focusing on the next chapter. The band is looking to release new music soon, as well as new multimedia projects including a short film. They recently released the trailer for the film on their Facebook page and according to Cajigas, the film will be accompanying the released music. Jack Romanov is also booking a tour in March and are hoping to travel to the Midwest.
Their other focus is raising funds and awareness for the American Civil Liberties Union (ACLU).
"Most of the shows we have coming up are raising money for the ACLU," said Cajigas. "We're trying to do more work that will benefit our community."
Jack Romanov re-released their song "Radio," on Tuesday and it can be streamed on their SoundCloud account at www.soundcloud.com/jack_romanov/radio-1.
Leave a Comment
About the Writer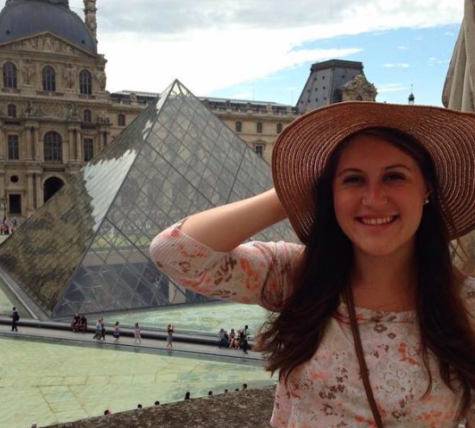 Felicity Otterbein, Past Arts Editor
As a member of the Best Friends of Friendly's Ice Cream Club, Felicity enjoys not taking life too seriously. She appreciates all walks of life and accepts all those who are willing to share a smile. 
As the Arts Editor, she enjoys uncovering new music and discovering the hidden gems of the Boston and Suffolk arts communities.  She enjoys supporting both her friends and university by attending and reviewing Suffolk-based art by featuring the array of talent that can be found on campus.
She prides herself on her uncanny ability to document every waking moment of her dog, Shadow, and can most always be found with an iced coffee in her hand. If you're looking for her, she's usually at her desk inside of The Journal office watching SNL reruns or galavanting through the Isabella Stewart Gardner Museum.