MFA announces confidence in contemporary collection
Curators say new exhibits hope to bring newcomers in, featuring a film piece amongst other media
The fall season brings change, whether it is in the world of fashion, or the shift in weather. For the Museum of Fine Arts, it's new contemporary exhibits.
The museum held a fall preview event on Sept. 16 to promote the upcoming additions to their contemporary collections.  The MFA's "Making Modern" collection features 28 reinstalled galleries featuring modern artists such as Frida Kahlo, Jackson Polluck and Pablo Picasso.
The first exhibit in the new collection is "Terry Winters: The Structure of Things." It features different types of media, including lithographs, drawings, screenprints and etchings.
In addition to being a painter, throughout his career, Winters has experimented with printmaking and drawing, explained Clifford Ackley, the curator for this exhibit. His collection features mostly black, white and grey hues, but pops of color are interspersed.
"Great color is not necessarily one strong color next to another strong color," Ackley said in an interview with The Suffolk Journal.
"Untitled," 1994, the main showpiece of the Terry Winters collection, is an "acrylic over charcoal with colored crayon and graphite pencil on paper."  Ackley related it to the likes of "veins," due to the blue and red lines popping out from the gray charcoal on the page.
Ackley expressed that Winter's pieces were "responsive to the world in which we live" and that we live in "complex times."
Upstairs, visitors will find Christian Marclay's "The Clock," a 24-hour video collage of Hollywood television and movie clips.  Every clip in the piece features a clock or some sort of reference to time. "The Clock" is displayed in real time, so if the screen says 10:30 a.m., it is 10:30 a.m. in real life.
The idea came to Marclay in 1995, but "The Clock" wasn't born until 2005.
"I kept thinking 'Oh, that's probably impossible to find every minute of the day in the history of the cinema," Marclay said. He started the project when he moved to London and didn't have a studio. He said that all he needed to create this masterpiece was a computer, and he spent three years editing footage in Final Cut pro.
In an interview with The Journal, Marclay said, Al Miner, Assistant Curator of Contemporary Art at the MFA, called it "The most important contemporary piece in recent years."
When referring to the piece, Marclay called it "Every minute of the day in the history of cinema"
Marclay did not want "The Clock" to be seen as a film, but something an audience could walk in and out of whenever they wanted.
"I hope they come," he said when referring to local college students, because he saw it as something all people can enjoy.
Visitors can also walk through "UH-OH: Frances Stark 1991-2015, an exhibit that focuses on language as a form of self-expression. Almost 120 works reflect Stark's life as an artist, teacher, woman and mother.
Ali Subotnick, the curator of the Hammer museum in California, explained that they "wanted to pick up on recurring motifs so you'll start having these little déjà vu."
Stark works with a variety of mediums,  showcasing pieces from carbon-copy drawings to video installations.
Matthew Teitelbaum, the Ann and Graham Gund director, explained that MFA wants to celebrate contemporary arts and artists this season. Visitors are encouraged to use #mfaNOW on social media to inspire followers to share their experiences and tell others about what's happening in the museum.
"I think the notion of collaboration, the generous sharing, that is going to be the core of our contemporary program," Teitelbaum said.
These exhibits are currently on display and is free for Suffolk students with a valid school ID.
Leave a Comment
About the Writer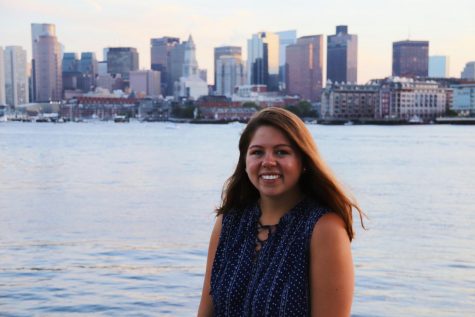 Morgan Hume, Arts Editor | she/her
Morgan is a native of Troy, New York and the Arts and Culture Editor for The Suffolk Journal. She is a rising majoring in print/web journalism and minoring in history. When she isn't scribbling into a notebook, she can be found drowning herself in cups of coffee, singing too loudly in the shower and exploring Boston, the historic city that has quickly become her home.
Follow Morgan on Twitter
@morganmhume