App finds discounted movie tickets, concessions
Four grown men, one Toyota van, and over 135,000 miles traveled across country. That's what it took to convince hundreds of movie theatres to sign with Dealflicks, an app that finds discounted movie tickets and concessions based on the user's location.
After taking his seat in a theatre showing, "The King's Speech," co-founder Sean Wycliffe was confused as to why there were so many empty seats for a recently released film.
When Wycliffe found that $40 billion dollars is spent every year on movie tickets, popcorn, and soda, but 88 percent of movie theater seats are empty, a business model came to mind similar to those used by Hotwire and Expedia.
In July 2012, Dealflicks set out to fill empty seats in movie theatres, without forcing the theatre into a set discount. Since then, it has partnered with about 600 theatres across the country with over 300,000 current subscribers.
"We are not like Groupon, and at the end of the day we aren't telling them to sell a ticket and popcorn at 35 percent off," said co-founder Ryan Fitzgerald, explaining that it is the theatre who decides the discount based on its time and day of the week.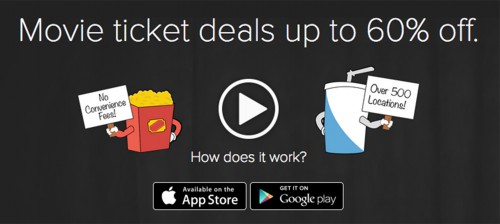 Typically, Dealflicks finds movie tickets and concessions for around forty percent off face value, Fitzgerald shared.
"What we found is that by pairing a ticket with concession drives consumers to buy more concessions at full price," said Fitzgerald. Giving customers a good deal while increasing sales for theatres has motivated others to join the bandwagon.
Through their revenue share model, there is no ongoing cost or fee to theatres who participate with Dealflicks, yet the company still obtains a percentage of every ticket sold.
When making deals within an industry that has not seen significant changes over the span of its history, the start up company needed to differentiate itself.
"Historically, there's only been three major changes – silent film to sound, black and white to color, and 35mm to digital. Whenever an outside company introduces any kind of change, it shakes things up because theatres have been following the same model for decades," said Fitzgerald.
By creating a mutual understanding between theatres and Dealflicks, this is how we get new customers put their butts in those seats, he said.
The app is constantly improving itself internally on a regular basis to keep a competitive advantage by observing consumer behavior, Fitzgerald said. In a world with ever changing technologies, it is essential to also make the app appealing to older demographics.
Users can also find tickets at Dealflicks.com, like them on Facebook, and follow @Dealflicks on Twitter.
Courtesy of Dealflicks, any first time users can receive an additional $5 off their first purchase by entering "SUFFDF5" at the checkout page, and is valid until the end of this year.
Leave a Comment