Students, PC, celebrate end of year with Urban Carnival
Complete with popcorn, cotton candy, and caricatures, this year's annual Ramily Reunion transported students to a classic outdoor carnival in the middle of the city.
On an ordinary day, students usually pass the Ashburton Place parking lot without so much as pausing to let vehicles drive in and out. On Thursday, the lot was filled not with cars, but with hordes of students attracted by the splendor of the university's annual end-of-year event hosted by Program Council.
This year, Ramily Reunion incorporated a carnival theme, serving up hot dogs, nachos, and soft pretzels, items typical for summer festivals. Also up for grabs were free "Urban Carnival" T-shirts, customizable trucker hats, photo flip books, and even what Program Council executive board members referred to as the "jumpy," a trampoline-style contraption that harnessed participants in to bounce and flip as high as they could.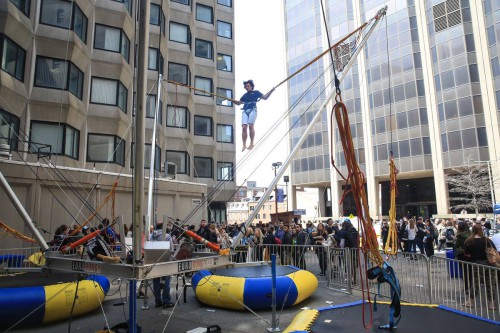 Sophomore Andrea Zelano stopped by Ramily Reunion and said she was impressed by the turnout and availability of activities.
"It was really fun, there were a lot of people there. I got a free T-shirt and we got those flip-books," she said.
Freshman Frances Santana said she saw more potential in how the event was laid out and that she wished some aspects had been more orderly.
"It was fun and it went well, the only thing was there were a lot of people and not enough space," she said.
Kelsey Johansen, a senior and the president of Program Council, said that the concept for this year's Ramily Reunion was brainstormed nearly a year ago and was carefully executed for this year's event.
"It started with this idea gold-mine that I wanted to have an event outside and have a classic carnival," she said. "We eventually came to terms with the fact that parking lot was an awesome venue."
Happy with how the event turned out, Johansen said she was excited about everything she and her executive board had planned.
"My favorite part was probably picking out what we were going to do and watch it become a reality as we were finalizing things," said Johansen. "As that happened, that was the sign that this was coming together and this was going to become a reality."
Although she deemed the carnival a success, Johansen said PC did run into obstacles when planning something this unique.
"The biggest hurdle was working with the city, because we had to get permitting," she said. "We had no experience with this so we just reached out to city hall basically blind."
Johansen said the Office of Student Leadership and Involvement, which works closely with PC, had previous relations with city hall and some knowledge of permitting for events like the Temple Street Fair, but with extra amenities such as food and electricity involved, the procedure became more complicated.
"It was definitely a process, but people at city hall worked to support us. I definitely value that," she said.
According to Johansen, the Urban Carnival was something that stood out to her and many others for its one-of-a-kind appeal.
"Seniors who are graduating were saying they had never had anything like that before, so as much of a stressor as it was, it was definitely worth it," she said.
Leave a Comment
About the Contributor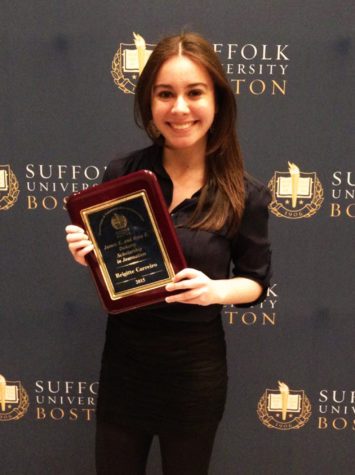 Brigitte Carreiro, News Editor
News Editor for the 2015-2016 year, print journalism major and intern at the Improper Bostonian magazine.