SGA Awards recognize outstanding members of community
The Ritz-Carlton was filled with students and faculty Tuesday night as dozens of nominees waited to find out if they were chosen as one of the outstanding members of Suffolk's community at the Student Government Association's annual award ceremony.
A total of 24 recipients including students, faculty, and administrators were awarded at the two-hour ceremony. As a change to this year's celebration, all current and upcoming SGA executive board members were exempt from nominations in order to give recognition to other prominent Suffolk students, according to SGA President Tyler LeBlanc.
Zachary Barker and Thomas Burke, members of Suffolk's improv comedy group Seriously Bent, hosted the event. Suffolk's a capella group, the Ramifications, and a contestant from the recent Suffolk Idol competition, Antonio Philippe Roulet Magides, rounded out the entertainment for the evening.
Interim President Norman Smith thanked the student body for their outstanding work this year and congratulated everyone on all achievements.
"I'd very much like to thank all of you for everything you've done to contribute to the quality of life at the university this past year…and congratulate you for being here tonight and being saluted for," said Smith.
Many award recipients stressed their thankfulness to the Suffolk community during short speeches and were proud of their accomplishments.
Among notable winners were Jesse Beal for "Outstanding Administrator of the Year," junior Victoria Ireton for "Unsung Hero – Student," Kelsey Johansen for "Outstanding Senior of the Year," Dean William J. O'Neill of the "Sawyer Business School for the Lifetime Achievement Honor," and Wyatt Costello for "Outstanding Junior of the Year."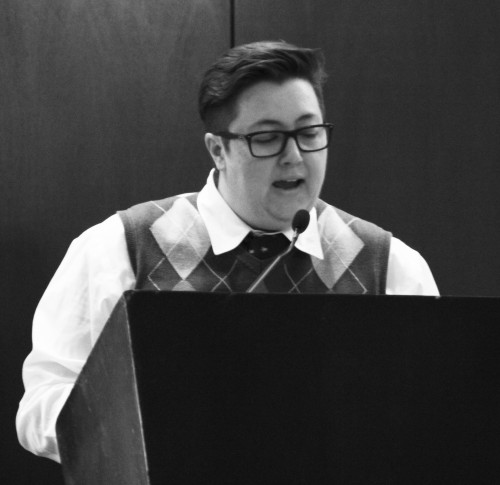 Costello referenced the work he has done this year to raise awareness of Suffolk's blood drive restrictions after winning his award and emphasized his gratitude to all Suffolk students.
"I just want to make it clear that none of the success I've had would have happened without the student body," said Costello.
Emma Feathers, the winner of the "Outstanding Sophomore of the Year" award, expressed her appreciation for the acknowledgement she gained.
"It feels great to be recognized by my peers and respected," said Feathers. "It's a nice ending to my day."
During what LeBlanc called the "ceremonial 'passing of the torch' from president to president-elect," he said that he has enjoyed working with current SGA Vice President,  and upcoming president, Colin Loiselle and is confident in Loiselle's ability to take over the presidency.
"This year's been really awesome for me to see Colin grow into his role as vice president and make it something that he wanted it to be and bring up a lot of initiatives," said LeBlanc. "He's always willing to lend a helping hand with anything he can do with SGA."
Loiselle in turn said that he is more than excited to follow in LeBlanc's footsteps.
"This event is definitely bittersweet for me. While I'm beyond excited to take on my new role as president of SGA next year, I'm also bummed out that another year has come and gone," said Loiselle. "There is no doubt that I'm ready to take on this new role next year, and that's because of the example that Tyler set for me, for SGA, and for all the Suffolk University community."
SGA Secretary Dennis Harkins remarked on the work that went into creating the SGA Awards and said he was more than happy with the outcome.
"A lot of details are involved in stuff like this … A lot of moving parts. It was fun, it was a good experience," said Harkins. "I thought we had a very diversified group of award winners this year, and I'm really happy with how that turned out."
Leave a Comment
About the Contributor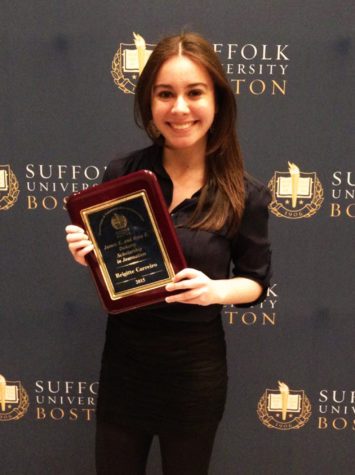 Brigitte Carreiro, News Editor
News Editor for the 2015-2016 year, print journalism major and intern at the Improper Bostonian magazine.