Serial entrepreneur and CEO Bettina Hein visits campus
Featured by the Inside Leadership Podcast Series on Tuesday was Bettina Hein, founder and CEO of Pixability, Inc. The World Economic Forum's 2014 Young Global Leader addressed both undergraduate and graduate business students to illustrate her expertise in entrepreneurship and business planning.
Pixability, Inc., founded in 2008, began as a company designed to edit home videos for families to ease the process of organizing their memories. Now, Pixabilityis a video marketing platform for YouTube that targets what consumers believe is relevant. Hein described the company as essential for finding advertising success on YouTube.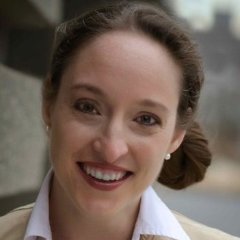 "My company helps large brands like Chanel, Puma, Nickelodeon place that advertising where it's most relevant for consumers who are most interested in new sneakers or a Nickelodeon show," said Hein. "I have a new company essentially every six months because we're always growing and always changing."
Alex Fagundes, a junior entrepreneurship major, asked Hein to describe her ideal employee. Hein said the people who work for her are dedicated and different, qualities she finds most important for leading a successful business.
"I'm looking for people that are diverse. I really want people from all different backgrounds that work for me because that makes for better decision-making," said Hein. "I want to hire people that display grit and zest … We want people that continuously want to learn and get better, that are curious about the world."
A native of Berlin, Hein immigrated to the U.S. nine years ago. She attributed her entrepreneurial tendencies to all four of her grandparents, who she said "were entrepreneurs in their own right." Because her working family had such a positive effect on her, Hein said that she likes bringing her own children to work with her in hopes to relay this same appreciation.
"I tell [my daughter] that I like going to work," she said.
Hein said her status as an U.S. immigrant has ultimately helped with her motivation to pursue entrepreneurship, as changes in culture have worked to her advantage.
She described the three elements that go into being an entrepreneur — naiveté, perseverance, and the ability to put yourself out there  — and said that it is easy for immigrants to have these characteristics because of their initial immersion in a different environment. However, Hein said that there are certain difficulties that stem from being a foreigner.
"The disadvantages are that you don't have a network. My company could be a year or two further along if I had had the networking here," she said.
She appreciates the tendency of Americans to be more invested in entrepreneurship and work toward new ideas.
"Americans are just so much more likely to say 'yes' than to say 'no,' so from that perspective, Boston to me was like a revelation," said Hein. "There are so many people that thrive on curiosity, on just the understanding of the world."
Senior Trang Nguyen, accounting major, inquired about Hein's experience being a woman in such a high position of power.
"One of the advantages is you have what Hillary Clinton once called the 'talking dog syndrome,' because there are so few women who do this," Hein said. "You have this effect of getting attention."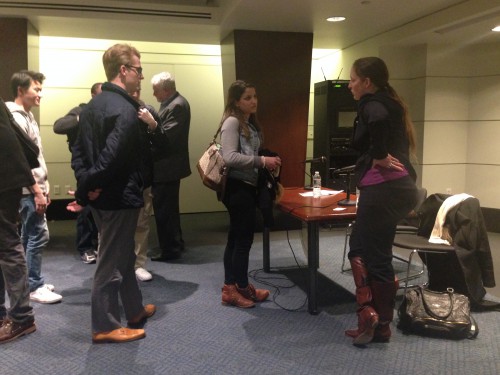 Hein said that although she has the advantage of being unique, there are some struggles based on family life.
"People say things to you or think things about you that they would not attribute to a male. Some investors called me their 'social experiment' because they thought I would be less committed to my company after having my child," she said.
Hein acknowledged that, among these obstacles, some see entrepreneurship as difficult and unyielding, but said she has never been anything but an entrepreneur and her passion drives her every day to the success that she has found.
"As an entrepreneur, you ride what a lot of people call the 'entrepreneurial roller coaster,'" she said. "I believe that if you are determined enough, there are no hurdles that you can't scale and overcome."
Leave a Comment
About the Contributor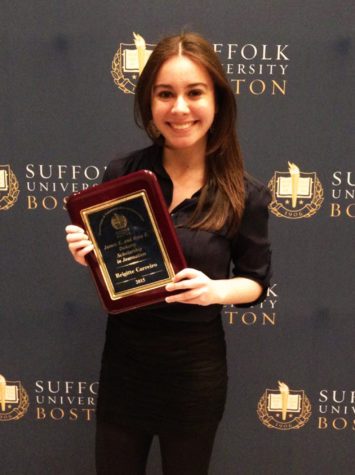 Brigitte Carreiro, News Editor
News Editor for the 2015-2016 year, print journalism major and intern at the Improper Bostonian magazine.