Committee includes university faculty in quest for president
While Suffolk University is in the midst of a period of change, the ongoing search for a new president continues, bringing with it an urge for input from all across the university.
Chairman of the Board of Trustees Andrew Meyer, who is part of the presidential search committee, said the question of what qualities make a good president cannot easily be answered.
"It's taken us months to put together an outline of the characteristics, qualities, that we feel as a Suffolk community are necessary for the president," said Meyer. "Ultimately, I can summarize by saying we want somebody that the community will be happy with and proud of."
According to the "position specification" document Meyer referenced, an ideal president has "a strong record of achievement in attracting and appointing a diverse staff and faculty," is "able to make hard decisions" and "student-focused," and "possesses a superior intellect and is strongly driven to make a difference." A president must "create a stronger and clearer identity, a more robust stature, and higher visibility in Greater Boston, nationally, and internationally" for the university and have "demonstrated commitment to maintaining a genuinely student-centered institution."
Meyer would not reveal the identities of current candidates, citing confidentiality purposes, but said, "there are many outstanding candidates who have expressed an interest." No interviews have taken place yet.
Meyer said that the opinions of all facets of the university play a significant role in the search for a new president.
"It's important from the board's point of the view and the search committee's point of view that we have input from all the different constituencies of the university," he said.
In compliance with this, according to Chairman of the Search Committee Mark Sullivan, three additions to the committee have included  faculty members from the College of Arts and Sciences, Sawyer Business School, and Suffolk Law School. The chosen faculty from each school respectively are Associate Professor and Chair of the Government Department Rachel Cobb, Professor of Marketing
Elizabeth Wilson, and Professor of Law and Director Health Law Concentration Renee Landers.  According to Sullivan, there is no representative from the New England School of Art and Design, as it is part of CAS.
Though there is no timeline set for the new president's induction, Meyer stressed that the committee is working tirelessly to find the best candidate for the position.
In the meantime, Interim President Norman R. Smith has been at the helm this year, and Meyer said he is more than satisfied with Smith's work thus far.
"An interim president's role is difficult at best, and [Smith] has made some significant changes which I think are very positive for the school, and he's got some great traction and I think he's been doing an outstanding job," said Meyer.
Former Treasurer and Receiver-General of Massachusetts Steve Grossman had previously expressed interest in the presidential position, but recently accepted a job as CEO of Initiative for a Competitive Inner City and is no longer interested in applying for the presidency. Meyer said that Grossman was an ideal candidate, and that his recent disinterest simply stems from inconvenience.
"Steve is a great, was a great candidate, and the timing of Steve's candidacy wasn't consistent with what the timing was for our process to be thorough, inclusive, and competitive, so that is just a matter of circumstance," said Meyer.
Increased professional acknowledgement has been a priority of the search committee, Meyer said.
"We want to increase the reputation of the school … thereby bettering the applicant, and making everyone's diploma more valuable," Meyer said.
As the search committee continues to select fitting candidates, Meyer stressed the need for everyone at Suffolk to be engaged.
"Faculty, administration, alumni, staff, students, trustees, all need come together with their thoughts so that those can all be factored into an analysis when determining who the better, the best candidate is," he said.
Any member of the Suffolk community can leave  comments regarding the presidential search committee at www.suffolk.edu/explore/58230.php.
The ultimate goal of the presidential search is to give the university and its students the best resources going forward, according to Meyer.
"There really is no priority other than a great education and a great reputation that will follow [students] into the workplace and for the rest of their career, so that's our primary issue" he said. "Everything that we look at in regard to a presidency is for the benefit of the students."
Leave a Comment
About the Writer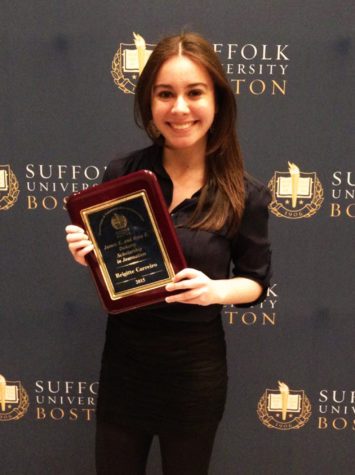 Brigitte Carreiro, News Editor
News Editor for the 2015-2016 year, print journalism major and intern at the Improper Bostonian magazine.