Projecting Red Sox lineup
With opening day just a few weeks away, the Boston Red Sox should have a solid idea of what their 25-man roster will look like.
With the major additions of Pablo Sandoval and Hanley Ramirez, as well as a revitalized Dustin Pedroia and Mike Napoli, this lineup is sure to look a lot different from last year.
However, what "that look" may be remains to be seen. Based off what we've seen this spring from Farrell and the bunch, here's what the one through nine will look like.
The Red Sox have a true leadoff man in centerfielder Mookie Betts. The team suffered through an abysmal 2014 season without a true leadoff hitter, plugging in Brock Holt, Rusney Castillo and Dustin Pedroia among others.
Betts, No. 1, a speed demon with a knack for getting on base, has been tearing the cover off the ball this spring, and looks to be the perfect catalyst.
Not much to say about second baseman and the No. 2 batter, Dustin Pedroia. He fits the mold for the ideal two-hole batter. High contact, low strikeout rate and enough speed to not clog the bases and stretch singles into doubles.
David Ortiz has been a mainstay in the Red Sox' No. 3 and No. 4 spots over the last 11 years, and the twelfth should be no different.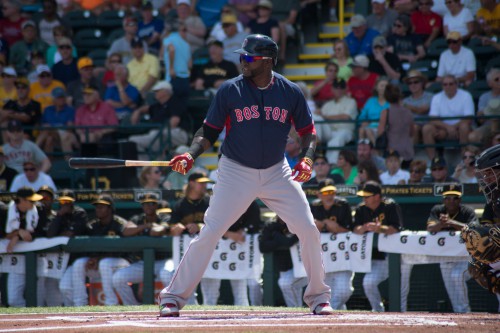 One of the Red Sox handful of big acquisitions this offseason, Hanley Ramirez will likely fill the cleanup spot at No. 4. He has hit 20 or more home runs six times in his career, and has been a doubles machine since his first full season in 2006. Expect his numbers to improve with increased lineup protection, as well as 81 games in the hitter friendly confines of Fenway Park.
First baseman Mike Napoli is another star looking to bounce back from a down year, he slots right in to the middle at No. 5 of the order once again. Napoli is very apt to chase pitches out of the zone, but with Betts, Pedroia, Ortiz and Ramirez batting ahead of him — and Sandoval behind him — pitchers will have to pitch to "Nap."
Third baseman Pablo Sandoval is a switch hitter, has power and doesn't strike out much. In most lineups, Sandoval would slot in between three and four. But this isn't most lineups, he could fit at No. 6. The "Kung Fu Panda" will help to thwart bullpens with his dexterity, as well as pick up his fair share of RBI's.
Last year, Xander Bogaerts was dubbed as the best shortstop prospect in baseball. After switching back and forth from short to third and back again, Bogaerts' value has decreased. Still, the ceiling is high, and with reduced pressure to produce right away, Bogaerts is in a good situation to flourish at No. 7.
Right field is a mess. It could be Rusney Castillo, Brock Holt, Allen Craig, Jackie Bradley Jr., Shane Victorino or Daniel Nava. At this point, it's anyone's guess who will play right field on any given night. Either Castillo or Victorino should get the lion's share of the playtime, but it wouldn't be a surprise to see any of the other names penciled in.
The 24-year-old catcher Christian Vasquez looks a lot like his idol Ivan Rodriguez, with a less potent bat. In 54 games at the MLB level, Vazquez gunned down 52 percent of runners, which, for the casual fans out there, is an extremely high amount. As long as he hits no lower than the mid .200's, Vazquez is valuable. Expect him to switch between batting No. 8 and No. 9 depending on who is in right field.
Leave a Comment