Synth vibes from Craft Spells entertain at Great Scott Sunday night
By Jennifer Usovicz
For a little fun on Sunday night the bands Craft Spells, The Bilinda Butchers, and Funeral Advantage played sets of dreamy beach tunes to warm the spirits of frozen Bostonians, the night this winter became the snowiest in Boston's history.
Just a few hours before the performance, it began to snow after some heavy rain, not ideal conditions for a concert particularly on a slow Sunday night. Despite the weather, The Great Scott in Allston was crowded almost to capacity.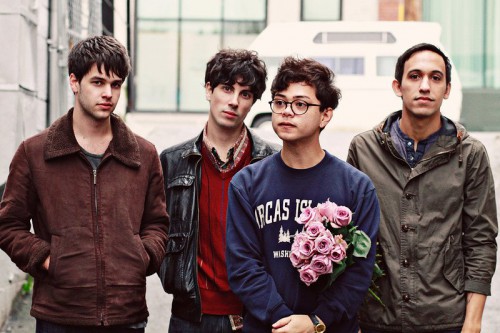 The crowd was mostly made of 20-something's dressed in their best eclectic styles. The small venue allows for intimate performances, electric and acoustic. With little separation from the talent and the consumers, performers mingled with the crowd in between sets and before the show. Since there were two openers and the main event began at 9 p.m., it was a late show, not ending until nearly midnight.
Craft Spells, natives of Stockton,California, headlined the show, but their openers The Bilinda Butchers, natives of San Francisco, California, and Funeral Advantage, of Boston, got people grooving to their 80's synth vibes. The Bilinda Butchers will continue with Craft Spells on the rest of their tour, while Funeral Advantage joined the band for one night only.
Funeral Advantage started the show with a bang, steering the audience toward the stage with their pop-fueled high-energy tunes. Lead Singer, Tyler Kershaw, admitted he didn't remember how to play one of the songs. The audience laughed a little, unsure if he was joking, until Kershaw began to strum into his next track without hesitation.
The Bilinda Butchers, whose name is inspired by My Bloody Valentine female guitarist, Bilinda Butcher, prevailed with even more 80's vibes, taking a more alternative rock style than Craft Spells dream-pop beats. The band's T-shirts lined the merchandise table displaying striking designs of twirling female bodies like Gustav Klimpt's, "The Blood Of Fish."
Craft Spells played their hit "After the Moment," to the delight of the audience who came out to dance. Their performance consisted mostly of their most recent album "Nausea," although the only way their music could induce nausea would be from sickly sweet melodies and synth-pop overdose.
Craft Spells songs to check out: "After The Moment," "Party Talk" and "Nausea"