President Norman Smith announced on Thursday that full-time undergraduate student tuition for the 2015-16 academic year is set at $33,800, a 3.9 percent increase from last year's cost.
The rate is higher than last year's increase, when former president James McCarthy announced a 2.97 percent tuition rise. This was the smallest percentage increase in 39 years, according to an email McCarthy sent to students last February.
"This rate reflects our concern for and appreciation of the challenging economic times being faced by today's university students," Smith said in an email, "and our continuing commitment to do everything possible to minimize costs while maintaining standards."
When Suffolk's rates for next year are compared to current rates of other private colleges in the Boston area, tuition remains comparatively low, according to Smith.
For 2014-15, tuition at nearby Emerson College was $37,350, a price $3,550 higher than Suffolk's rate for the upcoming year, according to data from Greg Gatlin, a university spokesman.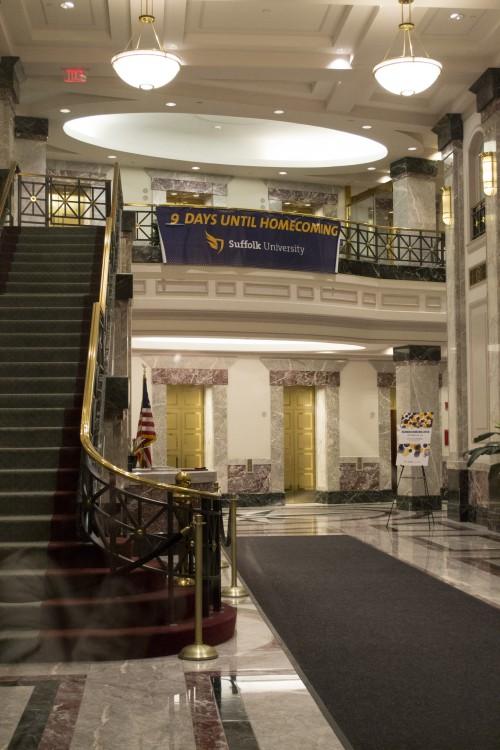 "One of our core values is that we are providing the best possible education at the lowest price possible," Gatlin said. "We recognize tuition costs present a challenge to many of our students and their families, so we are committed to doing everything we can to control those costs."
One effort to help control costs may be through opportunities to name the new 20 Somerset building. The building, which is set to open in the fall, could be named by potential donors, according to a previous interview with McCarthy. It is not clear if there are any potential donors at this time.
Facilities costs are a considerable part of Suffolk's budget, and record-setting snow Boston received this winter may have added an extra strain because of the high energy costs buildings consume during harsh weather.
"Facilities costs, personnel costs, heating, and energy costs affect the budget," Gatlin said. "Providing the best possible facilities that we can, the cost of faculty and administration, health care … There's a wide range of factors that impact the budget."
Suffolk has canceled classes five times this semester.
The new building on 20 Somerset St. will help reduce the maintenance costs older buildings require, such as Donahue and Archer, Gatlin explained.
The Donahue and Archer buildings were placed on the market several weeks ago for $16,068,980 and $29,081,956, respectively. Last summer, Suffolk sold the Fenton building, which was located on Derne Street.
Some of the offices and classes currently located in Donahue and Archer are planned to be moved to 20 Somerset. The building does not directly impact the increase of tuition, according to McCarthy in a previous interview with the Journal.
On-campus housing rates will rise next year by $5 per semester to cover an increase in cable service, Gatlin said. Meal plan costs will remain the same, starting at $1,253 per semester.