Puberty, abuse sexual orientation in new PAO production
"Spring Awakening," a rock musical adaptation written by German dramatist, Frank Wedekind, literally roused the audience at the C. Walsh Theater over the weekend.  While the musical has been banned on some stages and censored on others, the Performing Arts Office and its members vividly dramatized sensitive issues of puberty, sexuality, rape, child abuse, masturbation, homosexuality, suicide and abortion with charm and grace.
The two-act play is sinfully exhilarating. Set to melancholy music written by singer-songwriter Duncan Sheik, the tormented hormonal teens who make up the cast of wannabe rock 'n' roll stars explore both body and mind while living in a German province in 1891. In an adult-dominated world where discipline, constant branding and reinforcement of idealist morality is the foundation of life, the transformative cast fumbles into one another's arms connecting over similar internal struggles and self-judgments.
While the play faced the external hardships of a compromised rehearsal schedule due to severe weather, Theatre major, Bobby Zupkofska, a senior, who played Ernst, a teen who is immersed in his discovery and deliberation of homosexuality, commented on the ups and downs that occurred before the curtain even rose on opening night.
Crediting both director, Dawn M. Simmons, and his cast he said, "Although Dawn was wonderful in every sense of the word, it ultimately fell on us to put on a great show, which since the cast was incredibly talented and determined was easy to do and made this show an experience like none other I ever had as a performer at Suffolk."
While the multidimensional and small cast together transformed the stage to a swooning anachronistic society, rebellious bad boy, Melchior, anxious best friend, Moritz, and innocent, yet inquisitive love interest, Wendla, captivated the audience as they unbuttoned what remained of their repressive society on-stage.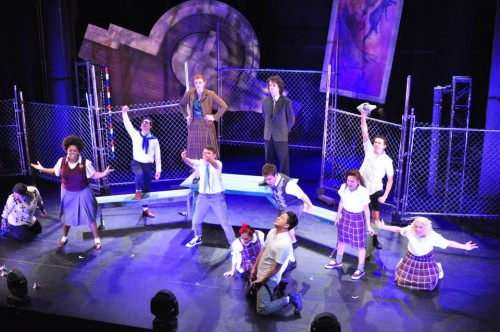 As a young teen with a hidden streak of defiance and desire at the beginning of the play, restless female lead,Wendla Bergmann, played by Erica Wisor, has been sheltered and shushed by her mother about everything regarding sex, children and procreation. Insanely obsessed after she isn't given a satisfactory answer from her mother, she seeks other sources, people, and avenues. While Wisor was definitely given a role where her character's personal wonders were heard aloud, she undoubtedly captivated and slashed at pre-existing perceptions of adolescence.
Uncovering a physical desire unlike anything they have ever felt, Wendla and her childhood friend, Melchior, played by Kevin Fabrizio, find themselves in a hayloft resulting in Melchior yearning for more and Wendla unintentionally pregnant.
The other lead, Moritz, played by Matt Bittner, is a preoccupied and pubescent student who is unable to cope with the changes of manhood and rigidness of the boundaries that make up his world. The dynamic Bittner dramatically portrayed his character from the time the curtains rose through his characters' devastating hardships with honesty and irrevocable sadness.
Touching on sensitive issues of physical abuse and subsequent shame, political science major and broadcast journalism minor, Elainy Mata, a sophomore, played Martha. Wearing her father's forbidden ribbons and bows, Mata speaks to the experience of portraying such an intense character.
"My experience of the show completely exceeded anything I could've imagined. The role of Martha, and the show in general, is so heavy that at times I didn't know if I could finish it," she said. "I'm so glad that all of us became close and comfortable with each other that we can pull off those scenes and create a masterpiece in so little time. I fell in love with a play I knew nothing about and a cast that will forever be my friends."
Written around 1890 and first performed in 1906, the PAO and in particular the cast of "Spring Awakening" preserved the daunting, cringe-worthy and explicit themes of the original work ,which radiated in their songs, lines and rapport amongst the cast and crew.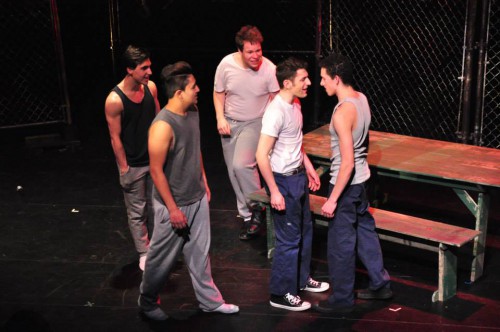 Leave a Comment