Suffolk senior creates app to lighten laundry load
A Suffolk University senior and his brother have created an app that allows them to act as a laundry service. Through the NimNim app, they travel door-to-door to pick up and deliver clothing and shoes. Users get a personal touch and don't have to deal with the pain of mundane chores.
Nimish Sahani, a business management major and entrepreneurship minor, with his brother, Akshay, and three other team members provide a service for Bostonians that is mostly overlooked: making laundry, dry cleaning, and shoe repair more convenient by doing it for their customers. On the app, a user has to select any one of the three services and then select a time when Sahani and his team can pick up and deliver the items.
"If you think about it, laundry … everybody hates doing it. It's a weekly chore that everyone puts it to the last-minute. There is no one that came to your door and picked up your laundry or dry cleaning or even shoe repair," said Sahani. "That's a service NimNim offers. It's a new thing we started in the city, nobody else offered. So we would like to test the market and people like it and they're using it."
Currently, NimNim employees are using one of their own cars for all of them to run their pick up and delivery service. Sahanihopes that they can get a business vehicle by April.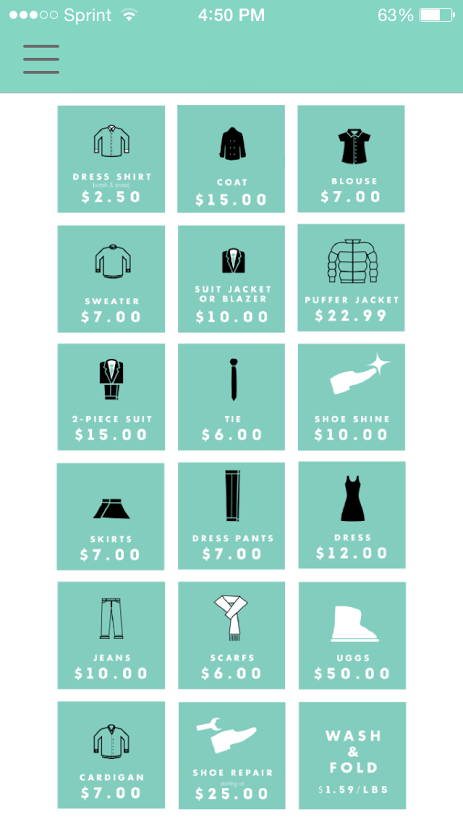 The app supports local businesses since NimNim has partnered with local dry cleaners to provide the service while Sahani and company deliver and pick up the clothing or shoes. NimNim promises their customers that they can finish and return their laundry in 24 hours, with the exception of shoe repairs. Sahani said they insist from their partners that the job be done in a day so that they can provide the utmost convenience for their customers.
"We partnered up with laundromats, dry cleaners, and cobblers in the city so we're supporting local businesses. And keeping the businesses running well, as well. Bringing them more income and revenue." said Sahani.
Their team consists of five members: the Sahani brothers, Habib Julian, a designer, an engineer, and Kaitlyn Tanyer,  a social media manger, who also goes to Suffolk. Sahani declined to name the engineer. According to Sahani, this small team is doing all the heavy lifting, both literally and figuratively.
NimNim used to be marketed solely by word of mouth but now they are trying different ways to market it. They will be moving into social media platforms like Twitter, Facebook, and Instagram.
"We really want to take advantage of social media." Sahani said.
Their business has been consistent. Sahani said they get orders on a daily basis. Customers shower them with compliments for their service and share the app with friends.
"Referral is big to us and we treat every customer with a personal touch because NimNim is your personal concierge for the tasks you don't want to do. That's the way you should look at it." Sahani said.
The name NimNim was incepted because the creators wanted a name that was catchy. Sahani said that people like the name and it puts a smile on people's faces.
Currently, NimNim is focused on serving East Cambridge and Boston and their ideal customers as of now are young professionals living in the area, especially since their service can be costly. They also want to focus on where they are right now before they decide to expand and serve different parts of Greater Boston.
Sahani also thinks that there hasn't been a change in the way dry cleaning has been done and he believes that  NimNim can disrupt the stagnant routine of doing these chores and they could come up with the standards for the market.
"In NimNim, our tagline is convenience delivered on demand. NimNim wants to be your personal concierge with that personal touch because at the end you're giving us your personal items which need to be washed in the right manner," Sahani said. "And NimNim is the right trustworthy source that you need to get your things cleaned."
Leave a Comment