Men's basketball falls short at home to Anna Maria
By Sammy Hurwitz
With just two games remaining in the regular season for the men's basketball team, it's almost time to shift the focus to next year's outlook.
Fifty percent of this year's squad is comprised of juniors, which bodes well for next season. Jake Meister, the Rams' junior forward of New Jersey, is very optimistic about the team's potential for next season, for multiple reasons.
"We return with basically all players except for two," said Meister. "We have possibly eight seniors next year. And six, including myself, will have played four years together at that point, so we all kind of know our own roles and statuses as players."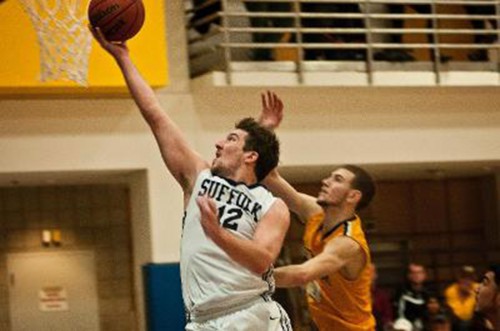 Despite the role recognition — as is the case with any college team beginning a new season — leadership roles are bound to change, and Meister is a prime candidate to see a workload increase in leadership.
"Coach has wanted me, more this year, to be vocal and more of a leader. So going into my senior year I definitely look forward to being more of a leader, and making sure we stay focused on what we want to accomplish," said Meister.
Averaging 30 minutes and 11.6 points per game as a junior, Meister is already in the upper echelon as far as numbers on the team.  As a senior, those numbers should increase. And they will need to.
Guard Sam Nwadike, who leads the team in minutes and points per game with 34.5 and 20.9 respectively, is on his way out. Nwadike, a senior, has taken to the role of point catalyst this year, and his massive production will undoubtedly be missed.
The Rams were able to catch a few glimpses of what the team may look like next season, as Nwadike missed a few games due to injury, and made the most of the situation.
"Sam's an unbelievable player, and one of the best scorers I've ever played with," said Meister. "Unfortunately, he's been battling injury, so we have got to see for a few games now what it will be like without him, and a lot of players have stepped up and are playing well."
The Rams seem to have the pieces to deal with the loss of their scoring machine, and despite the apparent lack of a player to immediately replicate those numbers nightly, the team is ready to use chemistry and team-play to compete.
On Tuesday, the Rams came up short against Anna Maria, by a final score of 88-79. There were positives, however, as Meister had another solid game dropping 15 points and pulling in five boards. Fellow junior Branden Barboza had a breakout performance with 27 points of his own.
Despite the loss, the outlook is bright for the Rams. The team has a great mixture of chemistry and experience moving forward, and the mindset seems to be in the right place.
"As long as we stay together and play well together, and work hard in the offseason,  then myself and the other guys will be ready to step up," said Meister.
The Rams need to finish out this season strong. The team will play two more times this week. First, they will face Lasell Thursday. Then the team wraps up with a matinee at Emmanuel on Saturday.
Leave a Comment