Snowstorms cause major setback for athletics
The historic amount of snowfall has all of Boston cold, including Suffolk University's winter athletics.
Men's hockey, men's basketball, and women's basketball are the three winter sports currently playing, but the abundance of snowfall this  semester has interrupted each  squad's season.
Men's basketball head coach Adam Nelson has not been pleased with Mother Nature at all.
"This weather has been a disaster for us," Nelson said. "We have had a stretch from Jan. 19 to now where we have not played."
Nelson is referring to the two home games against Lasell and Saint Joseph's of Maine, which were postponed due to the severe weather. It has been a total of 23 days since men's basketball (7-10) has played a single basketball game.
"We have also missed a ton of practice time due to the weather," Nelson said. "We have been trying to be proactive with the recent storms. For example, with this most recent storm, we were scheduled for an off day on last Sunday, but came into practice figuring that Monday would be an issue with the weather, which it was."
The Suffolk campus was closed Monday for a snowstorm following a blizzard, so Nelson felt Sunday was the best option for the team.
Suffolk is in the heart of Boston, so snow is not a surprise to say the least for these teams. The problem is having these storms follow each other immediately, one after the other, causing Suffolk athletics to have long droughts without practices.
"I've been coaching since 1996, and have never had this many practices canceled or games postponed," Nelson said. "It has been a huge challenge for us to make sure that we still get enough shots up during the week, stay fresh with the stuff that we run, and make sure that we are prepared for the next opponent."
Athletic Director Cary McConnell also weighed in on the current state of the athletic department.
"Clearly, coaching a specific team in the New England weather is a major challenge whether you are an indoor sport or outdoor sport," McConnell said in a statement to the Journal.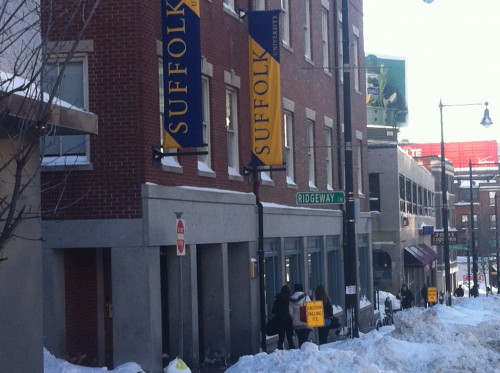 "As we know, if you do not like the weather in New England all you have to do is wait a day or two and it could be vastly different.  This winter has presented our coaches with missed practice times and re-scheduled games.  Not ideal but, unfortunately a reality in New England. Our coaches will do their very best to keep their teams sharp under the challenging circumstances."
Men's hockey may have it even tougher than basketball, and head coach Chris Glionna is faced with the challenge of trying to keep his players on the ice.
"The snow days are a challenge because we don't own the rinks we skate in," Glionna said. "When we have to cancel, it makes rescheduling very difficult."
Men's hockey (10-6-1) has managed to squeeze in most practices, along with two out of three scheduled games since the start of the spring semester. Unfortunately for the Rams, their last game resulted in an overtime loss against Johnson & Wales, 3-2.
"Our athletic department does a great job to keep us on the ice as much as possible," Glionna said.
Suffolk athletics will have to stay focused heading into the final weeks of their corresponding seasons and try to shovel a few victories into the win column.
"With three weeks left in our season, I hope the weather cooperates the rest of the way," Nelson said.
Leave a Comment