Ben Daniels helping men's soccer run toward the GNAC playoffs
By Sammy Hurwitz
He's not Manchester City's Vincent Kompany. He's not Chelsea's John Terry. He's Suffolk University's Ben Daniels, and he's helping to pace the 2014 Men's soccer team's defense.
After dropping their first four games, the Rams have bounced back in a big way, winning four of their last five contests. Daniels, a sophomore defenseman from Nantucket, Mass., has played a significant role in the team's apparent turnaround.
In their fifth game — this time, against Regis College —the second-year student athlete put the Rams on top 1-0 at the three-minute mark in the first half. Daniels and company proceeded to hold the opposition to one goal, as the Rams won in overtime thanks to an Alberto Bittan goal.
"We changed up our formation, and our style of play. We're more direct now," Daniels said. "We've come together more, we've gotten a lot of the kinks out and we've found our starting defensive line."
All things considered, Daniel's claims seem more than warranted.
Daniel's defense has allowed only five goals in their last five games, as the team has outscored their opponents 13 to 5 in that span. The Rams have also risen up to fourth place in the GNAC conference, which has been quite competitive over the years.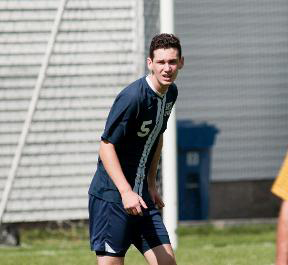 "I think coming off our win on [last] Saturday — and today [Saturday] — we have a really good chance of winning the Great Northeast Athletic Conference. We took down the defending champs, Johnson & Wales, and Alberto [Bittan] has really found his stride up top."
Next week, the Rams will take on the Emerson Lions, and subsequently face a five game streak of conference play against Mount Ida, Anna Maria, Emmanuel, Lasell and Albertus Magnus. The streak of upcoming games may very well decide where the Rams stand come playoff time.
When asked how important the upcoming conference games were to the surging team, Daniels was quick to respond. "They're really important, it will determine our seed in the playoffs, and we really want to get home field advantage," he said. "We are very used to our home field, we practice on it everyday and we feel like our best soccer is played in front of our fans."
The Rams will play their next game  Wednesday on the road to face GNAC rival Emerson College, with a chance to even their record at 5-5. That, of course, comes before the grueling five-game inter-conference streak. You can expect to see Ben Daniels starting on the pitch — for the tenth consecutive match — as the defensemen is playing his best soccer to date.
Daniels currently has two goals and an assist on the year, along with a .182 shot percentage, and a .455 shot on goal percentage. Daniels and the rest of his defensive brigade have really stepped up their play.
The young defenseman will be looking to continue his hot streak, and ultimately help to lead his Rams squad to the top of the GNAC conference.
Leave a Comment