Juliette Kayyem closes off gubernatorial debates at Rappaport Center
"I believe government can do good … but it can always do better too," said Juliette Kayyem, a Democrat and the final candidate in the 2014 race for Massachusetts Governor to speak at the Rappaport Center's roundtable series.
Kayyem has had a long career, notably as a homeland security expert in President Barack Obama's and Governor Deval Patrick's administrations. Kayyem was also formerly a columnist with The Boston Globe. She reassured the audience that despite her career in homeland security, she has "a strong progressive bent."
Kayyem called herself "the only candidate with strong ties to the military."
As Undersecretary for Homeland Security, she oversaw the Massachusetts National Guard's headquarter relocation to Hanscom Air Force base and the distribution of homeland security funds to towns across the state.
"Homeland security is about risk reduction," Kayyem said. Accordingly, Kayyem directed towns to spend their homeland security funds on preparedness rather than purchasing guns and technology as they were originally planned for.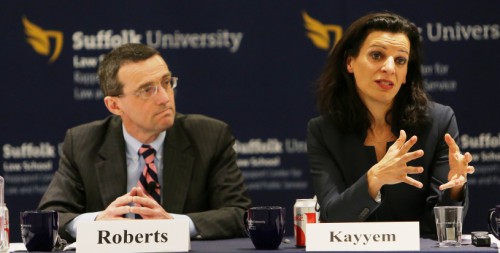 As governor, Kayyem said she would invest in what she called Massachusetts' most important assets, its people and its infrastructure.
"Massachusetts is not ready for the global economy that we should be thriving in," Kayyem said of the state's infrastructure. She plans to improve roads and ports – she said she "is obsessed with ports" – and would like to see greater broadband coverage across the state.
The state should also improve its transportation systems so that people can find cheap housing and still have access to jobs and cities, she said, noting that achieving this will require regional planning.
Kayyem plans on changing the state's criminal justice system to reduce recidivism, which she put at 50-60 percent. She cited the need for more prosecutorial discretion instead of mandatory minimum laws, and offering workforce retraining for inmates and family reunification programs for juveniles.
Kayyem also discussed what her website's environmental policy stance calls "The Opportunity of Climate Change."
"I'm the first candidate to propose opening a green bank in Massachusetts," Kayyem said, noting that New York and Connecticut are already pursuing such institutions to draw investment from green-energy companies. She said Massachusetts' "next environmental challenge is [building systems] for the storage and transmission of renewables on the grid."
Relative to other candidates at the roundtable event, Kayyem spent little time discussing healthcare policy issues. She called for greater transparency and communication in healthcare, and noted that getting people to be healthier would reduce healthcare costs.
She also called for more gun control, saying that she supported a rule allowing people to only purchase one firearm per month.
Kayyem said there was a large need for childcare in Massachusetts, going so far as to say "child care is the feminist issue of our time."
Before Suffolk's spring recess, independent candidates Jeff McCormick and Evan Falchuk and Tea Party-backed Republican Mark Fisher each appeared at roundtable events.
The Democratic primary election will be held on Sept. 9, followed by the general election on Nov. 4.
Charlie Baker was nominated by the MassGOP.
Leave a Comment
About the Contributor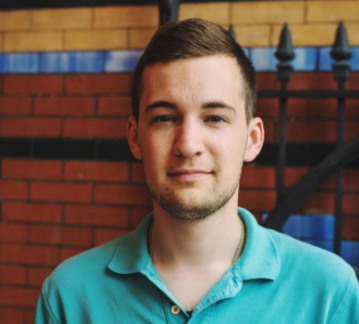 Sam Humphrey, Newsroom Manager
From starting as a staff writer to helping edit and manage the entire paper, Sam has seen every side of the Journal there is. He covered protests, changes in the school's administration, and local political events on Suffolk's campus and across the city. He graduated from the Sawyer Business School in May 2017 but his favorite memories of Suffolk are from his four years on the paper.