While some students travelled home to their friends and families for a week of no classes and ample relaxation, a group of 100 students scattered themselves across the country for a week of community building known as Alternative Spring Break.
ASB is a service-learning trip that combines both team building activities and a social justice curriculum with a weeklong community service project that connects colleges to several different organizations.  Each of the 10 groups has 10 students, two student leaders, and two non-student facilitators. This year, Suffolk sent groups across the country to places including Colorado, North Carolina, Philadelphia, and Virginia.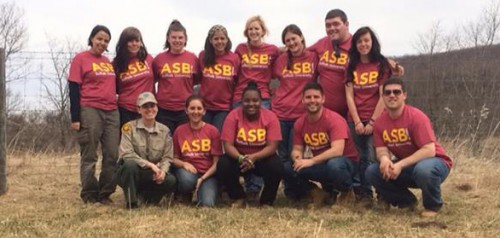 ASB student Caitlyn Mockler referred to her trip to Virginia as, "the best decision I have made so far at Suffolk."
Mockler was a member of one of two groups that worked with environmental organizations, performing activities such as planting trees in communities. During the break, her team was able to plant more than 100 trees and remove invasive plant species, she said.
Aubrey Bryan, a co-leader for the ASB trip to Philadelphia, was able to work with the LGBTQ community during her trip.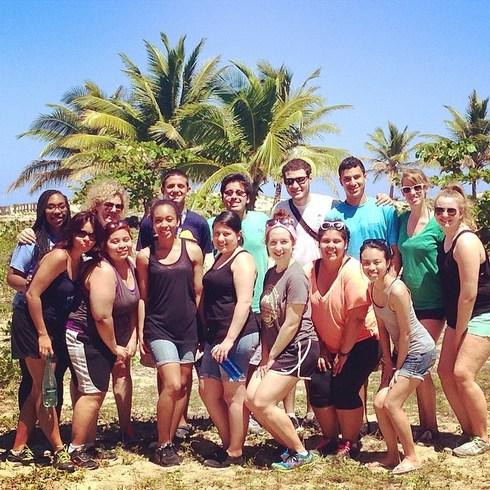 "A large part of people without health insurance are part of the gay community," said Bryan. The team members got tested for HIV during their trip.
"You still have those 15 minutes of 'what if it's positive,'" Bryan said. The team also worked at the Philadelphia Free Library during its trip as it has the world's second biggest collection of gay and lesbian literature.
ASB is open to all students, requiring each individual to pay $125 for the entire trip. The remainder of the needed funds is acquired through fundraisers run through the S.O.U.L.S. office as well as outside donations. Suffolk provides students with a six-dollar budget per day for food and groups seek out the generosity of local churches and community centers in the towns and cities they travel to for living space for the week. After a carefully screened application and interview process, 100 students were invited to embark on this incredible experience.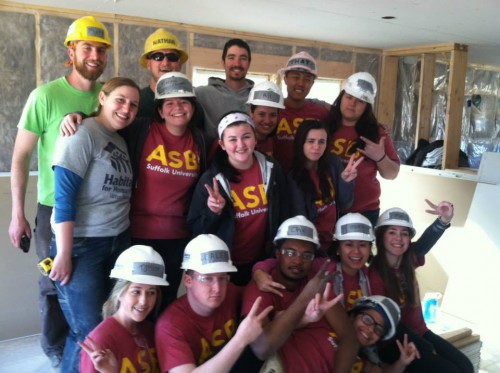 Along with having two group leaders for each of the ten groups, there is also a singular student position known as the ASB scholar. The scholar works with group leaders and facilitators from the beginning of the academic year in the fall through the time of the trip in March. Responsibilities of this position include recruiting participants and leaders, arranging transportation for each trip, assisting in fundraising, leading training, and more. This year's ASB scholar was senior Thay Thao who also co-led one of the five Habitat for Humanity ASB groups in Denver, Colo. For him, one of the most memorable aspects of this trip was the energy and bond that his group shared.
"When we started, we were all strangers that had a common goal," Thao said. "Throughout our travels, meals together and laughs shared, we became a really close group of people."
During Thao's trip, the group built houses on site and were able to meet the family they were building for, he said. The group had the honor of giving the family's two young children a tour of their work site.
Another co-leader, Tyler Burke, spent his ASB in Newland, N.C., also working with Habitat for Humanity. He summed up his third and final experience with ASB by saying, "North Carolina changed me more than I could've ever changed it."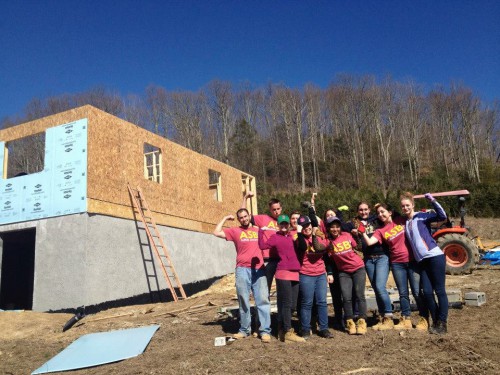 Burke stressed both the resonating emotional experience of the trip as well as several misconceptions regarding Habitat for Humanity. The home that his group built was for a single mother and her daughter whom they worked beside throughout the week. He stressed that Habitat for Humanity is a "hand up not a hand out" for people in need. Those who receive homes from Habitat are required to contribute 200 "sweat hours" or hours laboring on the site of their future home. As someone who has been on several ASB trips, he also commented on the strong relationships that Suffolk has formed with the communities it frequents.
"You and your group are the only thing they know about Suffolk. When they walk away with their thought of Suffolk, they think of you. You have the power to change people's minds," said Burke.