By Maria Baulch
The clock is ticking but this is the time of the year where one can attend an event that you may be able to be fashionably late to. Fashionably Late is an event held every Thursday at 10 p.m. at Liberty Hotel located on Cambridge Street that showcases the latest from local designers including Venni Caprice. Venni Caprice has a retail storefront located at 115 Newbury St. and also an online shop on the popular website Etsy. The face of this past week's fashion show was none other than Lori Kyler Christensen.
Christensen is the self-taught designer and owner of clothing label Venni Caprice. Her company simply started as one word: Venni. Referring to her Italian roots, Caprice was later added on when she sat down one day with someone close to her and played with some Italian words until they found "caprice," meaning a sudden change.
"It sounded like music to me. I instantly connected with it and the rest is history," said Christensen.
The meaning behind her label becomes clear as being a designer was not always the career path that Christensen had her heart set on. Although she sketched outfits during her classes and started sewing when she got to high school, she always had the dreams of becoming a professional singer. Fashion was more of a hobby for her to pass the time. It was not until she was diagnosed with epilepsy at age 19 that she decided to fall back on her hobby, moreso focusing on starting a new career path while adjusting to new medication.
Leaping into the fashion world in 2008, Christensen describes herself as a "one woman clothing label." She designs, photographs, models, promotes and sells everything by herself.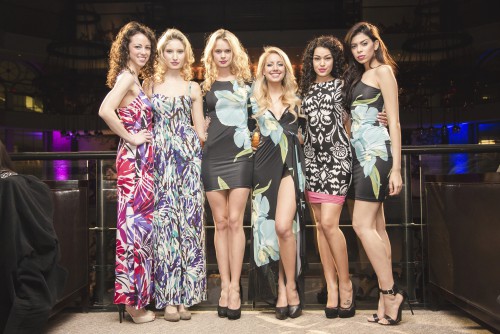 "It wasn't really a conscious effort to do everything on my own, it just kind of happened that way," said Christensen.
With the help of her mother, she has been funding everything herself since the beginning, due to her budget. With that much commitment and involvement, clients can be guaranteed that every piece from her collections would be the best possible product.
"I like that I had my fingerprint on everything that I put out there, which always kept customers confident and they knew they could speak directly with me and I could assist with anything they may need," said Christensen.
She described the style of Venni Caprice as "sexy, but also flirty, fun and utterly unique."
The inspiration behind her designs is always the fabric. Christensen said she chooses the fabric first and then the inspiration behind the collection comes to her. She wanted the collection presented at Fashionably Late to have a summer feel of palm leaves and water.
"If my collection was a real life thing, it would be a beach sunset somewhere in the tropics," said Christensen.
As for the preparation for these seasonal fashion shows, Christensen makes sure that she has promoted the show as much as possible and so during the night of her presentation, she can sit back and watch her collections come to life on the runway.
Not paying mind to trends or what's hot this season, she stays focused on what she believes is comfortable and looks great. She doesn't want to be influenced by another designer's style so that she can keep her designs as authentic as possible.
For the aspiring designers out there who want to create their own clothing label, Christensen said her best advice would be to work hard as it is a field of very competitive business.
"If you want something, be passionate and throw everything you have into it. Don't lose yourself. The fashion industry can make you think you have to do certain things to be around certain people," said Christensen. "But people get the most respect when they stay true to themselves and what they believe in."
As for the designer's own future, she plans to take over the world in the fashion industry. Christensen said she would like to build a recognizable brand that anyone, from teens to adults, can feel confident in.
"Confidence is beautiful, and that's what I am selling."